Aymeline Valade Loves Natural Beauty
The French model-actress shares a page from her beauty notes.
---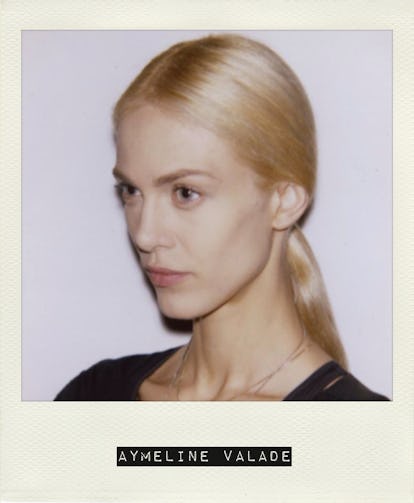 French model Aymeline Valade appears in W's August 2014 story "Banal Plus" as a normcore-chic, suburban everywoman. But for her next role, she channels a less ordinary character, playing Betty Catroux in Bertrand Bonello's upcoming film, Saint Laurent. Here, the 29-year-old shares her experience transitioning from brunette to blonde, her tips for getting the covetable French natural look, and why inner beauty matters most.
Your look: Natural. I almost never put makeup on outside of work, and if I do it's just mascara. I use an eyelash curler, to open the eyes, and then Maybelline Great Lash. The brush is very little, it really gets all the lashes and creates a very clean, natural look—and it's cheap. If I have a pimple, I put on a little bit of Laura Mercier Secret Camouflage.
Daily routine: I use sulfur soap in the morning, and it's perfect. It really cleanses everything. Then I put on five drops of vegetable oil and one or two drops of tea tree oil or lavender oil. I don't buy products anymore—they were making my skin worse. My friend is a pharmacist and she was showing me all the ingredients in products that are not good. She said if you really want something that is good, you only have the oil and the essential oils, which are 100% natural.
Food for good: My beauty daily routine is really about food. In the morning I have hot water with lemon. I drink a lot of water during the day, and eat a lot of vegetables and fruits. I try to minimize meat. I could eat meat at every meal, but you need to only eat it two to three times a week. It's not like it used to be, when the meat and fish were good quality. You need the good nutrients, but not the toxins.
Beauty from the inside out: It's more what you put inside. Beauty from the inside out, that's the only thing. You can do whatever outside. It's not going to change anything, if you don't work inside.
Exercise regime: I do sports all day long. I am very active. Sometime I do jogging, and I do yoga. I did sport during my childhood. I have the luck that I don't have do that much anymore. My body has the memory of the suffering of all the sport that I did when I was very young.
Skincare secret: When you have a lot of pimples and you don't know what to do anymore—I tried everything—there is one thing that really works besides essential oil: clean your skin and then rub lemon on your face. Leave it on for five minutes and use rosewater oil to take it off. Don't dry your face with towels. I change my sheets a lot as well, and clean my clothes as much as I can.
Day to night look: If I really want to do my makeup I put eyeliner on the top and bottom and I put a lot, a lot, a lot, around the outside and I then I rub it and I try to make it messy. Then you have an amazing smoky eye. If I look at myself in the mirror and I find myself not very energetic, I use a white powder to make myself look a bit fresher because when you are tired you look very grey and yellow. What I do also is take blush and dot in on the apple of my cheek like a doll and blend out. I do it very quickly. I don't want to spend time making up.
Eyes or lips: Lips never. Only eyes.
Air-dry or blowout: Air-dry, then you have hair's natural movement. When you blow it out it's so boring.
Brunette to blonde: It took seven times to bleach my hair. We chose a process that didn't damage: it was one tone, then ten days, one tone, ten days. We started in July and finished in October. In between I went on jobs, on holiday. They cast me in March, we started in July, and the movie started filming in October.
Best advice from mom: She is actually a tomboy more than me; she always had short hair and wore men's shirts. She never spoke to me about the outside, she never put my attention on how I look, just on how I behave, what I do, the way I do it. She always wants me to show my hands, to push up my sweater sleeves. She says it makes you look more elegant and proper.
Best advice from the pros: Fake freckles—it's so cute doing tiny freckles with a brown pencil—highlights from Pat McGrath. It's one thing that I do when I have to be my best, mascara, eyeliner, camouflage, and highlights done with white, shimmering eyeshadow.
Necessary splurge: Now that I have changed my hair color, I need good product. You don't have a choice—you have to. To find a hair product that is natural is almost impossible, and when you find one it's super expensive. I use Christophe Robin.
Fragrance of choice: I like men's cologne like L'Homme by Yves Saint Laurent. For the moment I also like Chanel 19 Poudré—they gave it to us at the show and it's really nice.
Beauty icon: Charlotte Gainsbourg. She is a timeless beauty because it's the beauty of the inside, the simplicity of the beauty. It's not to please people, but to make people feel good. It's the less is more attitude.
Anything else: I love taking baths with lots of sea salt. Also, aloe vera gel and vegetable oil is great for damaged hair.