Azealia Banks and Russell Crowe's Feud Is Far Too Random to Handle
The rapper Azealia Banks was reportedly forcibly ejected from a party in actor Russell Crowe's hotel suite.
---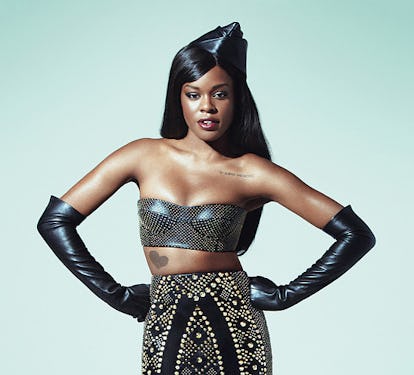 Photograph by Francesco Carrozzini, Styled by Patrick Mackie
Both Azealia Banks and Russell Crowe are case studies in how a reputation for a bad temper can help to derail a career. So it seems like on some karmic level of kismet that the two would somehow cross paths. Though, last night's confrontation between the rapper and actor in a Los Angeles hotel room seems like one of the more random (and not to mention apparently physical) celebrity feuds in recent memory.
If you're not caught up, the incident occurred at a suite in the Beverly Hills Hotel where Crowe was staying. The actor was holding a small dinner party and had invited the rapper and producer RZA. Crowe had acted is RZA's 2011 directorial debut The Man with the Iron Fists.
Banks showed up as RZA's guest. The actress has a part in RZA's next film, Coco, and recently signed a deal with his record label.
Maybe you'd think the two would get along. They both have very public temperament issues and roles in RZA films in common after all. They're also musicians (Crowe was once the frontman of 30 Odd Foot of Grunts). You could almost imagine some sort of oddball buddy situation ensuing. If early '00s TRL-friendly hip-hop videos taught us anything, it's that when rappers find themselves suddenly in parties populated by proper, middle-aged white people everyone is supposed to end up getting along at the end (see: Eve's "Let Me Blow Your Mind").
Yeah, it didn't go like that. At all.
According to the first reports out of TMZ, Banks apparently started to make fun of the music Crowe was playing. She then called Crowe and another party goer "boring white men." A female friend of Crowe's piped up to stick up for him, but Banks reportedly replied, "You would love it if I broke my glass, stabbed you guys in the throat, and blood would squirt everywhere like some real Tarantino s***." The TMZ version goes that Banks then actually did reach for a glass. Crowe then grabbed her in a bear hug and escorted her out of the suite.
Banks, who is permanently suspended from Twitter after making racist and homophobic comments about Zayn Malik, took to her Facebook to give her side of the story.
"To recap my night, I went to a part[y] at Russell crowes suite, at which he called me a n*****, choked me, threw me out and spat at me," she wrote. "Last night was one of the hardest nights of sleep I've had in a long time."
"The men in the room allowed it to happen," she continued. "I feel terrible today."
She has since deleted the post.
In any event, Banks did file a police report with the Beverly Hills PD. Reportedly after her demand for an apology from Crowe was not met. Though, no charges stemming from that report have yet to be filed.
Banks has now taken to flooding her Facebook page with a new interview she gave with Britain's The Evening Standard.
"It finally reconciled these two conflicting thoughts I had about being real and being professional," she told the paper.
"I realised you're not keeping it real by being a crazy girl. You don't lose anything by keeping your mouth shut. So maybe it's time to stop being a crazy girl."
Though the interview is recent and was published just today, it's unclear when exactly it took place. The Crowe incident is not addressed directly.
Banks, of course, came on to the scene in 2011 with her debut single "212." Her promising career was quickly consigned by numerous fashion tastemakers. It was less than two months after the single dropped that she was already playing private parties at Karl Lagerfeld's home after all.
Though, her meteoric rise was brought down to earth thanks in large part to her notoriously combative Twitter presence and penchant for seemingly petty feuds with everyone from Delta airlines personnel to Bill Cosby's accusers. That all cultivated in Banks' suspension from Twitter after her one-sided row with Malik.
Crowe once too had an image tarnished by temperament. The Oscar winner's tabloid-worthy outbursts peaked in 2005 when he was arrested for throwing a phone at an employee of New York's Mercer Hotel. His outbursts become that sort of fodder that even South Park episodes lampooned.
Crowe has since mellowed, and it seemed that his reputation as a hothead had all but been forgotten. Until now at least.
Controversy, outbursts and public feuds have done neither career's much service, and, yet, here we are.
Maybe cooler heads can prevail and the two could team up to star as rivals in RZA's next Kung Fu movie. Here's hoping.
Watch Azealia Banks star in a fashion film for T by Alexander Wang: