The Bad Bang Theory
Why would any woman in her right mind pay good money to look like she gave herself a bad haircut?
---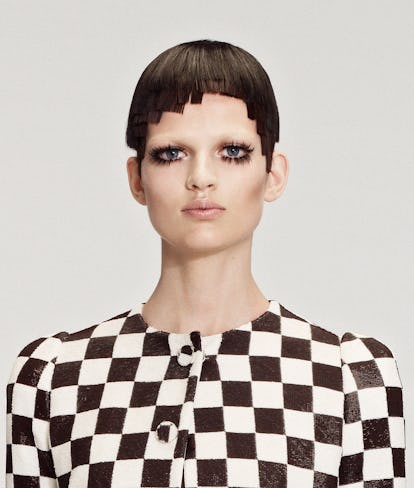 In one of the Prada ads from last spring, Eva Herzigova is standing against a black backdrop wearing a striped crop top and a shiny leather jacket, clutching a large white handbag. With such a sporty-chic ensemble, the 40-year-old model could easily be taken for an urban soccer mom, save for one minor but telling detail: her haircut. Her bangs have a distracted, slightly demented quality, as if Guido Palau, the stylist responsible for them, had been on the phone with his accountant while he was cutting them. Or as if Herzigova herself had cut them. With safety scissors. In the dark. Drunk.
This, in my opinion, is a good thing. If there is anything that makes me cringe, it's a "nice" haircut. In that telling moment when the hairstylist proudly hands you a mirror and swivels the chair around so that you can get the back view, I usually find myself saying, "Thanks, it looks really…nice," when what I actually mean to say is, "Um, can't you fuck it up just a little bit?" Then I go into the changing room, whip off the salon robe, and pull my hair back into an elastic band. With all due respect to my 3-year-old daughter, the last thing I want to walk out of a salon looking like is a middle-aged mom, which is exactly the kind of woman I associate with a nice haircut and which, admittedly, I am.
Weirdly, there seems to be a lot of deliberately bad hair around these days. Uneven bangs. Lopsided bobs. Scissor marks that resemble the tracks left by those kids who stole your car and then used it to do doughnuts on your front lawn. Seemingly haphazard haircuts like the one the stylist Malcolm Edwards created for a story in this magazine's May issue. The model Juliana Schurig may be wearing a Dior Haute Couture dress, but the effect Edwards was going for with his zigzag coif was that of "a kid who cut her hair with the kitchen scissors," he says. But of course, for that shoot, Schurig was wearing a wig.
As was Lena Dunham when she shot the dramatic season finale of Girls, in which she hacks away recklessly at her tresses without so much as a YouTube video to guide her hand. Dunham, in fact, has a sassy but ultimately very cute pixie cut.
I am convinced I am witnessing actual bad hair, however, when I see photos of Marion Cotillard from the Tokyo premiere of Rust and Bone sporting a weird bang that some beauty bloggers would speculate was designed to mimic the asymmetrical hemline of her Dior dress. She looks cool and quirky, befitting an actress known for taking on unconventional roles like a whale trainer–turned–double amputee. But, according to Robert Vetica, Cotillard's longtime stylist, not only was the haircut not at all premeditated, it wasn't even real. "It's a clip-on piece," he tells me over the phone from Beverly Hills, where he recently opened a salon in the SLS Hotel and where you know women aren't beating a path to his door to pay hundreds of dollars to look like they cut their hair themselves. (An ad on his Facebook page vehemently declares, "A bad-hair day on your wedding day is not an option!") "And last year at the Met ball?" Vetica adds, referring to Cotillard's gnarly fringe. "That was a piece, too."
In all fairness, as Vetica points out, for women like Cotillard, such an extreme look can be a professional liability. Who knows? Her next big part could very well be a TriBeCa soccer mom. But there are plenty of women out there for whom a bad haircut is a badge of honor—and one they don't take off when the party is over.
Erin Anderson has handled the hair of Milla Jovovich and Chloë Sevigny. She works out of Woodley & Bunny in the Williamsburg neighborhood of Brooklyn, a part of town where the girls who look like they cut their hair themselves probably do. No longer is cutting your own hair considered a desperate cry for help (hello, Britney). "The DIY haircut has been around for some time," insists Anderson, who would tweak her own locks long before she became a stylist. She recalls the time a client of hers went so far as to ask her to cut his hair with her eyes closed. Anderson's strict rule: Never cut your own hair while under the influence of alcohol or marijuana. "Everything tends to look good if you are drunk or stoned," she says.
But one night, after a glass or two of wine, I stand in front of the bathroom mirror, inhale deeply, and take a couple of swipes at my hair with a pair of kitchen scissors. My daughter is splashing around in the tub.
"What are you doing, Mommy?" she asks, her eyes wide with what could have been awe but was more likely horror.
"Oh, Mommy's just giving herself a little haircut, sweetheart," I reply as a few clumps flutter into the sink.
"Why?" she asks.
Hmmm, good question. I don't have a valid response for that one.
Maybe I need another drink, but after a few more snips, my hair doesn't look nearly as bad as I hoped it would. And I am too timid to take it to the next level. Time to call in an expert.
Duffy is a favorite hairstylist among photographers like Terry Richardson. One of his more recent magazine editorials is a punk fashion story for Purple magazine (buzz cut, horrible Joan of Arc bangs). He lives in Bed Stuy, Brooklyn; his girlfriend is Lucy Chadwick, the director of the gallery Gavin Brown's Enterprise; he has a beard down to his stomach and wears his strawberry blond hair in a messy top knot. How could I go wrong? (Or right, rather?) We meet after hours at Tommy Guns, an old-school barbershop on the Lower East Side. There are no fewer than three such barber shops on that same block of Ludlow Street, evidence of the importance grooming has assumed in hipster culture. And while Duffy is a classically trained stylist from the Vidal Sassoon school, when I tell him that what I want is a bad haircut, he knows exactly what I'm getting at.
"We have this painting at home by an artist called Alistair Frost—a canvas with a squiggle on it," he tells me. "The kid was 26 and had the confidence to make this gesture and turn around and say, 'This is my work.' That's what this haircut is about. The uninfluenced gesture." Still, it's a hell of a lot easier said than done. "For me to forget all I've learned and cut your hair like a kid did it is 10 times harder than if I were just to simply give you a graduated bob," Duffy says.
My hair, which is long, thick, and, left to its own devices, fairly curly, is not helping his cause. "If you had fine blonde hair, I could do this in six minutes and make your hair look like it was chewed by a rat," Duffy says. "With curly hair, you can hack the shit out of it and it's hard to see the damage." So the good news is that it's difficult to give me a bad haircut. And the bad news is that it's difficult to give me a bad haircut. But his intentions are in the right place, and that's what counts. A good stylist trying to give you a bad haircut is different from a bad stylist trying to give you a good haircut, he explains. "The kids who are trained to do a really technical haircut but who do it really badly—now that is fucked."
After my hair is washed, Duffy blows it out straight so he can assess what he's dealing with. He circles the chair again and again, trying to find a way in. "You are simply postponing the inevitable," I tell him, fearing I will lose my nerve—or that he will lose his. Then, with a look that says "this is going to hurt me more than it will hurt you," he grabs a seemingly random hunk of hair from somewhere behind my ear and snip! It's on the floor. Suddenly I am grateful for the glass of red wine that has been placed on the counter in front of me.
I am honestly not sure what happens next because at a certain point I have to close my eyes. "I was following your lead in a way," he tells me, referring to my aforementioned aborted attempt at self-mutilation. He has given me a ragged, slightly lopsided bang and has framed the sides of my face with a series of blunt set-backs, as if he couldn't decide which length would be best and so went with several. The cut looks convincingly haphazard, but in fact it highlights my bone structure. He rightfully points out that I never would have been able to pull that off myself.
As I walk out onto the street, I do not scrape my hair back into a ponytail. I wear it down for the next several days. Even as I don't fully recognize myself, I receive many compliments. No one tells me my haircut looks bad; a lot of people say it looks good. Only one person asks me if it is fake.
I report all of this back to Duffy. He tells me that if I wake up one day and suddenly realize I can no longer live with my hair in pieces, he will fix it. "Or," he says, "you can just get your daughter to do it."
Photo: top, Roe Ethridge; Mara, Jean-Baptiste Mondino; Cotillard: Getty Images: Dunham: courtesy of HBO