What Is Bad Times at the El Royale Even About?
We know Chris Hemsworth and Dakota Johnson star, but not too much else.
---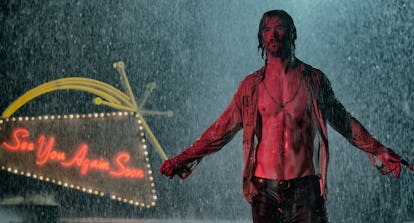 20th Century Fox
Bad Times at the El Royale isn't based on existing property, nor is it part of a mega-franchise. Its director, though accomplished as a screenwriter, isn't an acclaimed hotshot just yet. Though awards season dynamics are yet to take their final shape, the film's success doesn't hinge on Oscar buzz. Still, thanks to a stellar cast packed with stars, stylish trailers, and a crucial amount of mystery surrounding the project, El Royale may end up being one of the most buzzed-about movies of the fall, and not just because Chris Hemsworth's abs have taken center stage in the marketing.
Which begs the question: What exactly is it about?
Well, the log line is essentially that it's about seven strangers in the 1960s, all with some sort of a dark secret in their past, who wind up at the same chintzy motel whose main attraction is that it straddles the state line of Nevada and California. Two trailers, one just released today, also add the fact that there is secret surveillance (guests can be watched in the room, presumably through two-way mirrors, from secret passageways). Of course, what those dark secrets are, and what exactly happens on that fateful night when they all end up at the El Royale, still isn't entirely clear. It's a mystery thriller, after all, and such matters are wrapped up in the plot.
Still, from the trailers, industry press, and a few interviews the cast and director have given, we can pull together a clearer picture of the movie than the "Well, Hemsworth is a cult leader who doesn't understand how shirt buttons work and Dakota Johnson is Southern for some reason" you may be currently working with.
It's based on a real, infamous resort with scandalous connections to Marilyn Monroe, J.F.K., and Frank Sinatra
Yes, there really was a scandal-prone hotel and casino that straddled the state line, appropriately called the Cal Neva. It first came to wider attention when Clara Bow, the original It girl (fun fact: She rocketed to fame in a film named It, and that's where we get the term) racked up $13,000 in debt to the resort and casino in the '30s. Judy Garland once performed there at 13 years old. Members of the Kennedy family often stayed there, and it's rumored that John F. Kennedy often carried out affairs there, including with Marilyn Monroe. Monroe stayed there once in the days before her death, and attempted suicide by overdose but had her stomach pumped just in time (conspiracy theories linger to this day that she did actually die there). In 1960, Frank Sinatra and a group of associates bought the place. That's all on top of the various mafia and prostitution scandals and rumors. The hotel closed in 2013, but billionaire Larry Ellison bought it earlier this year and is currently renovating it.
"Who knows how true any of the mob stuff and Kennedy rumors are, but it's titillating to a writer's imagination," the director Drew Goddard told Datebook.
Cynthia Erivo's part was originally offered to Beyoncé, and may be bigger than the trailers let on
When the project was first announced in the trades, the rumors were that producers were courting Beyoncé for the part of Darlene Sweet, a soul singer whose career has seen better days. Beyoncé hasn't done a live action film since 2009, and she passed on this as her return project. No matter. Producers signed Cynthia Erivo instead, hot off her star-making and Tony-winning performance in Broadway's The Color Purple. It'll be the actress's first film (though she'll also be in this fall's Widows, which she technically filmed first), and it'll be a major part.
In interviews, Erivo says her character forms a connection with the mysterious priest played by Jeff Bridges.
She also stars in a pivotal scene in which Jon Hamm's character discovers the secret surveillance corridors and watches her sing a song all the way through. The scene was shot 27 times, and Erivo sang live each and every time. No lip-synching here. Her live vocals are used in the final edit.
Jon Hamm returns to the '60s, but he's no Don Draper
Hamm finally returns to the era that made him a star, but this is no Mad Men redux. He plays a goofy vacuum salesman prone to bad jokes and bad suits who accidentally discovers some of the hotel's secrets. Or at least that's what it seems. A big promise of the film is that none of the characters are who they really seem to be. As Jeff Bridges's character confesses in the trailer, he's not really a priest. A scene in the trailer of Hamm dialing into a superior to report a problem leads us to believe that maybe his job is slightly more complicated then selling Hoovers.
Hmm, maybe this character does have a bit more in common with Draper than we assumed.
Dakota Johnson is a criminal. Chris Hemsworth runs a cult. They're connected by one character
Johnson plays a Souther-twanged criminal with a taste for firearms and muscle cars, while Hemsworth plays a cult leader. They're connected by a character played by quickly rising newcomer Cailee Spaeny. She happens to be Johnson's sister, as well as member of Hemsworth's cult.
There's a surprising Parks & Rec reunion
What an unlikely film for the gang from Pawnee to reunite in, but, yes, Jim O'Heir (aka Jerry) and Ron Swanson himself, Nick Offerman, have parts in the film. O'Heir plays a character named Milton Wyrick, while Offerman's character remains unseen and unnamed so far.
Sitcom fans should appreciate that The Good Place's Manny Jacinto also appears in the film.
Russell Crowe is in it? Maybe?
Russell Crowe's not on the posters. He's not in the trailer. He's not even on the IMDb page, but earlier this year Hemsworth told interviewers that Crowe had been cast in the project. Legacy outlets like Variety and The Hollywood Reporter aren't mentioning Crowe, but several digital-first outlets are. Whatever the case, no one has outright denied that Crowe will pop up.
Real-life figures may pop up
Remember how this hotel is based on a real-life hotel that was something of an infamous celeb hot spot? Well, one of those figure may be portrayed in the movie. Goddard told Entertainment Weekly earlier this year that "certain characters who were alive at the time" do appear. J.F.K. and Marilyn had passed by 1969, but who knows who could actually show up.
The Vietnam War probably figures in
The film is set during 1969, an important year during America's involvement in the Vietnam War. IMDb also lists characters like "Vietnamese Solider," "Sergeant Renfro," and "NVA Captain," so it probably figures into the film somehow.
You don't know the director, but you do know his work
Drew Goddard has only directed one previous film, The Cabin in the Woods, a horror film starring a then unknown Hemsworth whose release was bungled and delayed for two years. Eventually, it saw the light of day, after Hemsworth shot to stardom in Thor, and you know what? People, both audiences and critics, actually liked it. Goodard, though, is better known as a screenwriter.
He wrote for Buffy the Vampire Slayer and several J.J. Abrams shows (including Lost), and created Netflix's Daredevil. He also wrote the screenplays to Cloverfield, World War Z, and The Martian. Lest you think he's all geeky-tinged action and drama, he's also directed a few episodes of The Good Place (likely explaining Jacinto's casting).
He's also attached to direct the upcoming Deadpool spin-off, X-Force.
Still, several mysteries surround the film, but you can solve them for yourself when it's released on October 5.