Charlotte Gainsbourg: Flower Girl
Inspired by his actress muse, Nicolas Ghesquière crafts a violet-centric scent.
---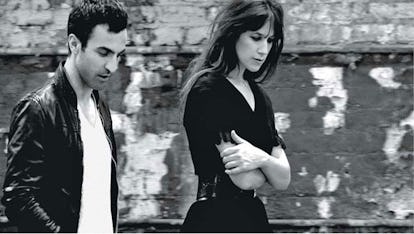 In the 2006 French film Prête-moi ta main, a brokenhearted man who works as a perfume "nose" blends a fragrance based on his ideal woman after she leaves him. He mixes together notes that remind him of her—including the turpentine she uses in her work as an antiques restorer—and not only wins her back but also creates a commercial hit in the process.
Now, four years later, life is imitating art. The woman in the aforementioned film is played by French actress Charlotte Gainsbourg, and she's serving as the muse for the hotly anticipated fragrance Balenciaga Paris, the first olfactory creation under designer Nicolas Ghesquière's reign. The fragrance doesn't contain anything as odd as eau de paint thinner, but it is based around an unusual note: violet leaf.
"There is a bitter thing with violet," says Ghesquière, sitting in a suite in New York's Carlyle hotel one fall morning, Gainsbourg by his side. "We call it un faux ami—a false friend—because it's nice but it's strange, strong."
Balenciaga Paris
"Nicolas liked the woodiness and sharpness of the violet leaf," recalls Olivier Polge, the perfumer who created Balenciaga Paris. Polge, whose past works include Viktor & Rolf's Flowerbomb and Eau Mega, mixed the leaf with bergamot, oakmoss, patchouli and labdanum, four notes that, when used together, are known as chypre. "On a chypre structure, violet leaf gets very leathery," Polge explains.
While Balenciaga Paris is Ghesquière's debut scent, the label has a long fragrance history. Cristóbal Balenciaga launched several successful blends in the Forties and Fifties, including the classic Le Dix. In fact, in 1997, when Ghesquière took the helm, "the house was existing because of the perfume license," he says. "But what they were doing was not really corresponding to what I was doing. It was not my Balenciaga, not my vision."
To ensure that the new fragrance captured his futuristic yet feminine aesthetic, Ghesquière sniffed his way through about 100 blends before narrowing down his choices to two. He left the final decision up to Gainsbourg, a close friend and confidante since they met in 2000. A fan of the actress's relaxed, no-makeup chic, Ghesquière not only dresses Gainsbourg but also often designs his collections with her in mind. And when it came time to concoct a fragrance, he says, "I thought, I want to do something that Charlotte would love. That's a very important thing."
Gainsbourg chose the stronger of Ghesquière's finalists. "There was something more frank about it," she says. "Everybody I know had a long history with very strong perfumes. My mother [Jane Birkin, of Hermès bag fame] wore Shalimar for a short period of time, but because it was during my childhood, I always associate her with that perfume. The same with my father [crooner Serge Gainsbourg]. For me, he's Van Cleef. If I smelled it on somebody else, I'd be very shocked. It's something that can only be him."
While Gainsbourg is excited to now have a signature scent of her very own, she admits that her favorite aromas are actually closer to the turpentine favored by the character she played in the film. "I like tar when it's hot, talcum powder and sweat on people that I love, like my children," she says. "And there's also something about dirty hair that I enjoy." Could this be the inspiration for Ghesquière and Gainsbourg's next fragrance? "Yes!" he agrees with a laugh. "We can start by not washing our hair!"
Ghesquiere and Gainsbourg: Courtesy of Balenciaga; bottle: Robert Mitra.