So, Banksy's Real Name Is Robert? (Also, How Much Longer Will We Continue to Care About This?)
Thanks to a slip-up on a podcast, the British DJ Goldie seems to have outed his friend.
---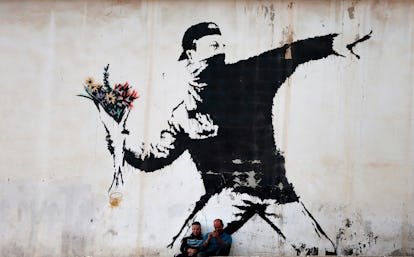 Thomas Coex/AFP/Getty Images
This week, the British DJ Goldie sat down with the British poet and musician who goes by Scroobius Pip to discuss, among other things, the commodification of graffiti. Naturally, the conversation soon turned to the mysterious artist behind public works like a recent anti-Brexit mural and a whole host of political art around Israel's West Bank and London, whom most people know as Banksy—but whom Goldie seem to know by a different name: Robert.
"Give me a bubble letter and put it on a T-shirt and write 'Banksy' on it, and we're sorted. We can sell it now," Goldie said on Pip's podcast, before adding, "No disrespect to Robert, I think he is a brilliant artist. I think he has flipped the world of art over."
As it turns out, "Robert" is also the name of Goldie's known friend Robert Del Naja, a former graffiti artist, member of the band Massive Attack, and longstanding internet candidate to actually be Banksy; the Daily Mail's Mail on Sunday even "revealed" Del Naja was Banksy back in 2008. (Even though the same publication later "confirmed" that Banksy was actually another Rob, someone named Robin Gunningham.)
Banksy's works have, after all, seemed to pop up in suspiciously close proximity to the tour stops of the trip hop group (also known as the band behind the theme song of House, which is an objectively excellent TV show). These facts, along with Del Naja's noted past street art career going back to the '80s, have amounted to enough evidence to convince Craig Williams, a journalist who's become a Banksy identity expert, though more recently he has backpedaled to say that Del Naja is likely a primary figure in a collective that actually makes up Banksy, instead.
Whether he is or not, Del Naja is definitely familiar with Banksy's work. "When you look at Banksy's work as a catalogue of ideas, it's undeniably brilliant," he once told The Guardian. A few months earlier, in 2008, he told _The Teleg_raph that Banksy was "iconic, mad and creative"; the newspaper identified Banksy as Del Naja's "close friend."
According to Del Raja, apparently that means you're also close friends with Banksy, too. Attempting to dispel rumors onstage in his hometown of Bristol last year, Del Naja made things even murkier: "We are all Banksy," he told the crowd, so helpfully.
And so, another chapter in the saga of Banksy's identity concludes inconclusively. Let the caretaker of Banksy's Wikipedia page sum up these latest developments, for they have done it best: "It has been argued that Goldie could have been referring to either Robert Del Naja, Robin Gunningham, or neither of them."
Related: Inside Banksy's New Hotel in the West Bank
See W's most popular videos: