Barbara Bush, Former First Lady, Has Died at 92
Shortly after celebrating her 73rd wedding anniversary.
---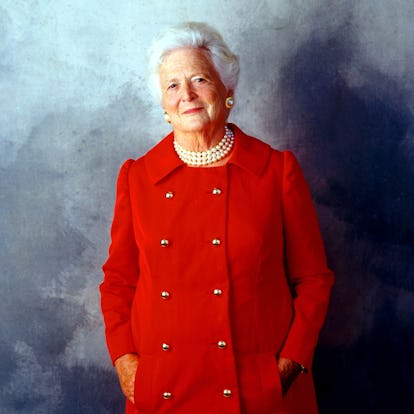 Pam Francis/Getty Images
Just a few months after celebrating her 73rd wedding anniversary, Barbara Bush has died at 92 years old. The first lady and wife to former president George H. W. Bush had been battling health problems since 2008 when she had surgery for a perforated ulcer and, later that year, on her heart, as The New York Times reported. In 2013, she was hospitalized for pneumonia and, most recently, was hospitalized for bronchitis while her husband was hospitalized for pneumonia, per ABC News.
In a statement from the office of George H. W. Bush, the Bush family matriarch's health issues were not specifically listed, although a representative of the family previously said Bush "decided not to seek additional medical treatment and will instead focus on comfort care." "A former first lady of the United States of America and relentless proponent of family literacy, Barbara Pierce Bush passed away Tuesday, April 17, 2018, at the age of 92," the statement reads. "It will not surprise those who know her that Barbara Bush has been a rock in the face of her failing health, worrying not for herself—thanks to her abiding faith—but for others. She is surrounded by a family she adores and appreciates the many kind messages and especially the prayers she is receiving."
Bush's family includes six children, 17 grandchildren, and seven great-grandchildren. One of her sons is former president George W. Bush, making her the second first lady in history to also be a mother of a president, as ABC notes. (John Adams's wife, Abigail, was the first to hold that honor, as her son John Quincy Adams was the country's sixth president.) Bush lived in the White House from 1989 to 1993.
Last month, Bush issued a statement to her alma mater's magazine, Smith Alumnae Quarterly, referencing her health problems. "I have had great medical care and more operations than you would believe. I'm not sure God will recognize me; I have so many new body parts! Also, George Bush has given me the world. He is the best—thoughtful and loving."
She also spoke of her relationship with the family patriarch, which was made official on January 6, 1945 when the couple married in Rye, New York. "I am still old and still in love with the man I married 72 years ago," she said. "I am very active in my foundation, the Barbara Bush Foundation for Family Literacy, as is George in his, Points of Light. All of our children are working and serving others in their own way, along with my 17 grandchildren. I am very proud of them."
Bush addressed her own legacy in 1988, as The New York Times points out, saying, "I want to be known as a wife, a mother, a grandmother. That's what I am. And I'd like to be known as someone who really cared about people and worked very, very hard to make America more literate."