Why Watching Barbara Cook Sing Sent Chills Down Your Spine
She could rip your heart out, toss it to the ground, stomp on it, and put it back in your throat—all while seemingly not even trying.
---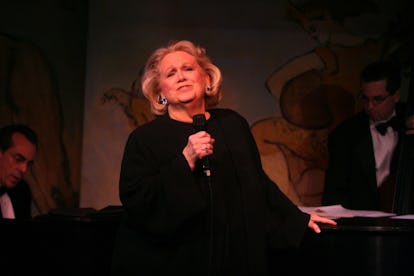 Hiroyuki Ito
"In Buddy's eyes, I'm young, I'm beautiful/I'm still the princess, still the prize. In Buddy's eyes."
Stephen Sondheim wrote those words for a poignantly aging character in his 1971 broken-dreams classic Follies, and no one sang them quite like Barbara Cook, who died on Tuesday at 89. I saw her perform "In Buddy's Eyes" several times in concert through the years and in the 2010 Broadway review Sondheim on Sondheim, and when applying her well-oiled technique to the song, Cook ripped your heart out, tossed it to the ground, stomped on it, and put it back in your throat—all while seemingly not even trying.
In her mature period, Cook was still beautiful, but she had been battling weight issues, looking dramatically different than the wispy blond sexily dancing at a party in the 1957 Alfred Hitchcock Presents episode called "A Little Sleep." (She played an extremely flirty rich girl named Barbie who ultimately finds that the party's over, to tragic effect.) In the 1985 Lincoln Center concert staging of Follies, the older Cook was electrifying singing about how her husband still envisioned her as her young self, and her creamy delivery put it over with perfect pitch and earned pathos.
As I learned by seeing her perform everywhere from Carnegie Hall to the Café Carlyle, Cook invariably attacked a song with purity and clarity, eschewing gimmicks and just going for the tones and the feeling. Her gift was in being able to slow down a tempo—she was in no rush to get home—and probe for the truth of a song while luxuriating in every syllable.
When American Idol hit the tube in 2002, it helped usher in a belty, showoffy kind of competitive singing complete with key changes, glissandos, and big finishes. That can be entertaining, but Cook's approach—to just do the song—was always thrilling, and on "In Buddy's Eyes," she sent chills by making it even more personal and immediate than in your most haunted imagination.
That was no surprise considering her run as one of Broadway's most respected leading ladies. As lovesick characters like Marian the librarian in The Music Man and Amalia in She Loves Me, she pulled off the same trick, trilling a plaintive "My White Night" as the former and a tremulous "Will He Like Me?" as the latter. I wore out both cast albums thanks to her renditions, which cut out the bull and cut right to the heart of the matter.
Barbara Cook performing "In Buddy's Eyes" from Follies.
Of course she could show off too, if the part called for it. As the giddily bejeweled Cunegonde in the brilliant flop Candide in 1956, she performed pyrotechnics on "Glitter and Be Gay," an elaborately funny ode to narcissism that was so vocally demanding it terrified her to the end. Subsequent versions by other Broadway divas tended to lean on the comedy and add shtick, but Cook's version—when she dared to do it—didn't underline anything; she simply delivered the goods, and it was mighty hilarious, by the way.
Offstage, people tended to think of Barbara Cook as a sort of wise, bemused icon, which she was, but she could be quite frank, too. In the 1980s, when she was playing the mother in the famously doomed musical version of Carrie, she told a reporter that they were working on fixing the problems, "but it's like rearranging the deck chairs on the Titanic." She ended up jumping ship before the faux-bloody mess ran into an iceberg on Broadway.
In 2010, I saw her and Michael Feinstein do a wonderful duets show called Cheek to Cheek at 54 Below, and some of the most memorable moments happened between the songs. At one point, Cook commented on Catherine Zeta-Jones' Tony win that year for A Little Night Music. "She should not have won the award," said Cook, bluntly. "Sorry, darling. She's perfectly lovely, but she didn't deserve the award." Cook had just been nominated for Best Featured Actress in a Musical for Sondheim on Sondheim and lost to Katie Finneran (Promises, Promises), but she was Ok with that and had even congratulated Finneran in person. As Cook remarked at 54 Below, "You don't want to lose to some shlump."
Last year, her Then and Now: A Memoir was an engaging, honest look at her life, triumphs, foibles, and loves. Cook didn't trash a lot of people in the book, but she did have to admit that while Elaine Stritch was no shlump, the raspy voiced star could be a hot handful. At one cabaret performance, Cook was singing a beautiful ballad when Stritch decided to loudly ruffle through her large bag, pull out a syringe, and inject herself with insulin, distracting everyone's attention from Cook. In the book, Cook wonders why the gifted battleax couldn't have just waited a few minutes!
In 2013, I was back at 54 Below, performing in a disco revue (true story), and I was stunned to get there and see my face next to Cook's on the poster; her show was scheduled right before mine! Getting ready in the dressing area, I ran into her, greeting friends who'd just seen the legend be musically magical one more time. I smiled, said hello, and kept walking by her, too embarrassed to express everything I felt. But I'll tell you this much: She was still the prize.
Tony Awards 2017: See What Scarlett Johansson, Chrissy Teigen, and More Wore On the Red Carpet
Scarlett Johansson, in Michael Kors Collection, attends the 2017 Tony Awards at Radio City Music Hall on June 11, 2017 in New York City.

Getty
Chrissy Teigen, in Pamella Roland, attends the 2017 Tony Awards at Radio City Music Hall on June 11, 2017 in New York City.

Getty
Bette Midler, in Michael Kors Collection, attends the 2017 Tony Awards at Radio City Music Hall on June 11, 2017 in New York City.

Bruce Glikas
Liu Wen and Zac Posen attend the 2017 Tony Awards at Radio City Music Hall on June 11, 2017 in New York City.

Getty
Olivia Wilde, in Michael Kors Collection, attends the 2017 Tony Awards at Radio City Music Hall on June 11, 2017 in New York City.

Getty
Sarah Paulson, in Rodarte, attends the 2017 Tony Awards at Radio City Music Hall on June 11, 2017 in New York City.

Getty
Jenna Lyons, in a Voutsa robe, attends the 2017 Tony Awards at Radio City Music Hall on June 11, 2017 in New York City. (Photo by Sylvain Gaboury/Patrick McMullan via Getty Images)

Sylvain Gaboury
Alek Wek, in Oscar de la Renta, attends the 2017 Tony Awards at Radio City Music Hall on June 11, 2017 in New York City.

Getty
Anna Kendrick, in Miu Miu, attends the 2017 Tony Awards at Radio City Music Hall on June 11, 2017 in New York City.

Getty
Cynthia Nixon, in Rosie Assoulin, attends the 2017 Tony Awards at Radio City Music Hall on June 11, 2017 in New York City.

Getty
Glenn Close, in Giorgio Armani, attends the 2017 Tony Awards at Radio City Music Hall on June 11, 2017 in New York City.

Getty
Sara Bareilles, in Naeem Khan, attends the 2017 Tony Awards at Radio City Music Hall on June 11, 2017 in New York City.

Getty
Cynthia Erivo, in Chris Gelinas, attends the 2017 Tony Awards at Radio City Music Hall on June 11, 2017 in New York City.

Getty
Carolyn Murphy, in Michael Kors Collection, attends the 2017 Tony Awards at Radio City Music Hall on June 11, 2017 in New York City.

Getty
Cobie Smulders, in Schiaparelli Haute Couture, attends the 2017 Tony Awards at Radio City Music Hall on June 11, 2017 in New York City.

Getty
Laura Linney, in Derek Lam, attends the 2017 Tony Awards at Radio City Music Hall on June 11, 2017 in New York City.

Getty
Sally Field attends the 71st Annual Tony Awards at Radio City Music Hall on June 11, 2017 in New York City.

Getty
Eva Noblezada, in Jonathan Simkhai, attends the 2017 Tony Awards at Radio City Music Hall on June 11, 2017 in New York City.

Dimitrios Kambouris
Uma Thurman attends the 2017 Tony Awards at Radio City Music Hall on June 11, 2017 in New York City.

Getty
Condola Rashad, in Andreas Kronthaler for Vivienne Westwood, attends the 2017 Tony Awards at Radio City Music Hall on June 11, 2017 in New York City.

Getty
Mimi Lien attends the 2017 Tony Awards at Radio City Music Hall on June 11, 2017 in New York City.

Getty
Tina Fey, in Sally LaPointe, and Jeff Richmond attend the 2017 Tony Awards at Radio City Music Hall on June 11, 2017 in New York City.

Getty
Allison Janney attends the 71st Annual Tony Awards at Radio City Music Hall on June 11, 2017 in New York City.

Getty
Candice Swanepoel, in Prabal Gurung, attends the 71st Annual Tony Awards at Radio City Music Hall on June 11, 2017 in New York City.

Getty
Watch: Jake Gyllenhaal, Bernadette Peters, and More Team Up for a Good Cause
Jake Gyllenhaal, Bernadette Peters, and More Team Up for a Good Cause