Overheard at Sunday in the Park with George Opening: "Jake Gyllenhaal Sings Better Than Ryan Gosling"
Jake Gyllenhaal is back on Broadway, this time in a critically-acclaimed revival of Stephen Sondheim's beloved musical that drew a smattering of theater heavyweights to its opening Thursday night.
---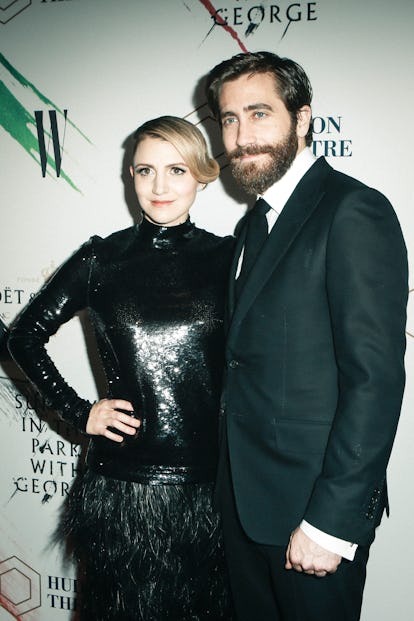 Photo by Getty Images.
In 1996, Julie Andrews refused her Tony nomination for Victor/Victoria because she was teed off that no one else involved in the show (like her hubby, Blake Edwards) got a nod. But the producers of the new revival of Sunday in the Park With George–the Stephen Sondheim/James Lapine exploration into the craft and legacy of French pointilist Georges Seurat—are pulling out of their nominations even before they get them.
Jake Gyllenhaal, Bernadette Peters, and More Team Up for a Good Cause
Earlier this month, they announced that they'd withdrawn the show from Tony consideration, saying the awards spotlight should instead be on non-limited productions that will run a long time. Do you buy it? Sure—though some anonymous chatters on the Broadway boards have speculated that maybe the producers would rather not have to spend money giving away coveted tickets to all those Tony voters. With over 840 voters (plus their guests), that's probably more than a quarter of a million bucks saved.
Sunday's publicist, Rick Miramontez, tells me, "That's not the reason at all. They just don't want to be in competition and don't want the pressure." In any case, maybe pulling out of the Tonys is a good thing for costar Jake Gyllenhaal, who's had terrible luck with honors. In 2006, he got a Best Supporting Actor Oscar nomination for Brokeback Mountain while his costar, Heath Ledger, was up for lead.
Even worse, in 2015, he garnered Oscar buzz for Nightcrawler, but ended up without a nomination (the film only got a Best Original Screenplay nod). And two years ago, he didn't get a Tony nomination for Constellations, though the only other person onstage—Ruth Wilson—did get one. This year, he'd have to break up a showdown between Dear Evan Hansen's Ben Platt and Groundhog Day's Andy Karl, so maybe sitting it out and being fabulous is the less combative way to go.
At Thursday night's opening of the show—which got strong reviews, especially for Gyllenhaal and Annaleigh Ashford—guests promenaded into the 42nd Street branch of the New York Public Library, which was appropriately artsy looking with its marble columns, fake foliage, candles, and a string trio playing along to old Blondie tunes via the DJ. The food was just pass-alongs—were the producers being thrifty again, lol?—but the conversation was certainly filling. Journalist George Rush said, "Jake Gyllenhaal sings better than Ryan Gosling. He's not as good a singer as Mandy Patinkin [the original George], but he probably has more range."
Stephen Byrd—one of the producers of last year's African-set drama Eclipsed—said, "I had no idea Jake had chops like that! And it's one of the most diversified multi-cultural things I've seen." In addition to two Asian-Americans in the cast, Phillip Boykin—a Tony nominee for Porgy and Bess—plays the wryly disparaging Boatman. At the party, Boykin told me, "Jake and I had a few comments about race and making the cast more like America. Jake said, 'How crazy is it to start a show with the word "white"?' He made sure he came to me and said, 'Everything white isn't as pure as the definition.' Well, I ask if white is the blank page—and represents endless possibility—does that mean black is the opposite—no possibilities? No, because I'm in this show and I'm playing a white character!" he said, laughing.
Near the red-carpet room, I ran into Liz McCartney, who plays half of a hilariously gauche couple. (Tony nominee Brooks Ashmanskas plays her husband.) What was it like to work with Jake? "First of all, he has the most beautiful eyes ever," McCartney said, mistily. "His entire soul is in this show." Pause. "You don't want to know what it's like to work with Brooks Ashmanskas?" she laughed.
Good show, nice party. And Tony, shmony. They've got prestige—and are heading toward a lot of sold out performances.
Jake Gyllenhaal's Style Evolution, from Donnie Darko to Tom Ford Heartthrob
18 year-old Jake received his first big Hollywood break in film 'October Sky'. Here he was sighted outside of 'Saturday Night Live' in a very causal look featuring a denim jacket, plaid button up and blue slacks completed with a book bag.

Getty Images
At the Cachet's One Year Anniversary, the young actor arrived in a more formal blazer and slacks look. He began to show his interest in mens style as he accessorized with a yellow wool scarf.

Getty Images
Remaining true to his relaxed youthful style, Jack attended the 9th Annual Kids for Kids Celebrity Carnival dressed in a pastel- stripped polo shirt, black over jacket, blue jeans and sneakers.

Getty Images
Not afraid of wearing a piece twice, Jake re-styled and rocked his pastel stripped polo under a blazer and paired with a dark blue jean and brown shoe for the 18th Annual IFP Independent Spirit Awards a year later.

Getty Images
Becoming accustom to mixing his casual pieces with formal on the red carpet, the actor opted for a white t-shirt, blazer and blue denim jeans for the LA premiere of 'Donnie Darko'.

Getty Images
A more mature Jake was reveled at the 2005 premiere of 'Jarhead' in NYC. The featured actor posed on the red carpet in a black two-piece suit with a v-neck shirt and sweater combo underneath.

Getty Images
Jake looked dapper dressed in black tuxedo and bowtie at the 78th Annual Academy awards.

Getty Images
At the 2007 premiere of 'Rendition', Jake looked business-ready as he donned a light grey plaid suit, soft blue button up and burgundy tie on the red carpet. He completed his look with a pair of black leather shoes.

Getty Images
Dressed to perfection at the world premiere of his film 'Prince of Persia', Gyllenhaal opted for a classic three-piece black suite accessorized with a black tie and shoes.

Getty Images
A full bearded Gyllenhaal opted for a brown-on-brown double breasted ensemble for the New Eyes for the Needy 80th Anniversary Gala, where he was honored.

Getty Images
Jake donned a tailored blue suit with a black button-up at the 2014 premiere of his film 'Nightcrawler'. He opted for a more casual brown boot to complete his look with a modern-relaxed touch.

Getty Images
The bachelor dropped jaws and sent girls hearts a flutter as he posed on the red carpet at the 2015 premiere of 'Demolition'. His choice of wearing a tailored dark grey suit with the pairing of a burgundy tie and black detailed oxfords was perfect for the evening.

Getty Images
At the award winning actor arrived to the 70th annual Tony Awards rocking an incredibly rare double breasted tuxedo.

Getty Images
Stylishly dressed at the screening for his latest featured film 'Nocturnal Animals', Jake opted for a tailored navy blue suit, light blue button up, olive green tie and black leather shoes.

Getty Images
One Scene In "Jerry Maguire" Makes Jake Gyllenhaal Cry Every Time
One Scene In "Jerry Maguire" Makes Jake Gyllenhaal Cry Every Time