Table-Hopping With…Barbara Davis
When lunching with Hollywood's social queen, you'll be taking the long way through the Polo Lounge, as Fred Schruers learns.
---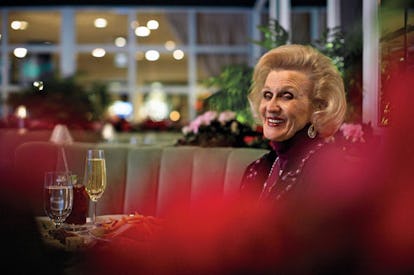 The arrival of Barbara Davis at the entrance of the Polo Lounge at the Beverly Hills Hotel gives one the sense that somewhere just out of sight there's a band playing a rousing trumpet fanfare to mark the occasion. The courtly young ladies hovering near the podium greet her not just as a guest or even a member of the family but as the member of the family who has just returned from an eventful trip abroad.
Today, however, the occasion is simply an otherwise unremarkable weekday. And even as Davis is purring, "Hello, dear," to the ­hostess, one senses she has already made a rough head count of the place and glimpsed a few friendly faces within.
The heads casually turning, followed by the incipient smiles now beginning to be directed her way, remind me what her longtime friend George Schlatter—the producer of Davis's legendary Carousel of Hope galas for her diabetes charity—told me. "It's not a walk through the Polo Lounge with Barbara—it's a hike. And that's on a slow day."
"I've always found," says Davis, 81—whose deliberately paced asides, in a voice etched with age but still comfortingly ­musical, have the air of confidences rather than ­commonplaces— "that everybody at this hotel has been so kind, nurturing, ­capable, and sweet. They're really nice."
And why wouldn't they be? In the absence of actual royalty, Beverly Hills and its wilder nearby kingdom, Hollywood, have Davis as queen. Her king was oilman–turned–studio chief ­Marvin Davis, who built a fortune that ultimately stretched toward $6 billion, picking up toys such as 20th Century Fox—and with it, the Pebble Beach golf course and a handful of Colorado ski resorts—as well as the hotel in which we're dining (though ­Davis later sold that to the Sultan of Brunei for a reported $185 million) along the way. Their kids used to roller-skate through the verdant garden paths a few feet away, and when Marvin died in 2004 at 79, Barbara moved back into the family's sometime retreat here, Bungalow 1.
Barbara is about five steps into the place when the first greetings are cooed from a ringside booth on the right, and with some shifting of a bulwark of shopping bags from Rodeo Drive, the handclasps begin. Here's Jordan Davis, Barbara's son John's ebullient blonde wife; Keisha Whitaker, the wife of Forest; LaTanya Richardson Jackson, actress and wife of ­Samuel L.; and Karen Longley Gordy, wife of Motown founder Berry Gordy's son Kerry.
For a few minutes, the ladies—very cordially but with some deft verbal boxing-out—seem to compete in extolling the virtues of Davis. Mrs. Jackson's intent eye contact makes her final line—"This is the woman, understand? She's the one who makes it all happen"—pay off.
Jackson's point is clear enough: As founder of the Barbara Davis Center for Childhood Diabetes in Denver and board member at four more hospitals, Davis is a masterful engine of charitable works in the medical arena.
Just a few steps farther, two elegant heads pop up like hatchlings from a nest. Cynthia Yorkin, the wife of producer Bud; and Irena Medavoy, the wife of producer Mike, begin sharing sparkle.
"She's my rock," says Medavoy of Davis. "She was my best adviser through my previous marriages." As in? "As in, you know, 'Dump that guy…' "
We return to the pilgrimage to discover that the beaming strawberry blonde who will be our neighbor is none other than United Talent über agent Tracey Jacobs (Johnny Depp, Jennifer Lopez, Gwyneth Paltrow). Today she's dining with director Jason Reitman. Jacobs is a friend, of course (and Davis makes it known that she won't sit down unless Jacobs agrees to assist, once again, with this October's Carousel ball), though Reitman is family, having grown up with the Davis kids and joined them for skiing in Aspen. He's given a friendly reminder to unearth a few photos before we take our table.
Only then, finally, is there a respite. (We'll run into Diana Ross on our way out, but for now I'm simply enjoying the chance to take a deep breath.) We chat about past times both grand and scary. Davis didn't turn a hair when four armed bandits in black hoods surrounded a limousine she was in en route to the Hôtel du Cap-Eden-Roc in Antibes in 1993 and stole more than $10 million of her jewelry: "We handed them everything, and I said, 'If this is a business with you, take it—I hope you do well with it.' Really, it was fine," Davis says.
There's a tinge of sadness as she talks about the recent passing of Edie Wasserman, widow of the mogul Lew and the reigning queen of her own day. "They were wonderful when we first came here," Davis recalls, before casually saying something that seems to sum up her approach to getting along in a town that still seems a bit new: "It's really good to own a studio."
Doing so helped her summon the star power that made her galas legendary: Gerald Ford, Ronald Reagan, and Bill and ­Hillary, for example. Once, when Queen Elizabeth was a guest of honor at a party, both ladies pulled out pictures of their grandchildren: "So we had two princes and two Jewish princes," Davis says.
"King-wise," she notes, with subdued irony, her top get was Abdullah II of Jordan and Queen Rania. "They wanted to meet movie stars—and, of course, movie stars want to meet royalty. I remember Tom Hanks saying to me, 'You sat me next to a queen.' "
One knows the feeling.