Barbie Ferreira Has Been Watching YouTube Makeup Tutorials Since She Was Born
The plus-size model is so over contouring, loves Rihanna, and swears by Kiehl's skincare products.
---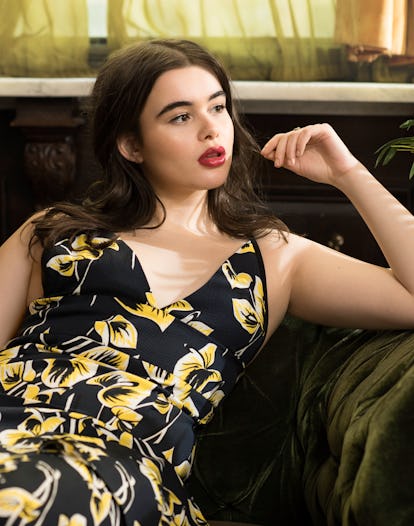 When she appeared on set at the Jane Hotel for her W shoot, model Barbie Ferreira had no makeup on. "Sorry I look like such a mess—it's so wet outside!" she said as she stripped off a few layers. It was indeed a very soggy March day in New York, but she hardly looked messy. Rather, the 19-year-old's bare face looked surreally fresh and glowing, and that was even before our makeup artist added a touch of highlighter.
Ferreira recently abandoned her days of Kardashian-inspired makeup, opting instead to go for a more natural look. She spoke with us about her beauty routine, shared a few secrets about how she keeps her skin in such good shape, and talked about the time she had her hair vacuumed on set. Yes, vacuumed.
What is one of your weirdest or most memorable beauty moments? It was one of my first jobs, and the hairstylist just vacuumed my hair. It was an old vacuum, like one of those studio ones. That was definitely one of the weirdest beauty moments I have ever had. The ponytail was so tight, my face was squished back. You know when you scrape the hair back? It was exactly like that. It was crazy.
How would you describe your day-to-day beauty? Every day I feel different. Sometimes I don't put on any makeup and other times I put on a ton. Lately, I have just been trying to be on my skincare game. I don't like to wear foundation anymore, unless I am going out out.
What are some skincare products you are into right now? I love Kiehl's, I basically use all their stuff. My skin is actually getting better with Kiehl's. I am not even getting paid to say this and promote Kiehl's! I love their Skin Moisturizer and the Overnight Hydrating Mask, I put that on [during] flights.
What's your hair routine? Hair-wise, the move for me is to not wash it. I try to only wash it when I have to or for a shoot or something. If I do it too much, I feel like my hair falls off. I like sea salt spray, I love dry shampoo, and mattifying powder from Redken. It makes my hair look like I am in a band.
Fragrance of choice? I have worn Coco Chanel Mademoiselle since I was like 10. I kind of want to get something a little lighter though. That is my signature smell (usually), but I feel like I am suddenly allergic to it. I didn't wear it for like three months and then I put it on and started sneezing everywhere. Then my mom got it for herself and she was like, I smell like you now! I was like, OK, weirdo!
Speaking of mom, what's the best beauty advice you have received from her? My mom doesn't wear a lot of makeup on her face either. She is very into skincare, too. Good moisturizer and lots of oils—all those things she is super into.
What is one of the best tips you have learned from a being on shoots with beauty professionals? Less is more. I would notice that when I did my makeup, I was putting on more makeup than they did on me at shoots. A little goes a long way, so I definitely learned how to wear less. Before that, I was really into the Kim Kardashian contouring look. Not that I did all of it, but it's just like so many steps. It's too many of them.
How did you learn to contour? I have been watching Youtube makeup tutorials since I was born. I did my own prom makeup and used to do peoples' makeup in high school for money. I love makeup. I don't really do it much anymore. I used to have a lot of time in the mornings to do it before school but now my skin gets so dry, I don't want to mess up my skin.
What's always in your bag? I always always have Too Faced Shadow Insurance, I have literally had that product since I was like 8-years-old. Not the same one, but you get the idea. I also like Laura Mercier loose powder, Benefit Hula Bronzer, and I love the Becca Highlighter. I love a highlighter, I know all about it.
Who do you count as a beauty icon? Rihanna. Did you notice I didn't even pause there? I don't even think about that. RIHANNA! She's my everything.