Who Is Baskin Champion, and How Did She Meet Justin Bieber?
Meet the 22-year-old beach babe who was recently spotted with Justin Bieber.
---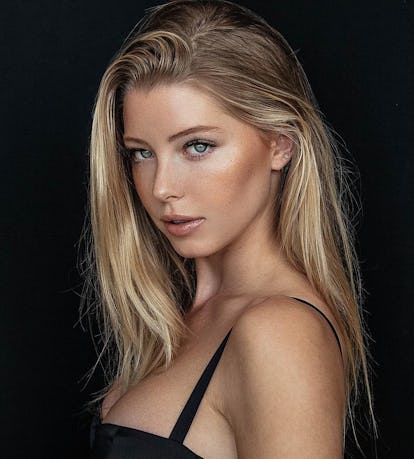 @baskinchamp.
When Justin Bieber left a Craig David concert at the Roxy in Los Angeles on Tuesday night, he was photographed with a "mystery blonde," as TMZ put it. Fans quickly figured out that the woman in question is Baskin Champion, a 22-year-old model with more than 200,000 followers on Instagram.
So how did Baskin Champion find herself in the company of Justin Bieber on a Tuesday night in Los Angeles? It appears that she met Bieber through her sister. Champion's sister Abby, who is also a model, is dating the actor Patrick Schwarzenegger. About a week before paparazzi spotted Bieber with Baskin Champion at the Craig David concert in L.A., he showed up on the red carpet to support Schwarzenegger's upcoming movie with Bella Thorne, Midnight Sun. At the premiere, Schwarzenegger told an Entertainment Tonight reporter of Bieber, "I'm just really blessed to call him a friend, he's a really great guy.… I'm really happy he came to support me and I'll support him throughout his life." So it seems likely that Bieber met Champion through Schwarzenegger, and at the very least it's clear that they run in similar circles.
Here's everything else we know about Champion: The 22-year-old model grew up in Alabama and participated in a Sports Illustrated casting call for its 2018 swimsuit edition, along with her sister. (Her love for chocolate chip cookies and Alabama football are a highlight of the casting call.)
She's been modeling since 2012, and by 2014 she was crowned Miss Alabama Teen USA. Two years later, Champion was named Miss Photogenic in the Miss Teen USA pageant, and at the time of her win she told Alabama reporters, "I have already reached so many of my goals, such as moving to New York and Los Angeles, and modeling for bigger companies such as Hollister and Frankies Bikinis. I am excited to see what else the Lord has in store."
Champion enrolled in Auburn University to study fashion design but took time off after her sophomore year to intern in Los Angeles and model full time. After hopping from New York to Miami for gigs with Wilhelmina Models, Champion and her sister both packed up and moved to Los Angeles. Since relocating to California, Champion appears to have blended right in with the beachy vibes of L.A. Perhaps she's some sort of brand ambassador for this food truck? Or maybe she just loves queso so much she had to get a hat that said "QUESO" on it.
She also may be a surfer (or maybe she just endorses surfing without clothes) according to this photo on her Instagram.
And speaking of social media, her Instagram is mostly filled with photos of her siblings, family members and friends, and her incredibly adorable dog named Charlie Champion.
Champion looks like she's just your typical beach babe with Southern roots who loves the great outdoors, resisting the Tide Pods craze, and finding happiness in a yellow bathtub surrounded by rubber duckies. As far as those dating rumors go, we'll just have to wait until Bieber and Selena Gomez break their silence on their supposed "break."
Related: Selena Gomez and Justin Bieber May Be on a Break, and It Has Nothing To Do With Her Mom Mandy Teefey
A Photographic Guide to All the Famous Women Justin Bieber Has Been Spotted Out with Over the Years
Circa 2010, Bieber was rumored to be dating musician Jessica Jarrell, whom he was touring with at the time. The pair were seen embracing on the red carpet at a Hollywood event that year.

Jason Merritt/WireImage
Bieber made his relationship with Selena Gomez public in 2011, when the pair arrived hand-in-hand to the 2011 Vanity Fair Party wearing coordinating ensembles.

Kevin Mazur/VF11/WireImage
The pair stayed together on-and-off for five years, frequently appearing at awards shows and basketball games together, before breaking up (for good?) in 2016.

Noel Vasquez
During one of those breaks with Gomez, Bieber performed at the 2012 Victoria's Secret Fashion Show, where he was spotted flirting with models Barbara Palvin and Miranda Kerr.

Kevin Kane/FilmMagic
The singer was also spotted around town with YouTube and Instagram star Chantel Jeffries, including at a 2014 Ciroc party hosted by Diddy.

Prince Williams/FilmMagic
Bieber has been linked to both Kendall and Kylie Jenner countless times; both sisters made an appearance at the "Justin Bieber: Never Say Never" Los Angeles premiere in 2011.

Todd Williamson/WireImage
Shanina Shaik and the singer were linked together in 2015 when they attended a party in Las Vegas together, as well as Coachella just days later.

Mindy Small/FilmMagic
Of all the rumors of Kendall and Kylie, the one that ended up being most persistent was their older half-sister, Kourtney. The mother of three was often spotted out with the singer in 2015, including at his Comedy Central Roast.

Jeff Kravitz/FilmMagic
At the taping of the show, Bieber was seen coming over to greet Kardashian, who was attending alongside Kendall.

Jeff Kravitz/FilmMagic
A few years before being romantically linked to Bieber, Hailey Baldwin attended the New York premiere of Justin Bieber: Never Say Never back in 2011.

Michael Loccisano/Getty Images
Four years later, the pair were often spotted out and about together. It was rumored that the two dated seriously circa 2016.

JMA/Star Max/GC Images
Last year, Bieber was spotted out with another famous scion: Sofia Richie, daughter of Lionel Richie and half-sister of Nicole Richie.

BG003/Bauer-Griffin/GC Images
The pair were spotted shopping in Tokyo by paparazzi, but would soon break up just weeks later.

Jun Sato/GC Images