Beauty Buzz
Jane Larkworthy presents new discoveries in fragrance, skincare and breast health.
---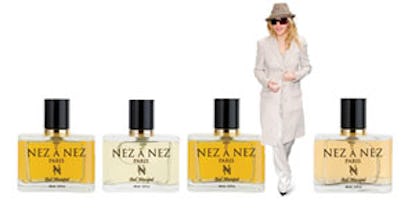 1| Paris Match Artistic collaborations between lovers are just as likely to be highly volatile as fruitful. (See Ike and Tina.) But Stéphane Humbert Lucas and Christa Patout, the Parisian team behind the luxe perfume brand Nez à Nez (French for "nose to nose"), appear to have figured it out. "Christa announces the journey," says Humbert Lucas. "She takes care of the luggage and the tickets, and she lets me wander and dream." That plan has yielded 10 exotic scents with far-flung inspirations. The five-year-old Nez à Nez, which counts Madonna and Pedro Almodóvar among its fans, lands Stateside this fall. $165 each; at Studio BeautyMix at Fred Segal.
2| Breast Cancer News Although most breast cancers begin as lumps or masses that can be detected by mammograms, sonograms or MRIs, inflammatory breast cancer (IBC) is one form of the disease that is often misdiagnosed. Since it is rarely accompanied by a tumor and its primary symptom is swollen or inflamed (red or purple) breast skin, doctors sometimes initially mistake IBC for an infection. A biopsy is required because it does not show up in radiology. A recent discovery, however, may help with early detection. Doctors at the Cancer Institute at NYU Langone Medical Center have found a link between the overproduction of the gene eIF4G1 and an increased risk for developing IBC. Though IBC makes up only about one to 5 percent of all breast cancers, its rate of occurrence in premenopausal women and in women postpregnancy is significantly higher than that of other breast cancers. Robert Schneider, associate director of translational research at NYU, who, along with research associate Deborah Silvera and radiation oncologist and department chair Silvia Formenti, conducted the study, encourages a take-charge attitude. "My patients know their bodies better than anybody, and they know when a swollen breast is abnormal," says Schneider, who hopes a standard test for the gene will be available in the next few years.
Youth Corridor Antioxidant Boost Skin Serum.
3|Beauty Sleep For years New York plastic surgeon Gerald Imber considered the idea of creating a skincare line, but, he says, "I never found anything better than what was already out there." Until he tried melatonin. Yes, the sleep hormone is evidently a remarkable antioxidant carrier. "Melatonin drives [vitamins] C and E into skin cells 1,700 times better [than products without it]," says Imber, who uses it in Antioxidant Boost Skin Serum, one of six products in his new line, Youth Corridor. "Melatonin has been used before as an antioxidant alone, but this is the first time it's used with these vitamins. Together they help remove free radicals and rebuild collagen. People in their early 20s look at an antiaging line and say, 'This isn't about me; this is for my mother.' Nonsense. This is how you keep from looking like your mother." $35 to $125; youthcorridor.com.
4| Midtown Cuts If a chic hair salon can boost a neighborhood's cachet, could New York's East 50s be the latest hot hood? Swanky Salon AKS has been on East 54th Street since 2005, but it has new neighbors: In February Paul Labrecque opened at Core Club on East 55th Street, the salon guru's third location, and now, two doors down, Oscar Blandi is following suit with a 9,000-square-foot space at 55th Street and Madison Avenue. Perhaps more impressive than the size is Blandi's decision to incorporate green elements. The ceilings are made from LEED-certified biodegradable wood fibers, the floors are sustainably harvested bamboo and all the shampoos are sulfate-free. 212.988.9404.