Beauty Guru Shiva Rose is Obsessed With Yoni Eggs
"It's a crystal egg that you put in your yoni," said the holistic lifestyle expert and actress. Here, she explains the healing powers of the ancient Chinese practice, along with her other beauty and wellness rituals.
---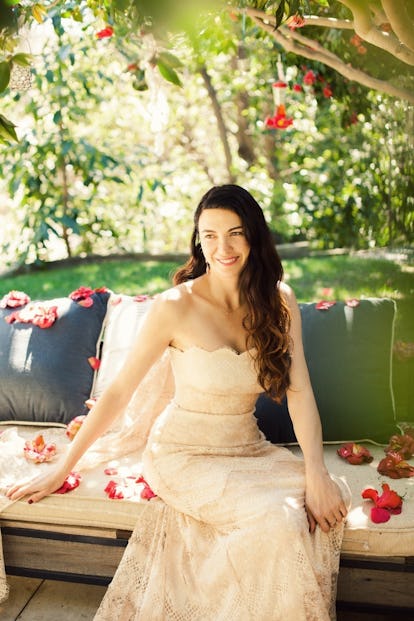 Photo by Kimberly Genevieve
Back when Shiva Rose first appeared in the public eye, I remember studying the young actress and new bride of actor Dylan McDermott and thinking how quiet and demure she seemed. Boy, was I wrong! Rose, who also has her all natural, eponymous skincare line, was in New York recently to show me her newest product offerings. We talked oils, oily skin, bone broth and our yonis. What's a yoni? Google it. Don't say I didn't warn you.
So, your latest product is a super rich night cream? It contains pearl powder, hyaluronic acid, and meadow foam. It's a powerful nourishing cream for women who are still worried about using oils.
It took me a while to get into oils and now I can't get enough. I'm a big oil person, too. But I still get resistance, even now. I use both; I apply the oil, then the cream sort of seals it in.
That's exactly what I do… The more, the better.
I met with this big dermatologist recently, who shall go nameless. And he told me that my skin is too oily. Dude, at my age, I'll take all the oil I can get. But we need the oils. The whole Ayurvedic philosophy is to feed your skin oils. And that's the problem with a lot of products. At first, they seem like they're doing their job, but in the long run, they dry you out. That's why you apply oils, but I take oils internally, too. You're a Kapha [the Ayurvedic dosha related to water and earth], you're lucky. I'm trying to be more Kapha. I take ghee and coconut oil every day. I'm constantly trying to replenish.
How did you get into skin care? Just being a nerd. I love research. And I'm single, so I can spend hours on the computer researching.
But you didn't get into it because you were single… No! I was diagnosed with an autoimmune condition when I was 26 and I was told I had a year to live. I had lupus, scleroderma and rheumatoid arthritis. But I'm a rebel. I said, "No, that's not right." I started researching and I found a holistic doctor who started me on the right path. He said I'd be better in a year. It didn't take a year; it's taken many years, but I finally feel that I'm there.
Was your diet the biggest part of this plan? What did you cut out and what did you add in? I cut out all the wheat, and heavily modified products, so it's all organic. I added raw dairy.
Is everything in your diet raw? No, I cook stuff, and I added more fat. I was very thin when I was in my 20s. I was an actress and it was the fat-free 90s.
Everyone was living fat-free back then. I added ghee, butter, coconut oil, and spirituality. I did a whole 360, and that's when I started my blog seven years ago. I started documenting everything. Then the skincare came along because I realized you can't just eat healthy, then slather all these chemicals all over your skin. That's what prompted this rose oil.
Was that your first [skin care product]? Yes, and that led to everything else.
So aside from your name, why do you love rose? It was one of the first ingredients I worked with. It's the queen of all the flowers. My grandmother, who I was named after, grew them in her garden. Rose is very healing, it opens the heart, it's the highest vibrational flower. When they rate the energy levels of flowers, rose is the highest. It heals the heart, opens the chakra, and it has anti-aging properties. My grandmother gave me the love of plants. We'd go hiking in Yosemite and she'd name all the plants. She educated me on the power of them.
Before you were diagnosed, were you always healthy? I discovered the L.A. Farmers Market when I was young, like 18. I'd been a vegetarian for 25 years, so I'd eat a lot of pasta, muffins, bagels, a lot of wheat since I was on a fat-free diet. I needed energy, so I'd eat carbs, which were all filled with GMOs.
Do you eat meat now? I do, medicinally.
Medicinally? Like a hamburger vitamin? Like bone broth!
Oh! Ok. Is that commonly known as medicinal beef? I don't know. I live in LA. I call it that.
I'm going to say that I have gummy bears medicinally, or medicinal wine. OK, time for Shiva's beauty questions! Ready? Go for it.
What's your first beauty memory? I remember a Persian woman telling me to rub lemon on my elbows and neck. It gets rid of dark spots and keeps it moisturized.
What beauty products are currently in your purse? My glow balm and chocolate.
Medicinal chocolate? Of course.
What was your worst beauty blunder? I shaved my eyebrows when I was a teenager. I dyed my hair red and shaved my eyebrows.
What prompted this? I thought I had too much of a brow and I wanted to be rebellious. My father wouldn't look at me for the longest time. He'd walk by with his hand blocking his line of vision towards me.
What beauty trend do you not get? Maybe the alterations that they do down there…?
Where? Oh! You mean like the Brazilian? No, the alterations they get. Surgically.
Oh, gross! Me too. Another thing that bothers me is that people in L.A. are whitening their teeth too much. They're so white, they're florescent. It's disconcerting. It'll come here. It's only a matter of time.
Gosh, I hope not. What lipstick are you wearing? I have one I created with Vapor. It's out this week. I also like Charlotte Tilbury's lipsticks and Hourglass.
If we pulled back your shower curtain, what would we find? Crystals. I bathe with my crystals, depending on what I need. To get rid of negativity, I'll put in a black tourmaline. If I want to create heart, I'll use a morganite and a rose quartz. If I want more monetary stuff, I'll put a citrine in there. Then I'll add things from the garden, like rosemary or lemon balm.
Are you a big bather? I take a bath every day. I believe in bath rituals. You get rid of the negativity of the day and put in the positivity through the bath.
What are you currently obsessed with? I love yoni eggs, but that might be too out there.
What is that? It's an ancient practice from China. The concubines used to do it for power and to please the emperor. It's a crystal egg that you put in your yoni.
What's a yoni? It's your…
Oh. Down there? It gives you power? Do you have one in right now? You seem rather powerful today. Or maybe it's the medicinal beef talking… I took it out, but I slept with it in.
Is that how most women use it? Some do, but for others, it gives them too much energy and they can't sleep with it in. But for some reason, while I've been in New York, I've been sleeping with mine.
What is its consistency? They're made from different materials, but jade is a good one to start with because jade releases negativity.
Do women use it for, eh, strengthening purposes? Or, to get pregnant? It can help with hormones and fertility. It can release trauma, and it can help the kegels without doing the kegel exercises. Because you can do kegels wrong, and this ensures that you don't. The [vaginal] walls will go towards it and actually do kegels without you even knowing it. It might seem heavy at first, but practice lying down on your back. That way, it won't fall out when you do the exercises.
Okay…Where does one buy it? I sell it on my site, but wherever you get it, get nephrite jade. It's from Australia. You don't want the jade that's made in China because you're not sure of its origin.
Can we please go back to our original topic of roses and skincare?
Everything's Coming up Roses
Aerin Rose Hand & Body Cream $65, aerin.com Along with rose notes, this silky formula also has magnolia and peony, resulting in a sophisticated floral scent.
Aromatherapy Associates Renewing Rose Hand Cream $37, aromatherapyassociates.com Rose and geranium oil provide both the fragrance and soothing properties, plus a dose of Omega 6 softens delicate hand skin.
C.P. Bigelow Rosewater Skin Tonic, $18, bigelowchemists.com Rose extract, witch hazel and chamomile soothe skin, but it also contains a bit of salicylic acid to gently exfoliate.
The Body Shop British Rose Fresh Plumping Mask $28, thebodyshop.com Rose petals, rosehip oil and aloe vera make up this gel mask that imparts an immediate plumping, toned sensation.
Briogeo Rosarco Blow Dry Perfection & Heat Protectant Crème $24, briogeohair.com This silicone-free blend of rosehip, argan and coconut oils protects hair from the potentially damaging effects of heat appliances while also keeping frizz at bay.
Diana Vreeland Perfumes Full Gallop (out in November) $250, neimanmarcus.com Like the woman it was named after, this blend of Turkish rose, iris, amber, musk and pepper is a striking, bold creation.
Fresh Rose Deep Hydration Face Cream $40, fresh.com Two different types of hyaluronic acid (one that works on skin's surface; the other goes deep) increase moisture on both levels while rose flower oil and rose water nourish and calm skin in this rich cream.
Imaginary Authors Slow Explosions $95, imaginaryauthors.com Prefer a scent that doesn't lead with the blossom? This one mixes rose with saffron and is warmly anchored in a leather base.
Julisis Rose Pearl Hydra Mask, $192, julisis.com Spring water, vegetable glycerin, fermented mushroom and two kinds of roses help strengthen skin's moisture barrier in this bouncy clear gel that feels refreshingly cool on skin.
L'Objet Rose Noire Room Spray, $75, l-objet.com Ceylon tea, white pepper and moss blend with exotic roses in this spray, which makes for an adequate substitute for a vase of roses in a pinch.
Molton Brown Rosa Absolute Bath & Shower Gel $30, moltonbrown.com Black currant adds a light sweetness to this Italian rose oil body wash, while patchouli imparts a subtle sexy element.
Moroccan Oil Fleur de Rose Shower Milk $32, moroccanoil.com The brand's famous argon oil adds coconut oil, avocado oil and olive oil to this hybrid milky shower gel.
Mullein & Sparrow Bath Salts crystals, $42, mulleinandsparrow.com If you dream of bathing in rose petals, this is for you. If, however, you'd rather not clean your bathtub of said rose petals afterward, maybe use their Rose Geranium bar soap instead
MV Rose Hydrating Mist, $42, detoxmarket.com The lightest wakeup call for a complexion, this softens skin to better absorb moisturizer afterwards.
Shiva Rose Saffron Rose Facial Scrub $48, shivarose.com Just add a few drops of water or essential oil to this powdery mix and spread it over your face and neck. You won't care about the potential post-rinse-off mess in your sink when you feel how soft your skin is.
Yes to Primrose Oil Coriander Liquid Hand Soap, $4, Walmart.com This liquid soap soothes irritated skin and truly smells just like a fresh-cut batch of roses.
Christophe Robin Instant Volumizing Mist with Rose Water $29, Sephora.com Composed of 96% rose water, this soothes the scalp, which just-colored hair appreciates and adds extra girth to locks, too.