Talk Pretty To Me
Where to turn when your hair dye misfires? Mike Albo dials into the wacky world of beauty hotlines.
---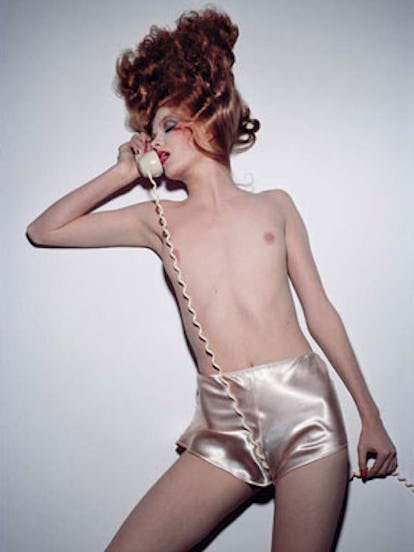 "Oh, there's never a dumb question," said the customer service representative at Kiehl's 800 number. I had just called and told her that I had accidentally used the Superbly Efficient Anti-Perspirant & Deodorant Cream as a hand lotion and didn't know what to do. "It's a gentle product. But it is meant as an antiperspirant," she said patiently.
"But is this an emergency? Should I go to the ER?" I asked in a panic.
"There won't be any damage, but your skin will certainly feel dryer," she said clearly, as if she were talking to a slow friend.
I couldn't have been more of a moron, and if I were her, I would have broken down after the first two minutes. ("How do you even get dressed in the morning? Nimrod!") But she was much more forgiving than me. And when I contacted a dozen other beauty hotlines—from Lubriderm to La Mer—with similarly embarrassing yet oddly valid questions, I got the same response. Each and every number was manned (or, rather, wo-manned) by a patient female technician happy to help.
Customer service hotlines date back to the late Sixties, when AT&T, following in the footsteps of the UK's "freephone" service, brought the concept of 800 numbers to the U.S. Half a century later, in an age when one can watch a YouTube video on how to apply false eyelashes while simultaneously chatting about bronzer on makeupalley.com, it seems a wonder that they still exist. Look on the back of just about any cosmetics package, however, and you'll find an 800, 888, or 866 number. What's more, customers continue to call them. "We still receive the most contacts via phone versus any other method," says Clairol consumer relations manager Sarah Schlosser. "Women do a lot of research on their own, but a one-on-one consultation provides reassurance that you just can't get from an app."
According to Sheila L. Sullivan, director of global consumer affairs at Coty, the need for this sort of reassurance has only grown in recent years. "It may have started with the recession," she says. "Consumers have become more demanding in establishing value. They will scrutinize; they will research more. They are quicker to hold the brand accountable."
Beyond the economic factor, there's also the fact that beauty products have become increasingly specialized and complicated. Short of having a stylist or doctor on hand at all times, who else are you going to call to find out whether it's safe to, say, get a spray tan when you've been using Retin-A, the Clarisonic face brush, and a toner made from matsutake mushrooms?
That might actually be a good question. But as the Kiehl's rep said, in the world of beauty hotlines, stupid questions don't exist. Calling Origins, I listed several products containing fruit extracts or nutty bits and asked what would happen if I ingested them. "It's not advisable," said the person on the other line soberly.
When talking to Aveda, I told the agent that a friend had given me the Chakra body mist and that I was holding it in my hand, dumbfounded, like it was an inscrutable pre-Columbian artifact. "You just use it like you would a cologne. The idea is that it's going to resonate with the needs or imbalances of your energy cycles," the woman said, in an appropriately yoga instructor–like cadence.
I felt particularly sorry for the technician at John Frieda, who had to listen to me freak out over the possibility that I would look like Lucille Ball because I'd used the Radiant Red shampoo. "The shampoo and conditioner enhance the tones of your hair," she said. "But, say, if you were blond it would definitely not add color." Still, I kept on her like I was the head of the House Financial Services Committee. "But what is the difference between reddish shine and color? What makes it shine?" She had an answer every time.
While every specialist remained poised and preternaturally helpful, I did have one issue. Because I'm a man, I felt at times like the reps were waiting for me to say something creepy. I decided to enlist the help of my friend Cary Curran. Maybe, I thought, when it was just girls, the technicians would let their hair down. Apparently not. We first called the makers of La Mer. Cary, an actress, assumed the role of a frantic mother, explaining that she keeps her face cream in her fridge and that her nanny had accidentally used it as mayonnaise on a turkey sandwich and fed it to her child. Calmly, the technician told her she was not a physician, but would send the ingredients in an e-mail. Cary and I stood in her living room swallowing our giggles like tweens, yet the voice on the other end of the line remained frustratingly composed.
To maintain that level of decorum, I concluded, the woman must have been as well trained as a 911 operator. Almost, it turns out. According to Schlosser, Clairol operators undergo four weeks of classroom instruction "covering color theory, product chemistry, and role-playing." Supervisors also review phone calls regularly to provide ongoing feedback and education.
Agents at Coty brand Sally Hansen, which receives between 100 and 200 calls a day, are trained in what Sullivan calls "soft skills," like "active" listening and managing a conversation when a caller is upset.
So, why, in this era of cost cutting, do companies find it necessary to maintain this level of service? Why not let customers solve such vexing dilemmas as how to remove their nail polish—an actual example of a recent call to Sally Hansen—on their own? The obvious answer is that human contact builds brand loyalty, but there's another motive at work: Every call represents a precious reservoir of data for manufacturers.
"Agents are capturing information about each consumer," says Sullivan, who explains that such details are entered into a database. "If the marketing department wants an overview of feedback on products, we can deliver that. We can only hope customers will call—it's our greatest opportunity."
And with that, any guilt I had about grilling those nice, patient ladies evaporated. It seems I'd been performing a valuable service.
Photo: Guy Bourdin/Art + Commerce