Losing The Wait
Good things come to those who wait, and the services of beauty's biggest stars are no exception. But what's a girl to do if she doesn't want to bide her time? Here, an inside guide to cutting the line.
---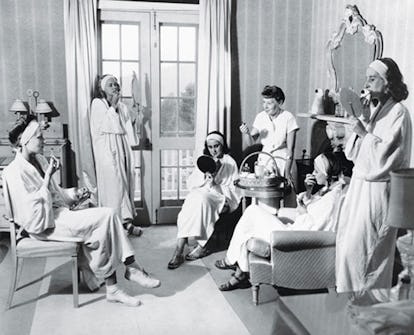 Soul Lee, Lash extender Kiehl's Spa 1851, New York (888.SPA.1851, kiehls.com) Clients: Uma Thurman, Alicia Keys, Zoë Kravitz, Jennifer Jason Leigh. The Wait: Three to four weeks. The Trick: Become engaged. "If someone has a special occasion, like a wedding, then I'll bump her up," Lee says.
Amanda Lacey, Facialist Amanda Lacey, London (44.759.043.6029, amandalacey.com) Clients: Emily Blunt, Kristin Scott Thomas, and a host of other Brit screen stars. The Wait: Eight weeks. The Trick: Get a Screen Actors Guild card. "I'm working on my growing skincare line, so these days I only do facials two solid days a week," says Lacey of her jam-packed schedule. "I'll squeeze in actors and actresses, though, because they're usually on set and working."
Jill Blakeway, Acupuncturist and herbalist YinOva Center, New York (212.533.2255, TEXT yinovacenter.com) Clients: In-the-know types trying to conceive (Blakeway specializes in fertility). The Wait: Nine weeks. The Trick: "Since follow-up visits have shorter lead times, we recommend a new patient do an initial consultation with a member of our team and then schedule a follow-up with Jill," says Michele Lieblich, YinOva's communications director.
Daniel C. Baker, Plastic Surgeon New York (212.734.9695) Clients: Park Avenue social swans and major fashion designers. The Wait: Four months for a consultation. The Trick: Get a fake passport from an exotic locale. Per a staffer: "If people are out-of-towners—especially if they're traveling from a different country—we try to squeeze them in."
Christine Avanti, Nutritionist Los Angeles (christineavanti.com) Clients: Jason Statham, Jeremy Piven, Chelsea Handler. The Wait: Four months. The Trick: Suck up to a current client. "My clients are like my family," says Avanti. "So if their friends or family members need me, then I'm going to carve out time for them."
Lynne J. Goldberg, Dermatologist and hair loss specialist Director of the Hair Loss Clinic at Boston Medical Center (617.638.7420, bmc.org/dermatology ) Clients: Men and women who are bummed about balding. The Wait: Six months. The Trick: Ask your regular dermatologist to intervene. "The perception of most patients is that they are having an emergency," Goldberg says. "But if a physician feels there is a true emergency, he or she contacts me, and I try to get the patient in sooner."
Mark Machado, Tattoo artist (aka Mister Cartoon) Los Angeles (tattoos@mistercartoon.com) Clients: Dr. Dre, Justin Timberlake, Beyoncé, Eminem, Christina Aguilera. The Wait: Eight months. The Trick: "Being part of the 'Cartoon' family, a repeat customer, or a close friend helps," says Mark Suroff, Mister Cartoon's business partner and manager. "And if all else fails, a cash bribe."
Lyn Harris, Bespoke perfumer Miller Harris Perfumer, London and New York (212.206.6366, millerharris.com) Clients: Jane Birkin, Madonna, Michelle Obama. The Wait: One year for an appointment; six more months to create the juice. The Trick: Beg. Scoring a spot on Harris's calendar in less than 12 months is nearly impossible, but once you've met her, you may be able to speed up the delivery of your personal scent. Says her publicist: "The secret is to just speak to Lyn and talk about what is possible if there is a certain deadline in mind."