Marissa Sackler: Busy Bee
Whether she's on the ground in Africa or managing her latest venture, this social entrepreneur is bringing tech innovation to the not-for-profit world.
---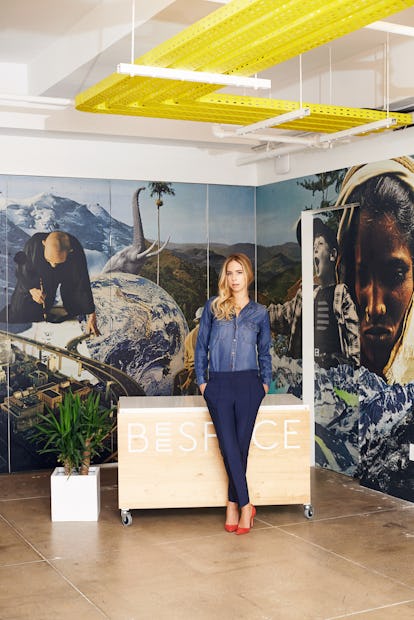 Photographer: Peter Ash Lee
Marissa Sackler's family name is synonymous with philanthropy on a grand scale. It is attached to buildings, wings, and research centers around the globe—the Metropolitan Museum, the Louvre, Westminster Abbey, the Tate, the Royal Botanic Gardens at Kew, the Victoria and Albert Museum, Columbia and Oxford universities, to name just a few. But the 33-year-old daughter of the late Sir Mortimer Sackler—a pioneering psychiatrist and self-made pharmaceutical mogul—and his third wife, Theresa, thinks the word "philanthropy" sounds a tad, well, old-fashioned. She prefers to call herself "a social entrepreneur."
Her new venture, Beespace, launched in November in New York, is an incubator for civic-minded nonprofits, offering fledgling charities free office space and access to an in-house team specializing in technology, design, fundraising, and media. Among her incubees is the Malala Fund, which helps girls around the world gain the right to an education and is led by Malala Yousafzai, the outspoken teen who was shot in the head by the Taliban in Pakistan while riding a school bus. Beespace also pairs the start-ups with outside mentors from both for-profit and nonprofit fields to share know-how and build networks. Money, Sackler understands, goes only so far.
"The tech space is creating rapid innovation in so many other industries," she says in Beespace's cheerful open-plan office in Chelsea, with its communal wood tables and whiteboard walls. "That scale of change has not been fully adopted by the nonprofit industry." One idea is to track the Web habits of potential donors. "I've gone to shopping sites to look at a pair of shoes, and later, while I'm checking the weather forecast, I suddenly get a message saying, 'You looked at those shoes, do you want to buy them?' " Sackler says. "So tracking donors and coming back to them after they've considered a donation is something we're looking at."
Petite and persuasive, Sackler has a low-maintenance vibe that belies her tony upbringing. Born in London, she attended boarding school in Wiltshire and spent holidays at her family's homes in Gstaad and Antibes. She considered a career in the foreign service while studying at Georgetown University in Washington, D.C., but instead went to work as a photographer and consultant for Charity: Water, which helps source clean drinking water in the developing world. She lights up when talking about shooting aerial footage of the Nairobi slum of Kibera from a prop plane or visiting well sites in Ethiopia's far north with the group's founder, Scott Harrison, and a bunch of Silicon Valley whiz kids. Though today she's wearing a moss green J. Mendel dress over a cozy Elder Statesman sweater, the dress, Sackler says pointedly, is a bit of a departure from her generally understated wardrobe. "We have an event here tonight," she explains.
Still, she enjoys living well: For her 30th birthday, in 2010, she threw a black-tie circus-theme party in a New York warehouse transformed by Bronson van Wyck. An avid collector of work by emerging contemporary artists, Sackler is a trustee of the DIA Art Foundation and of her family's foundation. And while Beespace was started with her personal funds, she intends for it to be self-supporting, not function as her private charity. Incubees have to find their own donors—but because they are given two-year residencies, they have time to build out their programs rather than simply try to stay afloat. The model, she hopes, will have legs. Already, Sackler envisions Beespace San Francisco, São Paulo, and Nairobi. Her mother, she adds, "is pushing for Beespace London." Maybe all families really are alike.