Behati Prinsloo on Body Positivity at the Victoria's Secret Fashion Show: "We're Not Perfect"
"We're not perfect," says the new mom.
---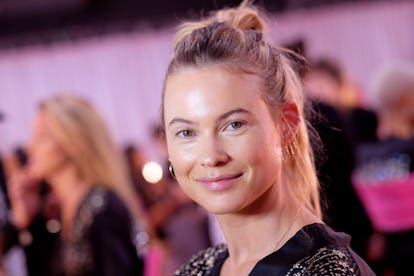 Dimitrios Kambouris
Behati Prinsloo has missed the past two Victoria's Secret Fashion Shows, but with good reason: During that time, she gave birth to her two daughters with Adam Levine, Dusty Rose and Gio Grace, now 2 years old and 7 months, respectively. Tonight, that brief hiatus comes to an end, as Prinsloo will return to the runway for this year's show, alongside fellow new mom Candice Swanepoel, and many, many others. Ahead of the show, Prinsloo took to Instagram Stories to post a message of body positivity post-birth. "After two babies back to back, doing the @victoriassecret show felt like a distant dream haha," she wrote. "But I'm so proud to be back and proud of my body and what it can do, feeling stronger than ever and healthier than ever with two beautiful baby girls. #girlpower." Here, Prinsloo chats backstage about returning to the show and why she decided to post that caption.
How does it feel to be back?
I'm so excited. I'm excited to see all of these beautiful familiar, faces. I'm just excited to be back on the runway.
What was it like watching the show on TV instead of actually walking in it?
It was so funny. I remember watching it and being like, Ahh. It was Paris, and I was like, Ugh, I'm missing Paris, this is such a big show, I'm so sad. And then, honestly, I had the best time watching it in bed and knowing what was going on. It's so crazy, and I was like, Wow, this is the first time I'm laying in my bed and watching the show.
Does it feel different coming back as a mom?
It does. I think it gives me another sense of purpose, that I'm doing this for a reason and there's someone at home waiting for me, and I'm leaving behind something. I think it gave me so much motivation to come back and show my girls that anything is possible.
Do your girls understand this whole thing at all?
No, not at all. Not yet.
You posted a powerful Instagram about body positivity after giving birth. Were you expecting such a big response to that?
It was amazing. As women, we really should support each other, and we're not perfect. Being a mom and going through that experience and your body changing, it's so amazing to just feel as strong as I do right now and to have the girls support you. Nobody's judging. We're all each other's number-one cheerleaders, which feels really beautiful.
Related: Gigi Hadid Has to Fight Back Tears While Walking in Victoria's Secret Fashion Show