VICTORIA'S SECRET FASHION SHOW
Gigi Hadid Has to Fight Back Tears While Walking in Victoria's Secret Fashion Show
Emotions are running high for the Angels.
---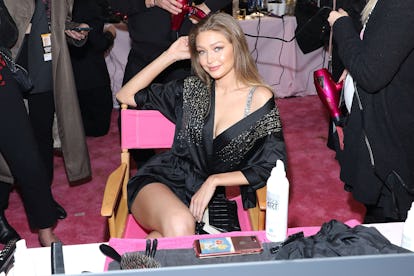 Taylor Hill
Backstage at the Victoria's Secret Fashion Show is a lot of controlled chaos; everywhere you look are photographers dashing around, hairdressers adding in extensions, makeup artists brandishing glitter-filled brushes, and, yes, scantily-clad Angels. But despite it all, Gigi Hadid remained calm, cool, and collected on Thursday afternoon before the big night. When not one, but two hairdryers began circling her head during our interview, she offered to hold my phone close to her mouth without missing a beat. Now that's a pro. After not walking in last year's Shanghai-located extravaganza, Hadid was in high spirits, excited to be back on the runway, rejoining her sister Bella, who sat in an adjoining chair. Here, Hadid talks about walking alongside Bella, the throwback picture her mom Yolanda posted on Instagram, and why she's trying really hard not to cry on the runway tonight.
How are you feeling?
I'm so excited. It's really great to be back, and I feel so lucky to be part of this group of girls. I think every girl is so amazing and it is really great to meet all the new girls and see all my sisters-slash-friends. I'm just so happy for everyone. As you get to know each girl, you get to understand why they are really in the show. It's just a really warm community feeling.
How does it feel to walk alongside your actual sister?
Amazing. She's just the best. I can't watch her too much or I get too emotional and I cry. Yesterday in rehearsal, we were all ugly-crying.
How do you hold off from crying in the actual show?
I tear up during the show for sure. It's incredible to watch. I think everyone has such an epic moment for themselves. There's a lot of emotional things, from that feeling of family but also it's Adriana [Lima]'s last show, and I grew up watching her. There's little things like that that mean a lot to me to be here, so I'm really excited.
How did it feel when you saw the throwback picture of yourself and Bella wearing wings that your mom posted?
I love that picture. I think it's so cute. We obviously had no idea at the time that it would be a relevant photo now, but it's a cute, symbolic moment.
Did you feel any FOMO not walking in last year's show?
I'm just so happy for all of the girls, and I think that everybody has their time and it's the right time for them at that point. I just had fun watching them have their time.
What are your post show plans for tonight?
Just celebrating with the girls. That's the most fun for me. There are a lot of different parties, but the ones with the girls in the show are my favorite.
A Look Back at the Earliest Victoria's Secret Fashion Shows
Beverly Peele at the first Victoria's Secret Fashion Show, inside the Plaza Hotel in New York, 1995.

Getty Images
Natane Adcock at the first Victoria's Secret Fashion Show, inside the Plaza Hotel in New York, 1995.

Getty Images
Beverly Peele backstage at the first Victoria's Secret Fashion Show, inside the Plaza Hotel in New York, 1995.

Getty Images
Angelika Kallio at the first Victoria's Secret Fashion Show, inside the Plaza Hotel in New York, 1995.

Getty Images
Tyra Banks backstage at the 1996 Victoria's Secret Fashion Show, inside the Plaza Hotel in New York.

Getty Images
Heidi Klum backstage at the 1997 Victoria's Secret Fashion Show, inside the Plaza Hotel in New York.

Getty Images
Tyra Banks backstage at the 1996 Victoria's Secret Fashion Show, inside the Plaza Hotel in New York.

Richard Corkery/NY Daily News Archive/Getty Images
Stephanie Seymour at the 1996 Victoria's Secret Valentine Fashion Show, inside the Plaza Hotel in New York.

Getty Images
Naomi Campbell backstage at the 1998 Victoria's Secret Pre-Valentine's Day Fashion Show, with Jeff Probst, inside the Plaza Hotel in New York.

Getty Images
Claudia Schiffer backstage at the 1997 Victoria's Secret Fashion Show, inside the Plaza Hotel in New York.

Getty Images
Rebecca Romijn-Stamos at the 1997 Victoria's Secret Fashion Show, inside the Plaza Hotel in New York.

Getty Images
Naomi Campbell at the 1997 Victoria's Secret Fashion Show, inside the Plaza Hotel in New York.

Getty Images
Georgianna Robertson in a Valentine's Day ensemble at the 1997 Victoria's Secret Spring Revelations Fashion Show in New York.

Getty Images
Naomi Campbell at the 1997 Victoria's Secret Spring Revelations Fashion Show in New York.

Getty Images
A model wearing a black scuba-diving femme fatale corset at the 1997 Victoria's Secret Spring Revelations Fashion Show, inside the Plaza Hotel in New York.

Getty Images
Naomi Campbell on the runway of the 1998 Victoria's Secret Fashion Show at the Plaza Hotel in New York.

Getty Images
A model wearing a silk handkerchief and a satin thong at the 1999 Victoria's Secret Fashion Show in New York.

Getty Images
Heidi Klum, who wore that year's $10 million "millenium bra," and Karen Mulder backstage at the 1999 Victoria's Secret Fashion Show.

Getty Images
Gisele Bündchen at the 1999 Victoria Secret's Fashion Show in New York.

Getty Images
Tyra Banks at the 1999 Victoria's Secret Fashion Show in New York.

Getty Images
Stephanie Seymour at the 1999 Victoria's Secret Fashion Show in New York.

Getty Images
Gisele Bündchen at the 1999 Victoria's Secret Fashion Show in New York.

Getty Images
Heidi Klum in front of a Concorde jet after arriving for the 2000 Victoria's Secret Fashion Show and charity gala for amfAR during the Cannes Film Festival.

Getty Images
Adriana Lima at the 2000 Victoria's Secret Fashion Show and amfAR charity gala during the Cannes Film Festival.

Getty Images
Gisele Bündchen at the 2000 Victoria's Secret Fashion Show and amfAR charity gala during the Cannes Film Festival.

Getty Images
Alessandra Ambrosio backstage at the 2001 Victoria's Secret Fashion Show at Bryant Park in New York.

Getty Images
Karen Elson backstage at the 2001 Victoria's Secret Fashion Show fittings in New York.

Getty Images
Gisele Bündchen backstage at the 2002 Victoria's Secret Fashion Show, inside the Armory in New York.

Getty Images