Behati Prinsloo Is Returning to the Victoria's Secret Fashion Show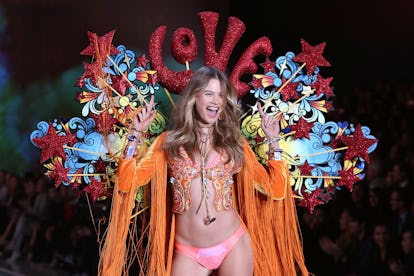 Taylor Hill/Getty Images
Behati Prinsloo, who has put her modeling career on a low simmer the past two years in order to focus on rearing her two children Dusty Rose and Gio Grace—with Maroon 5 frontman Adam Levine—is ready to return to her old, angelic stomping grounds. As revealed on Watch What Happens Live Monday night, Prinsloo will be returning to the annual Victoria's Secret Fashion Show after a short hiatus.
"You know what, I actually am," she told host Andy Cohen when he asked if she'd be donning her wings anytime soon. "I'm coming back this year. I missed two years. I was pregnant. So I'm really excited to walk this year, it's November 8." The official Victoria's Secret social media accounts soon followed suit, confirming her presence with a sweet message: "We missed you in wings."
In August, Prinsloo debuted her first campaign since her brief modeling hiatus, returning as the face of upscale jeweler Jacquie Aiche. (She still walked in Alexander Wang's Spring 2019 show in June, though.) "We've actually been trying for a while to get back together and shoot something, but I had two babies in between the first campaign and now, so it took a minute. It felt amazing to reunite with the team, and truly just an organic collaboration," Prinsloo told W, noting that her approach to modeling has changed since giving birth. "I'm more selective, and I'm easing my way into things. I'm enjoying every single minute of being a mother to my beautiful baby girls." She also said how Aiche customized matching anklets for Dusty, Gio, and herself as a thank-you gift.
Hey, if Prinsloo decides to have another child, maybe she can take a page from the Slick Woods playbook next time?
Presenting 21 Moms Who Happen to Be Supermodels
Related: Behati Prinsloo Returns as the Face of Jacquie Aiche, Her First Campaign Since Giving Birth to Daughter Gio Grace
Presenting 21 Moms Who Happen to Be Supermodels