Behati Prinsloo Returns as the Face of Jacquie Aiche, Her First Campaign Since Giving Birth to Daughter Gio Grace
The model is getting back to work after giving birth to her daughter Gio Grace with Adam Levine.
---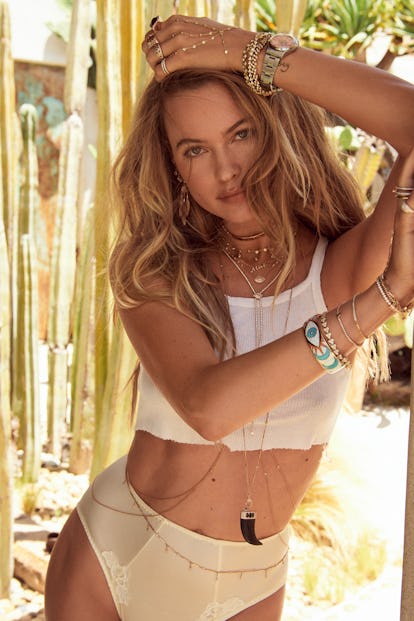 Photo by Naj Jamai
Ever since she was discovered in Cape Town, South Africa, as a teenager, the model Behati Prinsloo has been a constant fixture on the runway and in the pages of major fashion magazines for over a decade. This year, however, Prinsloo slowed down a bit—and for good reason, as she welcomed daughter Gio Grace Levine, her second child with Adam Levine, on February 15. But don't expect the supermodel to step back completely. After walking in Alexander Wang's spring 2019 show in June, Prinsloo is also now returning in front of the camera, starring in the celebrity-favorite jeweler Jacquie Aiche's new campaign, which marks the second time she's fronted the brand's ads. The images, which debuted today, see Prinsloo dripping in Aiche's designs while wearing Western-inspired clothing, cowboy hat and all. Here, Prinsloo talks about returning to work, how becoming a mom has changed her, and why she admires friend Rosie Huntington-Whiteley's style.
How did it feel returning to set?
We've actually been trying for a while to get back together and shoot something, but I had two babies in between the first campaign and now, so it took a minute. It felt amazing to reunite with the team, and truly just an organic collaboration.
How has your approach to modeling and taking jobs changed since becoming a mom?
I'm more selective, and I'm easing my way into things. I'm enjoying every single minute of being a mother to my beautiful baby girls.
What is your personal jewelry collection like?
I love jewelry. I love timeless pieces that I can pass down to my daughters one day. I'm also an anklet freak; I always have one on. Jacquie actually customized matching anklets for Dusty, Gio, and me. And I would say my most prized piece is my engagement ring from the 1920s. The history in the stone alone makes me so happy—I can feel its energy.
What is your go-to outfit for a day off?
Jeans and a vintage tee or a slip dress.
Who is your ultimate style icon, and why?
It's hard to name one person. I think style is so personal, and I appreciate someone who stands out, and who's unique. A lot of times, it's about wearing something confidently that makes any outfit look incredible. A couple of my faves are Rihanna, obviously, and Gwen Stefani. Growing up, I was—and still am—a huge fan of No Doubt!
What was the last thing you purchased?
Amazon makes it impossible to answer this question. However, I did just get a new Chanel lunch box–style bag that I'm obsessed with.
Which friend or coworker's style do you most admire?
My mother is so classy, elegant, and effortless. And Rosie Huntington-Whiteley, although we have different styles, I love how committed she is; she always looks flawless. Me, on the other hand, I tend to get caught barefoot and with messy hair.
What was your style like as a teenager?
I was a total tomboy; not much has changed, truthfully, except I used to only wear super low-rise jeans and now I'm all about a high waist.
What is the best fashion tip you've picked up on set?
It's really how to make anything work, and how to make it feel like it's me. When you feel confident in what you're wearing, it's the absolute best feeling. Fashion is fun, so don't be afraid, and have fun with it.