Behati Prinsloo Shares Gio Grace Levine's Birthdate and First Photo
The model also confirmed how to spell the name of her second child with Adam Levine.
---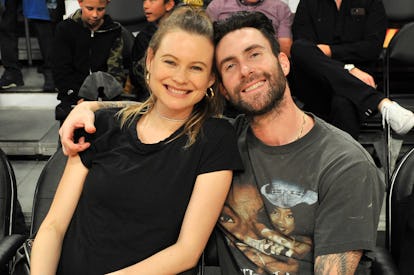 Allen Berezovsky/Getty Images
Last week, Adam Levine and Behati Prinsloo announced that they had welcomed their second child together, Geo Grace—and, now, we have a sense of what she looks like. Well, to be fair, it's only a glimpse at her toes and, according to her mom, she's already following in her dad's footsteps.
"Gio Grace Levine 2/15/18," Behati wrote on Instagram when sharing the first picture of the pair's second daughter, following one-year-old Dusty Rose Levine. "She's got her dads toes ??" This isn't the first time Behati has made anatomical comparisons between her children and her husband of nearly four years. Most recently, she shared a photo of Levine and Dusty standing side by side naked, censored with the "peach" emoji. "Same butt different ?," she wrote in her caption on Instagram.
It's on the social media app where Behati has been mostly sharing moments from her pregnancy with Geo, ever since she announced she was expecting another child back in September of 2017. "ROUND 2…..," she wrote.
Most recently, she shared a photo of herself holding Dusty Rose with the caption, "HAPPY NEW YEAR! Let's be kind to one another and our planet ?…2017 was cray. Can't wait to meet our newest addition in 2018."
Behati opened up about how motherhood has changed her last August, telling People, "I think the fact that you could love a person more than you ever thought… I love Adam, and when you get married and you fall in love with someone, you think that there's no greater love than that love. And then you have a baby, and it's just next-level love… You think there's a limit to love — like, 'This is the thing that I love the most' — but honestly, I think what surprised me most is how intense that love is, and also how hard, at times, it is."
It seems likely that Behati will continue to experience motherly love firsthand, considering Levine has talked about how much he wants a big family before. "I want a lot [of kids], I thrive in chaos," he told Ellen DeGeneres. "She was an only child, so she wants like 100 babies. I don't know if I can do that. That's a lot of babies."