Bella Hadid Opens Up About Her Family's Holiday Traditions
This Christmas, she'll be "eating everything."
---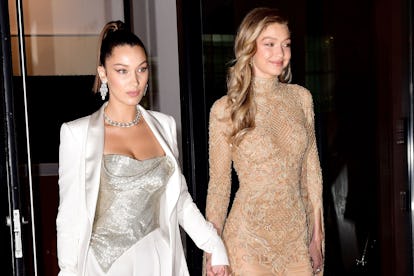 James Devaney/GC Images/Getty Images
What do you get for the supermodel who has everything? Luckily, Gigi and Bella Hadid no longer have to solve this impossible conundrum for the purposes of a sisterly gift exchange since, as Bella recently revealed to British Vogue, the Hadid family has stopped exchanging Christmas presents in recent years.
"I don't really remember the last time I had a wish list for Christmas. It's just to be with my family, not work for a week, and ride my horses. Christmas is great anyway, eating everything and just having a good time. I'm so lucky that my life is a blessing," Bella said, adding that her family's holiday celebrations are usually pretty low-key. "I have no plans! I'm just going to be with my family, that's my only plan," she said. "For the past few years, we haven't had a big Christmas because my mom wasn't feeling well, so it's just our family. We hope for the best and it always works out."
Bella said that their family Christmases typically include plenty of homemade food, with her and older sister Gigi taking charge in the kitchen. "My sister always ends up cooking, and I'm really into baking. We watch the Food Network like nobody's business, so whatever we learn, we end up making and hoping it turns out well," said Bella, whose specialties are "lemon cardamom cake — my mom loves it — and crepes — I'm obsessed with them, so I make them for every occasion."
And although she's keeping her "fingers crossed that everything falls into place" on New Year's Eve, don't expect to see the 21-year-old hitting any parties on December 31. "I can't even think about going out anymore, it's the last thing on my list! I'm happy staying in with a good movie and a hot chocolate," she said, noting that her favorite winter-time film is Nancy Meyers' The Holiday. Sounds like a good start to 2018, during which she's resolved "to work on myself, focus on my work and what makes me happy, and do things for the world, but travel less," she said.
A Definitive Ranking of Kardashian Christmas Cards, From Least Kardashian to Most Kardashian
Mispelling of Khloe's name aside, this card is most definitely the least Kardashian thanks to one notable exception: as if Kris Jenner would ever miss a photo opp nowadays.
While this was years before Kim was running around with Karl Lagerfeld and Riccardo Tisci, you can still see the pain in her eyes over having to wear ill-fitting, matching motorcycle jackets with the male-heavy Jenner clan.
A Kardashian never misses the chance for a full-scale, glam-squad heavy photoshoot. The fact that they skipped a prime opportunity for the 2009 holiday card in favor of an outtake from Khloe's wedding is very off-brand.
As everyone who has caught a glimpse of Keeping Up With the Kardashians or paged through an Us Weekly in the past decade knows, this family is not without some serious drama. The party-themed, all smiles 2012 card is just a little too happy.

Courtesy of Celebuzz
Another all-white card, but at least this one comes with some angst (Hi, Khloe) and tense smiles that nod to some underlying drama. Bonus points for a tiny baby Kendall Jenner and an appearance from Santa.
Here we have some high glamour Kardashians, as we've come to know and love—at least, until the Yeezy athleisure movement came in full-force. The fact that Kim's shade of red is just slightly off from the rest of the clan is a great easter egg.
The 2013 David LaChapelle-lensed card was a tipping point for the family, as they went from "delightfully zany" to just "full-on insane." There are just so many things to look at here—which, truly, could be said about the family in general.
A distinct departure from the bonkers previous card, once Kim and Kourtney started building their own brood, they let the kid's take center stage in the family's holiday card. A cute thought, but if rumors are too be true, the concept might be a little too crowded come next year.
You want drama? Glamour? Welcome to the 2010 Kardashian family card. This was the first year to let each sister's individual style stand out, a nod at many fashion empires to come.
2011, however, was the card to end all cards. Case in point? It was in 3-freaking-D. Your Christmas card could never. But hey, what are Kardashians if not ahead of their time?
Related: Bella Hadid Accidentally Freed the Nipple on the VS Fashion Show Runway