Bella Hadid's Alleged Stalker Was Reportedly Arrested After Being Seen Near Her New York Apartment
She called the police Thursday night.
---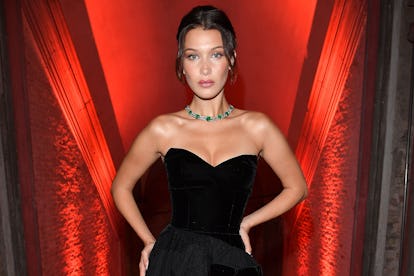 Venturelli/Getty Images
Bella Hadid had an eventful Thursday — even without all the New York Fashion Week events and birthday dinners on her schedule. According to People, the supermodel had to call the police after an alleged stalker was seen standing outside her New York City apartment. An NYPD spokesperson told the outlet that, after Hadid called to report that Ryan S. Perez, who she accused of stalking and harassing her from December 17 until this week, was loitering outside her home, Perez was arrested and charged with aggravated harassment and stalking.
Hadid reportedly told the police that Perez had been sending her "numerous unwanted threatening messages" via social media for the past few weeks. The spokesperson noted that the investigation into Perez's actions is still ongoing, though, as of early Friday morning, it was unclear whether he was still in police custody.
The 21-year-old didn't let the frightening situation ruin her night though, though. Later on Thursday, she shared photos and videos from longtime friend Samuel Krost's birthday dinner to Instagram Stories. One of the videos, captioned "F-U-N," showed that older sister Gigi was also in attendance at the dinner, still wearing the pastel pink bob wig and dramatic bright orange eyeliner she sported while opening and closing Jeremy Scott's Fall 2018 NYFW show earlier in the evening.
Unfortunately, the younger Hadid isn't the only celeb who's had to deal with a stalker. In 2016, her pal Kendall Jenner had a traumatic experience when a man followed her car through the gates of her driveway and refused to leave her alone. Even more recently, a man with a long history of harassing Lana Del Rey was arrested last weekend after he was found just blocks from her concert in Orlando. Police believe the man may have attempted some sort of plan to get to the singer.
Related: Bella Hadid Wants to Remind Women They Don't Need a Man To Buy Them Diamonds