Lana Del Rey's Stalker Arrested in Orlando Blocks From Her Concert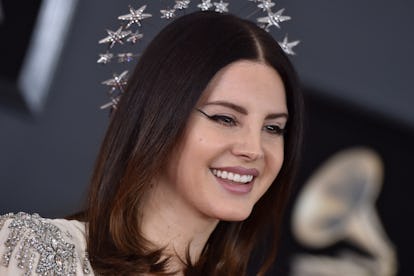 Photo by Axelle/Bauer-Griffin/FilmMagic
An obsessed fan was arrested outside a Lana Del Rey concert in Florida (obviously) on Friday after police acted on a tip that he planned to kidnap the singer. Michael Hunt of Riverview, Florida, posted a series of cryptic and disturbing messages and videos to his Facebook page about his desire to be with Del Rey, calling her "my always and forever to be," and writing, "I want to see my queen on Friday and from that day forward our decisions will be as one."
"I'm going to probably finish out her tour with her, obviously, and dance and talk and figure out what we're going to do," he said in a video, according to the NY Daily News. "I'm letting my feet rest before I take off with Lana." Insisting that the only drug he used was weed, Hunt proclaimed that "everyone knows that I'm here…Lana knows I'm here. The queen of England knows I'm here. Vladimir knows I'm here. They all know I'm here." He was kinda right; the cops definitely knew where he was.
The Orlando police picked Hunt up a block away from Lana's Friday night concert at the Amway Center; he had a ticket to the show and a folding knife in his possession. He never made it inside the venue or had any contact with Del Rey, and the concert went on as scheduled. According to the Orlando Sentinel, Hunt, 43, "has served five prison terms, on charges including burglary of an occupied structure, grand theft of a motor vehicle, grand theft with a firearm, forgery and possession and sale of marijuana."
Here's hoping Michael gets help, Lana stays safe, and all of us remember to say something if we see something fishy on Facebook.
Related: Lana Del Rey Is The Third Woman To Break a Chart Milestone We Didn't Even Know Existed
Grammys 2018: See Lady Gaga, Cardi B, and More of the Biggest Stars in Music on the Red Carpet
Lady Gaga attends the 60th Annual GRAMMY Awards at Madison Square Garden on January 28, 2018 in New York City. (Photo by Kevin Mazur/Getty Images for NARAS)

Kevin Mazur
Cardi B attends the 60th Annual GRAMMY Awards at Madison Square Garden on January 28, 2018 in New York City. (Photo by Kevin Mazur/Getty Images for NARAS)

Kevin Mazur
Lana Del Rey attends the 60th Annual GRAMMY Awards at Madison Square Garden on January 28, 2018 in New York City. (Photo by John Shearer/Getty Images)

John Shearer
Camila Cabello attends the 60th Annual GRAMMY Awards at Madison Square Garden on January 28, 2018 in New York City. (Photo by Steve Granitz/WireImage)

Steve Granitz
SZA attends the 60th Annual GRAMMY Awards at Madison Square Garden on January 28, 2018 in New York City. (Photo by Lester Cohen/Getty Images for NARAS)

Lester Cohen
Jaden Smith attends the 60th Annual GRAMMY Awards at Madison Square Garden on January 28, 2018 in New York City. (Photo by John Shearer/Getty Images)

John Shearer
Kesha attends the 60th Annual GRAMMY Awards at Madison Square Garden on January 28, 2018 in New York City. (Photo by John Shearer/Getty Images)

John Shearer
Janelle Monae attends the 60th Annual GRAMMY Awards at Madison Square Garden on January 28, 2018 in New York City. (Photo by Jamie McCarthy/Getty Images)

Jamie McCarthy
Elton John attends the 60th Annual GRAMMY Awards at Madison Square Garden on January 28, 2018 in New York City. (Photo by Kevin Mazur/Getty Images for NARAS)

Kevin Mazur/Getty Images
Kelly Clarkson carries a white rose at the 60th Annual GRAMMY Awards at Madison Square Garden on January 28, 2018 in New York City. (Photo by Kevin Mazur/Getty Images for NARAS)

Kevin Mazur
Tyler, the Creator attends the 60th Annual GRAMMY Awards at Madison Square Garden on January 28, 2018 in New York City. (Photo by Jamie McCarthy/Getty Images)

Jamie McCarthy
Rita Ora attends the 60th Annual GRAMMY Awards at Madison Square Garden on January 28, 2018 in New York City. (Photo by Kevin Mazur/Getty Images for NARAS)

Kevin Mazur
Pink with her daughter Willow Sage Hart attend the 60th Annual GRAMMY Awards at Madison Square Garden on January 28, 2018 in New York City. (Photo by Lester Cohen/Getty Images for NARAS)

Lester Cohen
Cyndi Lauper attends the 60th Annual GRAMMY Awards at Madison Square Garden on January 28, 2018 in New York City. (Photo by Christopher Polk/Getty Images for NARAS)

Christopher Polk
Nick Jonas attends the 60th Annual GRAMMY Awards at Madison Square Garden on January 28, 2018 in New York City. (Photo by Jamie McCarthy/Getty Images)

Jamie McCarthy
Hailee Steinfeld attends the 60th Annual GRAMMY Awards at Madison Square Garden on January 28, 2018 in New York City. (Photo by Kevin Mazur/Getty Images for NARAS)

Kevin Mazur
DJ Khaled and his son Assad attends the 60th Annual GRAMMY Awards at Madison Square Garden on January 28, 2018 in New York City. (Photo by Lester Cohen/Getty Images for NARAS)

Lester Cohen
Miley Cyrus carries a white rose at the 60th Grammy Awards on January 28, 2018, in New York. (ANGELA WEISS/AFP/Getty Images)

ANGELA WEISS