Bella Hadid and The Weeknd Reunite in Tokyo's New Instagram Heaven
This art museum is where all exes should go to Instagram their maybe reconciliation.
---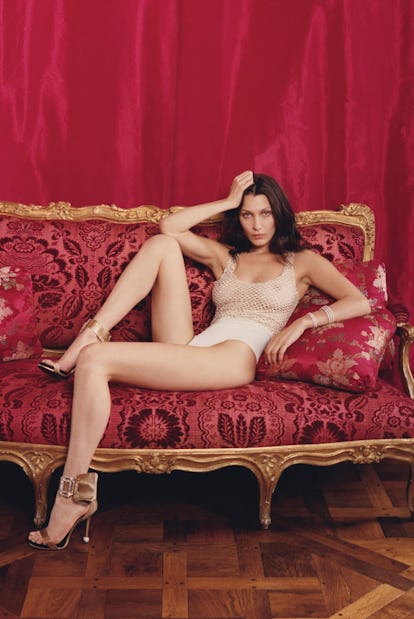 Venetia Scott
There's no doubt left that Bella Hadid and The Weeknd (aka Abel Tesfaye) are keeping each other company once again. Since purportedly reuniting in Cannes, France, in May, the pair have tried to surreptitiously hit up hot spots around the globe, but fans have caught the couple out and about numerous time. Now they've decided there's no use trying to fool anyone. While the pair haven't made anything main-grid official yet, they've started popping up in each other's Instagram stories again. Yesterday, Hadid showed up in a few of The Weeknd's slides, while just today Hadid snapshotted The Weeknd with the caption "forever muse." We're not sure which part of the couple is the muse, but it is the first time they've put a label on something since their reunion.
This is of course all very exciting and lovely for fans who find themselves invested in the state of Hadid and The Weeknd's union (or just people who love a good relationship mystery), but can we talk for a second about where the pair actually is? Because it certainly looks like some sort of impromptu Instagram photo-shoot heaven.
Let's take a look at Hadid (forever on trend in her tiny spectacles, even indoors) interacting with a projection of flowers and butterflies and other digital ephemera.
You're going to have to go to Hadid's IG stories for the full effect, but you can also find the model working her angles while images of blossoms are projected onto her face. She also bounced a trampoline-like surface made to look like the entirety of a galaxy.
But, of course, the IG Story de résistance, the one featuring Abel, has been uploaded to Twitter.
So where exactly is this Instagram heaven that seems to have inspired Hadid and Tesfaye so?
Well, it's Tokyo's Mori Building Digital Art Museum, a newly opened space that purports to be the world's first all-digital art museum. It's a project of the Japanese art collective teamLab, which, according to CNN, "includes designers, computer scientists, engineers and programmers." The 107,000 square-foot museum features digital art projected onto surfaces, and many of the works react to visitors' touch, giving it an interactive flair as well.
Hadid and Tesfaye's stories only give you a small hint at all the museum holds. This official video gives you a better idea.
If you're suddenly thinking about calling up an ex and suggesting a trip to Tokyo, we won't judge.
Related: Bella Hadid Has Been Posting Up a Storm to Her Blonde Alter Ego Rebekka Harajuku's Instagram Account