Bella Hadid Has Been Posting Up a Storm to Her Blonde Alter Ego Rebekka Harajuku's Instagram Account
A mysterious blonde with her own Instagram following.
---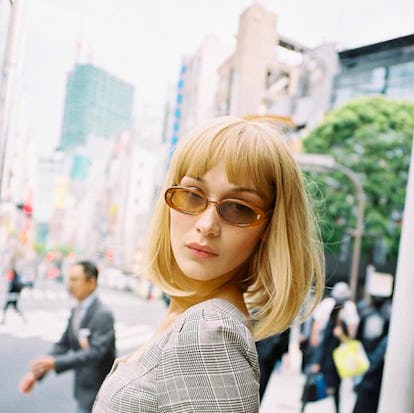 instagram.com/rebekkaharajuku
There's a new Hadid in town, and she doesn't even have that last name. Meet Rebekka Harajuku, the blonde alter ego of Bella Hadid who first surfaced over the weekend.
The supermodel shared an Instagram account belonging to Rebekka Harajuku, which she has been posting up a storm on throughout her stay in Tokyo. "Bekka as seen today in Shibuya, Tokyo, Japan. ??," reads the caption of the first photo posted to the account: a robotic portrait of Hadid in a blonde wig and a tweed top. She followed it up with a photo of Rebekka partaking in a sushi meal with a friend she referred to as Jenny Nogizaka. Rebekka later took in the Tokyo sights, posing with a doorman at a Shibuya hotel, hitting some stores to stock up on '90s gear like bucket hats and puffy jackets, and visiting a bar. "Rebekka being Rebekka yesterday in Harajuku, Tokyo ??," Hadid captioned a photo of herself in a "Loser" hat.
While Hadid has yet to explain who exactly Rebekka is, and whether or not she lives in Tokyo or will voyage elsewhere, there's a few clues in the account itself. For one, it's following only five people and Hadid (but not sister Gigi Hadid) happens to be one of them. Rebekka Harajuku is also following Hadid's real-life BFF Fanny Bourdette-Donon, who makes an appearance as "Jenny Nogizaka" on the alter ego's Instagram account. Bourdette-Donon even referred to herself as Jenny Nogizaka on her own Instagram account in a photo of herself beneath a cherry blossom tree.
Without knowing Hadid's intentions, it's likely that Rebekka Harajuku was an inside joke between her and Bourdette-Donon. However, the fact that Hadid pointed to the account suggests that she intended for it to be discovered by her voracious fans. Hadid has a rare open relationship with them, which she recently talked about in an interview with British Vogue. "It's so weird to say that they're my fans," she said. "It makes me laugh because I end up having crazy relationships with a lot of them, especially the ones that stand outside [my house] for hours. I end up just going outside and, when I used to smoke, having a cigarette with them, just sitting and talking. They're such amazing people and whenever I'm having a hard time they're always there." As for Rebecca Harajuku, she's currently amassed over 16,000 followers within the span of two days. The apple doesn't fall far from the alter ego.
Related: Bella Hadid Claps Back at Troll Who Told Her and Kendall Jenner to Buy a New Personality