Who is Bella Harris, Drake's Rumored New Girlfriend?
She modeled for his lifestyle brand OVO when she was 16.
---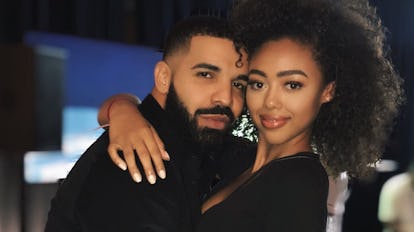 instagram.com/bellabharris
Drake has a new love interest, but she's not yet old enough to try his Virginia Black whiskey. This week the rapper and model Bella Harris attempted to slide under the radar when they shut down the restaurant RPM Italian in Washington, D.C., for a dinner date, where they ordered roasted salmon, corn agnolotti, picatta moderno, and whipped potatoes, according to a source at E! News. They then, reportedly, left together.
Who is she? Harris, 18 years old, has known Drake for at least two years. The model, who recently appeared in Alice + Olivia's spring 2019 presentation and has worked for Naaem Khan, Kendall and Kylie Jenner's eponymous clothing line, and Clinique, is the daughter of rapper turned producer Jimmy Jam. (Her father, who's worked with Janet Jackson and Usher alongside creative partner Terry Lewis, is reportedly "not at all happy" that the two are an item.) While it's possible that the two could have met through music circles—Harris was at the Grammys this year and the year before—they've been in touch since she was 16.
Back in 2017, before her 17th birthday, Harris posted a photo of herself in a swimsuit by OVO, Drake's lifestyle brand. "New projects on the way ⚡️ can't wait to share more details," she wrote at the time.
Five months earlier, she shared a photo with Drake taken the night of one of his Summer Sixteen tour stops. "Last night w this legend??? #revengetour," she wrote.
She posted a similar photo with Drake this past August 24. "No place I'd rather be ?," she wrote, geotagging Madison Square Garden, where Drake was playing that night.
Harris recently opened up about what she looks for in a romantic interest, telling Popular she's one the hunt for "someone smart, ambitious, talented & funny." On the other hand, she added, "Someone rude or boring, bad breath & bad hygiene are turn offs." She also revealed her biggest "virtue" as "I give people my word and I am very loyal. Even in a business that doesn't always give that in return, I still stay true to myself and find the good in everyone."