Did Bella Hadid Inspire a Drake Song?
The ballad of Drake and Bella.
---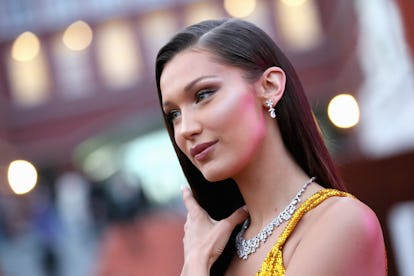 Photo courtesy of Getty Images.
One thing Drake has in common with Taylor Swift is that if you date either of them, you'll probably end up enshrined in song lyrics forever. So perhaps Bella Hadid shouldn't be surprised that the Internet is buzzing about the possibility that the song "Finesse," from the rapper's just-released double album Scorpion, seems to confirm that the pair were indeed a thing. Or at least something. Either that or Drake had something else with someone else who has a famous sister and happens to be at fashion week a lot.
First, let's take a look at the lyrics. "Finesse," with just two short verses, isn't among Drake's wordiest songs, but there's ample evidence in it that Drake is referring to Hadid, or at least some Hadid-like figure.
"Should I do New York? I can't decide/Fashion week is more your thing than mine/I can't even lie, I'd rather stay inside/I can't do suit and tie/Can't be in a room with you and stand on different sides"
So obviously ol' Drake was secretly dating someone who happened to be at New York Fashion Week, but he's not exactly Mr. Fashion (indeed, he's not exactly a front row regular) and he didn't want to fly across the country just to sit on opposite sides of the party in order to keep their relationship a secret.
"You and your sister/Too hot to handle"
So Drake's fashion world crush also has a "hot" sister, and even people who barely know who Bella is know that she's Gigi Hadid's sister.
Of course, the fashion world is absolutely full of sister duos at the moment: The Stallone sisters, the Clermont twins, the Hamlin sisters, the Waterhouse sisters, Kate and Lottie Moss, Mary-Kate and Ashley Olsen. So many, many sisters!
Still, the Hadid sisters may be the most high profile of them all right now, and none of those other sisters were linked to Drake by the tabloids like the Bella half of the Hadids was.
It was almost exactly a year ago when the gossips first picked up on something involving Drake and Bella. In June 2017 the pair were spotted at the Hollywood hotspot The Nice Guy. Of course, it's not exactly rare for two celebrities to be at a Hollywood hotspot at the same time. That's literally the definition of a Hollywood hotspot. Still, some nefarious blogs claimed that while Hadid and Drake arrived at the club at different times, they left around the same time: Drake in his own McLaren, and Hadid in an SUV also owned by Drake.
If the pair did have something going on, they managed to hide it pretty well from there on out. The rumors died down for the most part, and there were no more public sightings for months. That was until October of last year when Drake allegedly threw Hadid a 21st birthday party on October 9. The gossip columns reported that Drake picked up the bill, and Hadid's mom, Yolanda, pretty much accidentally confirmed it on Andy Cohen's Watch What Happens Live.
This led to a whole other subset of rumors that whatever was going on led to a feud between Drake and Hadid's ex-boyfriend the Weeknd. Drake was an early mainstream supporter of the Weeknd's career, and the two musicians, both from Toronto, have collaborated a number of times—but not recently. Still, there's nothing on the song to give us an update on that front.
Whatever the case, by November of that year, Drake and Hadid were apparently over. Reports suggested that Drake basically ghosted Hadid.
Here's where things get interesting and intersect with the more major confession on Drake's album: he has a son. The song "March 14" apparently refers to the day Drake learned he was going to be a father, and on it he basically confirms that his son was born on October 11, 2017. That would have been exactly two days after he picked up the check for Hadid's own 21st birthday. Ghosting is never cool, but the birth of your first child might cause anyone to freak out and reconsider whatever romantic entanglements they have at the moment.
It also seems that when Drake wrote "Finesse," he had fatherhood on his mind. The first line of the first verse is "I want my baby to have your eyes." Which, taken altogether, is a bit awkward, to say the least.
For her part, Hadid seems to be doing just fine and has since reconciled with the Weeknd on some level, though how deep the rekindling is remains to be seen. We guess we might have to wait until another album drops.