Uncovering the Mystery Of the Clermont Twins, the Kanye-Approved Instagram Stars You've Been Seeing Everywhere
Meet the double trouble divas turning heads at every scene.
---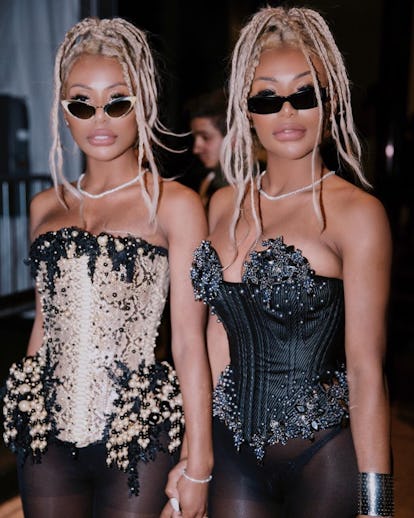 Photo by @clermonttwins.
No, you are not seeing double. Two identical 23-year-old reality television stars turned models known as the Clermont Twins have been showing up everywhere, boasting an intimidating yet intriguing alienesque vibe that may have you asking yourself, "Where did the Clermont Twins come from?"
In order to answer that question, you have to take just a few steps back to 2015. You may know Shannade and Shannon Clermont from season 14 of Bad Girls Club—the Oxygen reality show that brings together young women who consider themselves to be "bad girls" under one roof. Maybe you recognize them as two of the Kim Kardashian clones in the Yeezy Season 6 campaign, or maybe you've caught a glimpse of the twins in music videos for Future or on social media.
The tall, now-blonde identical twins also possess a large following on Instagram—their joint account has amassed over 617,000 followers—and everyone is paying attention. These girls know a thing or two about curating a sense of self and style on Instagram, while maintaining a presence offline as well. At New York Fashion Week's Spring 2018 shows, the Clermont twins were all over the place, from the front row at Vaquera to the VIP section of VFILES, and even gracing the runway as double trouble in shows for Gypsy Sport and Laquan Smith. In any case, they are two entities who are fully in control of their conjoined image, drawing their followers in with a magnetism that cannot be shaken.
Who, then, would be better to turn to for social media advice than the Clermont Twins—two glamazons whose fame has really flourished thanks to social media. Calling from Washington, D.C., where the twins were hosting a couple parties over the weekend, Shannade and Shannon gave W their takes on Instagram fame, do's and don'ts for sliding into a stranger's DMs and how to handle haters online.
What was your favorite show at New York Fashion Week?
Shannade and Shannon: The Blonds had a really good show! We were just on the go the whole time. Pyer Moss was also really inspirational to us.
How did you get involved with the Yeezy Season 6 campaign?
Shannade and Shannon: We shot that in December. We didn't know until the day before that we were shooting that they wanted us. That was very quick. It was a great experience, everyone was really nice to us! We enjoyed that! The shot with us being naked was completely not planned, it was kind of like the last shot.
Do you remember your first post on Instagram?
Shannade and Shannon: Our first Instagram post was probably our dogs, to be honest. We have two Yorkies and we bring them literally everywhere with us.
Have any of your posts ever been removed by Instagram?
Shannade: Actually, one of the Yeezy photos did get taken down. But we posted it again! [Laughs.] We don't care.
Could you describe yourself in three emojis?
Shannade: Definitely the princess emoji because I'm very bossy and can be a brat at times. The second one would be the girl emoji with the one hand up. It's my guilty or "welp" kind of face to make up for anything I have done or said. Third would be peace sign. I stopped counting how many times I've used this right before ending a conversation or blocking someone.
Shannon: One would be the purple evil face because I feel like I'm always up to no good. [Laughs.] It's also a convincing face that I make when I want to go out with my friends or do something spontaneous. The second emoji would be the face with tears because I'm constantly laughing, and making people laugh. And then I would describe myself would be the heart and arrows because when I love something or someone, or am passionate about something, I show it and express how I feel unapologetically.
What pisses you off on social media?
Shannade: Not being able to express yourself without having to censor everything. Free the nipples!
Shannon: Definitely people who flag everything!
How do you block out negativity online?
Shannade: I just personally try not to read into things, or I'll just simply just block! Our block list is extremely long, it's almost like a game to us!
Shannon: Our block list is super long. [Laughs.] But also simply I ignore it. I always say to myself, "Never take things personally," And thats exactly what I try to do.
How many times a day should you post?
Shannade: Once a day would be nice, but we are very picky about what we post that we barely post every day. I think it depends on what kind of page you have. We care more about quality than quantity.
Shannon: I wish I could post as often as I want, but we can do a full photoshoot and not post one picture from it because we are so picky. [Laughs.]
What's the best way to slide into someone's DMs, especially if you're into the person?
Shannade: I keep it simple because it's already a weird way to meet someone in my opinion. I like to start with a like or two, then message with an emoji. Cute and simple. You're welcome!
Shannon: I usually just send a heart. That is all, and it works for me. I shoot 99 percent of my shots.
How do you tell a friend they're doing too much on Instagram?
Shannade: I just say it straight up, no filter. I'll either text or reply to the photo or video on Instagram.
Shannon: Definitely Facetime the friend and joke about it.
Do you follow exes or block them?
Shannade: I probably blocked most of my exes. I have this thing where if I'm dating a guy, I don't want to follow him at all. I'm a little crazy and I'd rather not see anything or I'll start fishing for something. I definitely don't follow any of my exes.
Shannon: I really learned not to block any of my exes because I always seem to unblock and that's when I know I'm not over it. I can say that I'm over most of my exes now because I follow most of them now.
Is there anything you would never post?
Shannade: I would not post my kitty cat, but I'm pretty open to everything else.
Shannon: Same. Also never a bad photo.
How do you unplug?
Shannade: We are pretty occupied, and it's not hard at all for me to stay off my phone. Sometimes I even enjoy leaving my phone at home!
Shannon: Definitely have a glass of wine or two. Listen to Lana Del Rey and do a little writing in my journal.
Related: Cardi B Shares Her Instagram Do's and Don'ts, and Why You Should Post "Every Two Hours"