Bella Enchanted
British writer and adventuress Bella Pollen tackles a daunting new subject: sex.
---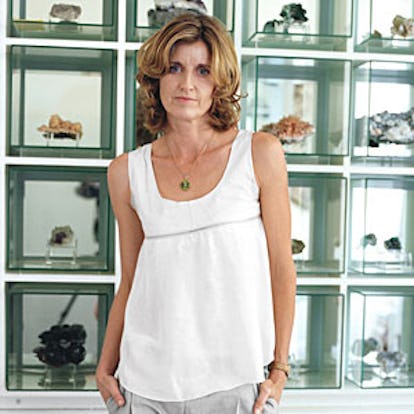 British novelist Bella Pollen may live in Notting Hill, may send her daughter to a posh private school and may have once designed dresses for Princess Diana, but she also has something of a wild side. A lover of the American West, Pollen has camped with a traveling cowboy in 10º-below-zero weather and regularly roams the desert with her father, Peregrine, hunting for fossils, minerals and gems. Pollen, whose family is descended from the Earl of Radnor, quite likes staying in grubby hotels. "A Best Western for $39.99 a night? What a bargain!" the blond, lanky writer says with glee.
Both on the printed page and in life, the 47-year-old Pollen loves exploring unfamiliar ground. After starting out as a fashion designer, she decided she was in the wrong career and turned to writing. Hunting Unicorns (2003), her first best-seller, is the tale of a journalist forced to cover a seemingly fluffy story on the decline of the British aristocracy. Midnight Cactus (2006) is about a woman who leaves her husband and moves with her children to a ghost town in Arizona.
Two of Pollen's latest works tackle a subject she has always painstakingly avoided: sex. In December an essay about her turn-ons and buzz kills will appear as part of an American anthology, while in January her first attempt at erotic fiction will be published in a collection of short stories by British female writers. Pollen took on the two projects, she says, to avoid finishing her current book, about a bereaved Cold War–era family. "I was at quite a bad stage, so I thought, Well, anything is better than having to dream up another chapter," she declares in the sunny sitting room of the London home she shares with her husband, publisher David Macmillan (grandson of former prime minister Harold Macmillan), and their children.
Pollen couldn't bear the thought of tackling her topic head-on, so she opted for the comic route instead. "The essay is about how unsexy it is to be asked about what you find sexy," she says. (Among Pollen's particular turnoffs: men who call her "baby" in a "breathy, velvety, all-knowing Barry White" way.) "Turn Me On, Turn Me Off" will appear in Behind the Bedroom Door (Delacorte Press), while her darkly humorous short story will be published in the UK anthology In Bed With… (Little, Brown).
The story is a David Lynch–meets–John Irving– style tale, the details of which must remain under wraps until the book's January release. (As part of the publisher's marketing strategy, all of the authors are using pen names.) "It's not particularly erotic compared to some of the other stories, which involve window cleaners. Need I say more?" says Pollen with a goofy bulge of her big blue eyes. She chose to tell a macabre tale, she says, because "I think there is that whole sexiness to things that are dark and edgy because you are not on familiar territory—anything could happen."
Even though her writing carries hints of the sinister, Pollen is known for a seemingly limitless joie de vivre. "She gnaws on life with a big grin, with blood and gravy dripping down her knuckles," says her longtime friend British writer Adrian Gill. "And she's just the best flirt—really, really good."
Still, the well-connected writer insists that London hobnobbing is not for her. "I'm happier in a bar in Tijuana throwing back a couple of Dos Equis with the locals," she says. And while Pollen's family so far has been supportive of her adventures, her 22-year-old son is concerned about where the next trip may lead her.
"He's convinced I'm going to end up in Las Vegas," she says. "At a porn convention."