Ben Affleck and Ana de Armas Finally Practicing Social Distancing, But Together
At this point, there is no choice but to acknowledge the seemingly thriving romantic relationship between Ben Affleck and Ana de Armas.
---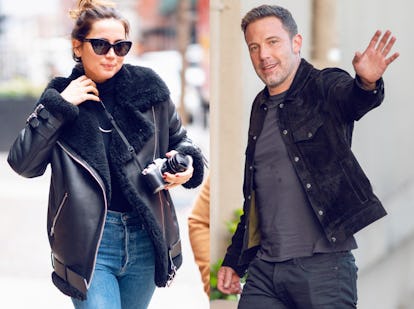 Photos courtesy of Getty Images.
When Ben Affleck and Ana de Armas were spotted by paparazzi in early March, blissfully vacationing on a beach in Costa Rica, it raised a few eyebrows with fans and followers of the actors.
They had just been spotted having dinner together in Cuba a few days before their Costa Rica trip. Could the two—who will both star in an upcoming psychological thriller called Deep Water (based on a novel of the same name by The Talented Mr. Ripley and The Price of Salt writer Patricia Highsmith)—have just been on a friendly co-worker vacation together?
On March 10, photographers caught Affleck, camera in hand, taking snaps of de Armas out in the open on an evening stroll, even though the coronavirus outbreak was well underway and many other celebrities had already started the process of entering quarantine to prevent the spread of COVID-19.
Later, those images taken from Affleck's point of view ended up on de Armas's Instagram, leading one to believe that he is actually not that bad of a photographer considering how those vacation pictures turned out.
Though there has been no confirmation from either party on the status of their relationship, Affleck did pull a somewhat flirtatious move when he publicly asked de Armas to give him credit in the comments section of her Instagram post. "Photo credit pls 😂," he wrote.
Shortly after their vacation photos hit the Internet, however, they flew back to California.
About a month before any images of de Armas and Affleck emerged in the tabloids, the Knives Out actress spoke minimally about her past public relationships with Vanity Fair. "I've had company here, but it's been the wrong company so I prefer to be alone," she said. The same day, a profile of Affleck was published by The New York Times. In it, he admitted that his life's biggest regret is his failed relationship and eventual divorce from Jennifer Garner. "The biggest regret of my life is this divorce," Affleck said before adding, "Shame is really toxic. There is no positive byproduct of shame. It's just stewing in a toxic, hideous feeling of low self-worth and self-loathing."
At the time, no one could have foreseen that in just a matter of weeks, Affleck and de Armas would be dining in Cuba, strolling on the beaches of Costa Rica, and making out in the middle of a global pandemic on a Hollywood sidewalk.
But here we are, with Affleck and de Armas embarking together on a little coronavirus quarantine walk in Los Angeles, packing on the PDA in front of the paparazzi. These two are clearly not social distancing from one another, but one can only hope the photographers maintained a correct amount of distance from the couple, according to CDC guidelines.