Ben Affleck Says Men Need to "Hold Ourselves Accountable" in Order to Put an End to Sexual Misconduct
"The most important thing to do is support the voices coming forward."
---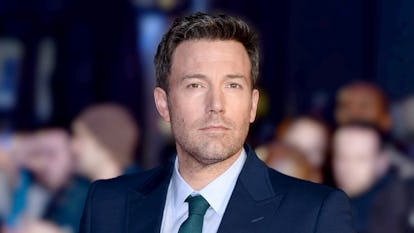 Jeff Spicer/Getty Images
Ben Affleck's big Hollywood break came courtesy of Harvey Weinstein, who produced Good Will Hunting and then, soon after, cast Affleck in Shakespeare in Love. In the wake of the countless reports of Weinstein's long history of sexual misconduct, not only did Affleck share his disappointment in his former collaborator's alleged behavior, but he was also accused of sexual misconduct himself by former TRL host Hilarie Burton—for which he "sincerely apologized" in a subsequent statement. Now, more than a month after the allegations of Weinstein, Affleck, and a seemingly endless list of other powerful men's sexual abuses have come to light, the actor is sharing the lessons he says he's finally learned about how to treat women appropriately and with respect in the workplace and beyond.
"What I was accused of by a woman was of touching her breast while I gave her a hug. I don't remember it, but I absolutely apologize for it. I certainly don't think she's lying or making it up," the Justice League actor said on Thursday's episode of The Late Show with Stephen Colbert. "This is just the kind of thing we have to—as men, I think, as we become more aware of this—be really, really mindful of our behavior and hold ourselves accountable, and say, 'If I was ever part of the problem, I want to change, I want to be part of the solution.'"
After admitting that he's still learning to be more cognizant of way he treats women and the things he says in interviews, Affleck added, "I think the most important thing to do is to support the voices coming forward, believe them, and create a business where more women are empowered and in place, so less of this happens and so there is a way of reporting this stuff that people can feel safe doing."
Affleck said the impossibly broad scope of sexual misconduct allegations across Hollywood has opened his eyes to the realities of what less powerful women and men have to deal with every day. "I thought I had a sense of the scope of the problem and I thought I understood it, and the truth is, I really didn't," he said. "I didn't understand what it's like to be groped, to be harassed, to be interrupted, talked over, paid less, pushed around, belittled—all the things that women deal with that, for me, as a man, I had the privilege of not having to deal with." He continued, "Part of this, for me, has been listening to people I really care about and love as they tell me stories of stuff that's happened to them—this is men and women—and realizing this is a real thing. I'm not a spokesperson, I'm not a superhero, I can't change it by myself. I can just be accountable for myself and for my actions."
The father of three also spoke to Colbert about how "awful" it was to learn about Weinstein's history of "terrible crimes." "I hadn't worked for Harvey for more than 15 years, but, nonetheless, I felt this attachment to him with movies like Good Will Hunting and Shakespeare in Love and Chasing Amy and some of the early movies that I really loved doing when I still was totally brand new," Affleck said. "It sort of tainted that, a little bit, to realize that while we were having these experiences and making these movies, there were people that were suffering and dealing with awful experiences. So I didn't really know what to do with that."
Furthermore, Affleck will donate all future residuals from his Weinstein-produced films to the Rape, Abuse & Incest National Network and Film Independent, "just because I didn't want to, sort of, cash a check for the guy, and I thought, maybe I could still feel okay about it if it's going to a good cause," Affleck said.
Related: What MTV Airing Ben Affleck Groping Hilarie Burton in 2003 Says About the Sexual Assault Conversation
"Women's Rights Are Human Rights": 62 Fashion Insiders Speak Out in a Powerful Video for International Women's Day