Lucas Hedges and Julia Roberts Co-Star in an Extremely Not Festive New Christmas Movie, Ben Is Back
Just some light holiday viewing.
---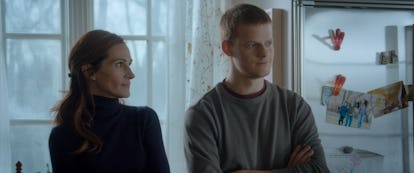 First, we came to know Lucas Hedges as Casey Affleck's orphaned nephew in Manchester by the Sea, a role for which he received an Academy Award nomination for Best Supporting Actor; then, as Saoirse Ronan's theater-kid first boyfriend in Lady Bird. This fall, the 21-year-old actor has lined up three projects—the Jonah Hill–directed skate film Mid90s; the Joel Edgerton–directed gay-conversion-camp drama Boy Erased with Nicole Kidman; and Ben Is Back, co-starring Julia Roberts and Kathryn Newton and directed by Hedges's own father, Peter Hedges.
Ben Is Back will premiere at the Toronto International Film Festival this fall, and its first trailer has finally made its debut. In the minute-long clip, Roberts (freshly auburn) and Newton, playing mother and daughter Holly and Ivy Burns, drive up a snow-littered road toward a house. It's Christmas Eve. A figure stands in the driveway, a hood pulled up over his head. "What?" Ivy says, incredulous, as they pull to a stop. Holly moves to get out of the car, and Ivy tries to stop her. Nevertheless, she goes to embrace the boy, her son, whom she apparently has not seen in a minute. It's all very emotional.
"Is that Ben?" a child's voice wonders, offscreen, while they hug. End scene.
In Ben Is Back, Hedges's first film with his father since 2007's Dan in Real Life (and his first starring role in one of the elder Hedges's films; also, did you know, the titular Dan's last name is Burns?), he plays Julia Roberts's son, a "charming yet troubled" teen, freshly returned from a rehab stint. According to an early synopsis of the film, Holly is "wary of her son staying clean," and over the 24 hours depicted in the film, she must do "everything in her power to keep him safe." Drama, presumably, ensues.
The whole film is a family reunion of sorts: Not only is Hedges working under the direction of his father, but he also plays the brother of his Lady Bird co-star Newton. After its TIFF premiere next month, Ben Is Back will premiere in early December. Just some light holiday viewing. See the trailer, below.