Julia Roberts Is A Redhead Once Again, Returning to Her Pretty Woman Roots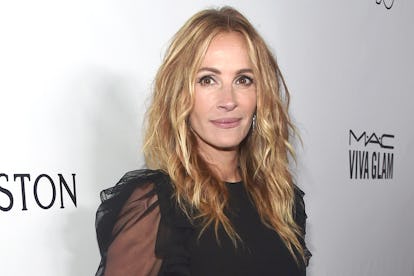 Alberto Rodriguez/amfAR/Getty Images
Julia Roberts is having a great 2017. The actress turned 50-years-old, was named People's Most Beautiful Person for the fifth time, and as of this week, has debuted a return to her iconic red hair.
Roberts was recently spotted on the set of her new project, Ben Is Back, with a bright auburn dye job after sporting a highlighted blonde look all summer. Of course, this isn't the first time the actress has donned fiery hair; it was an early-career signature for the star. Yet somehow, this hair chameleon has managed to pull off just about every shade under the sun over the years, from dark chestnut to a dirty blonde with dark roots paired with different lengths and textures, and often settling on a smokey eye and natural lip to round out her look.
And though it's been almost 30 years since Roberts charmed the world with her smile and coppery hair in Pretty Woman, the iconic red color still suits her—and the swap a bit ironic, considering her character, Vivian, wears a short blonde wig to cover up her voluminous red curls while trolling Hollywood Boulevard.
While Roberts always stands out on-screen and on the red carpet, she doesn't often discuss her fashion or beauty choices in interviews. She recently told W, however, that she doesn't follow fashion, per se, but "loves it" and has learned to "wear what you like and not what you get talked into" on the red carpet. Here's hoping she keeps the new 'do for awards season.
See Roberts's new-yet-old look, below.
Related: Julia Roberts Found Herself in a Prank War Between Brad Pitt and George Clooney During Ocean's Twelve
Natalia Vodianova Has a Girl Crush on Julia Roberts in "Pretty Woman"