Revisiting Brideshead
British hotshot Ben Whishaw takes on aristo Sebastian Flyte in the latest screen version of Brideshead Revisited.
---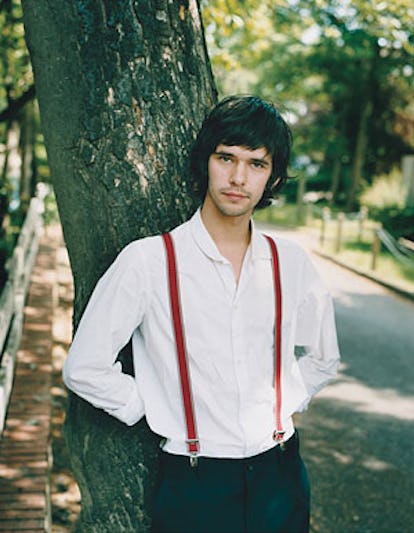 Ben Whishaw was only a year old when Anthony Andrews had fans swooning over his portrayal of floppy-haired, teddy bear–toting aristocrat Sebastian Flyte in the 1981 TV miniseries Brideshead Revisited. Television adaptations of great English novels have long enraptured American audiences, though none have ignited Anglomania as did that reworking of Evelyn Waugh's 1945 classic, set among the fading aristocracy. To those who saw the series, it's so iconic that the idea of a new big-screen version seems almost impertinent. But Whishaw, who plays the beautiful, doomed Sebastian Flyte in the film, was undaunted by the series' long shadow. "I didn't watch it, and to be honest, I haven't even properly heard about it," says Whishaw, 27, who, since playing a teenage Hamlet at London's Old Vic four years ago, has become one of the UK's most promising young actors.
Looking at him now, as he sits in a café down the street from his North London flat­—his green eyes intense, almost glowing and his frame whip-thin­—you can see why he's become the go-to actor for the Brooding Romantic. He's played a scent-obsessed serial killer in Perfume and a Bob Dylan–Arthur Rimbaud hybrid in Todd Haynes's <em?I'm Not There, and next year he will appear as poet John Keats in Jane Campion's biopic <em?Bright Star. "He has this extraordinary sensitivity—sort of one skin less than most people around him," says Trevor Nunn, who directed him in Hamlet. "When Hamlet at the beginning says, 'Seems! I know not seems,' it was just astonishing, because there was no seeming. This was the real thing! He was in terrible, terrible distress."
For the role of Sebastian, Whishaw drew on the novel and on a biography of Waugh. His Sebastian, struggling against his family's ingrained Catholicism, has an affecting fragility that jibes with Waugh's exploration of the suffering that religion both addresses and inflicts. The actor was also inspired by a comment made by former Smiths frontman Morrissey, about growing up Catholic. "He said something like, 'They get you young, and they sear you,'" Whishaw says, his eyes narrowing for emphasis. "Sebastian knows what his nature is and believes he's going to hell. I wanted to convey that conflict inside him."
The film, opening in August with an A-list cast that includes Emma Thompson and Michael Gambon, aims to speak to a new generation, in part by portraying Sebastian as unquestionably gay. Waugh left Sebastian's sexuality somewhat ambiguous, and purists may balk at the inclusion of a kiss between Sebastian and Charles Ryder, his school chum and the story's narrator (played by Matthew Goode). "The kiss was quite a bone of contention," says Whishaw of discussions on the set. "But Waugh said as much as he could at the time he was writing [the novel], and it seems fairly clear-cut. He's a gay character." In lesser hands, says the film's director, Julian Jarrold, "Sebastian could end up just being a spoiled brat, but Ben makes him human. He has an otherwordly air about him—something quite delicate and vulnerable."
In person, Whishaw exhibits little of Sebastian's lilting voice and fey mannerisms. And though expansive about his characters, he remains tight-lipped about himself. Only reluctantly does he divulge that he has a twin brother (fraternal), that his mother sells cosmetics in a department store and that his father "does something to do with computers." Whishaw began performing in a local youth theater troupe before landing a coveted spot at the Royal Academy of Dramatic Art and the career-sparking role of Hamlet. But talk-show appearances and life as a celebrity leave him cold. "I find it weird that people want to know about you," he says.
These days he's busy filming Bright Star in London and Hertfordshire, not far from where he grew up. Playing the frail genius Keats "has blown my mind," he says. "His poetry has been a revelation." Working with Campion has likewise altered him: "She always tells me, 'Let the divine come into you,' which is what Keats did." Could it be that Whishaw is channeling the Brooding Romantic within? "When I play these parts, they're not me," he says. "I'm not tortured and neurasthenic—I'm really not."
Grooming by Kenichi at caren.co.uk