Berets Are Here to Stay. You Can Thank Gucci and Soko for That
It's not like this staple of French dress ever went away, but thanks to Alessandro Michele and enterprising street style stars, it seems to be more popular than ever.
---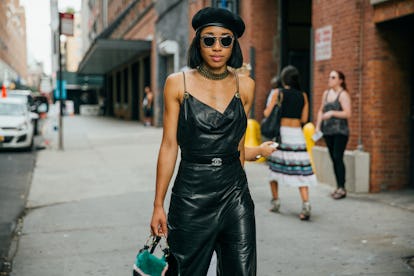 Photo by Emily Malan.
Long the symbol of French girl chic, the humble beret got its start during the Bronze age, when chapeaus similar to today's berets were discovered on tombs from the period. The beret adorned the tops of the French working class in the '20s, Brigitte Bardot in the '60s, John Lennon the late '70s, and artists and members of the military for well over a century.
Camo-print berets made an appearance on the Sacai Spring/Summer 2017 runway, and before that, felted berets in cherry red, teal, and tan appeared on the runway at Alessandro Michele's much-lauded debut for Gucci in February 2015. Michele may single-handedly be responsible for the full on revival, as the Gucci-obsessed tend to go full-look and take his "more-is-more" approach seriously, even when it comes to headwear.
New York's Street Style Stars Prove that Berets Aren't Just for French Girls
Margaret Zhang attending Victoria Beckham during New York Fashion Week wearing a black beret, sweatshirt, pants, and boots on February 12, 2017 in New York City.

Getty
Models seen on the streets of Manhattan on February 13, 2017 in New York City.

Getty
Street style inspiration during New York Fashion Week.

Photo by Adam Katz Sinding
A guest at Spring Studios outside the Lacoste show wearing red and black coat with patches and brown beret on February 11, 2017 in New York City.

Getty
A model wearing a brown coat, brown velvet pants, beret outside Creatures of the Wind on February 11, 2017 in New York City.

Getty
A guest outside the Dion Lee runway show during New York Fashion Week on February 11, 2017 in New York City.

Getty
The beret was a key accessory for show-goers at Seoul Fashion Week – it was seen on children, men, and women alike. The hat was spotted on the streets during fashion weeks earlier this fall in New York, Milan, and of course, in Paris. Alexa Chung, Rita Ora, and Miroslava Duma (who loves a romantic accessory, like a cape) are all known to work a beret into their looks.
The beret is very democratic, and that adds to its appeal. There's something very normal and special about it at the same time. We've seen berets donned by a chic grandma riding the New York subway, an LA art teacher at LAX, but also on Rihanna. It's the must-own accessory to add a little French-girl magic to your look. It's the hat to wear to stand out in a crowd.
Fashion muse and musician Soko, sums it up best, the beret is "so French."
Beret's are back in a major way
Gigi Hadid, Karaoke Star, Takes On "Baby" by Justin Bieber