Fancy Footwork
André Saraiva talks about the new film he created for Berluti's 120th anniversary.
---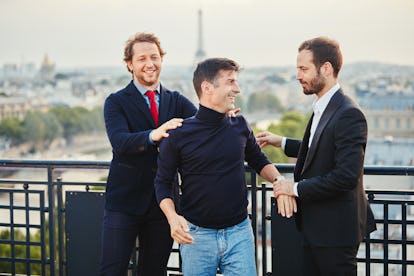 In honor of Berluti's 120th anniversary, artist and nightlife impresario André Saraiva directed a short film, "Rendez-Vous Au Club Swann." Saraiva, a man of many talents, also starred in the film, alongside two of his friends, the editor Derek Blasberg and Paris Opéra Ballet director Benjamin Millepied. The film follows each of them as they individually explore Paris, wearing, of course, Berluti loafers, until they all meet at night on the roof of La Samaritaine, an abandoned luxury department store, formerly owned by LVMH. Here, Saraiva talks about making the film, his love of loafers, and more.
How did you decide to cast Derek Blasberg and Benjamin Millepied in the film? Benjamin is a good friend and someone I work with. I'm actually organizing and art directing his Fall ball he's doing at the opening of the Opera Garnier. He's trying to bring back the days of glory with a lavish ball. As for Derek, he's also a good friend. It's really a family affair.
What was your favorite scene? Definitely the end where we end up on the rooftop of the old department store, Samaritaine. It's been closed for a very long time, and we managed to get the license to get in and to film inside of it, it was amazing.
What is your connection with Berluti? What kind of vibe do you have with the brand? Ever since I was young I always thought of Berluti as the brand with the rich history and the expensive shoes. They were always beautiful, hand made bespoke shoes – great when you had the money to buy them.
Which city do you find most creative: Paris or New York? I think both are creative in different ways. Paris is beautiful and romantic and old, while New York is newer, more dynamic and experimental, which makes it more creative for me. I mean of course today creativity is everywhere, you can create anywhere or be creative in any place in the world. What I love about New York though is that no matter where you're from people come to the city from all over the world.
Do you still feel like a visitor here? I feel like a visitor everywhere. I've never felt like I belonged to any place. It's so important to have open mindeness. I'm a vistor everywhere.
Are you a loafers or sneakers guy? I used to be a sneaker guy, but with the years passing I became more of a custom loafer shoe guy.
Will you graffiti the loafers or leave them clean? Actually it's so funny, I used to use wear really proper looking loafers and leather shoes because I realized I would be chased less by authorities and the police if I dressed like a proper uptown boy when I was out doing graffiti.
And did you get away with it when you dressed like that? Yes I definitely did! The uptown look has gotten me out of some bad situations many, many times.
Who would you rather have a night out with? Benjamin or Derek? It's very simple. I love Benjamin but he's married. Derek is always surrounded by the most beautiful girls in New York. So I like him. And he's also a great dancer.
Any upcoming projects? I have an art exhibition opening in Lisbon in a few months and my Lower East Side café opens on Monday! Come by for a coffee!