The Wildest Collaborations of 2020
Lady Gaga and Oreos. Travis Scott and McDonald's. Mucinex and Steven Alan. There was a lot we didn't see coming this year.
---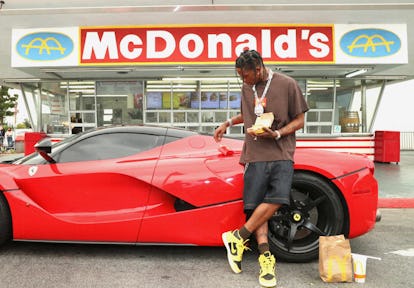 Photo by Jerritt Clark/Getty Images for McDonald's
W is doing something a little different for our "Best of…" lists this year. It seems fitting that such an atypical 12 months deserves a new kind of recap. Instead of ranking our favorite songs, albums, movies, and television shows, we've assembled a list of moments in arts and culture that defined 2020. We're calling them "Silver Linings"—the most exciting creative feats that brought us joy during an otherwise tough year. We're also listing our favorite live performances, collaborations, and production stunts that seemed impossible to execute during the pandemic, carried out by creatives who saw limitations as an opportunity to innovate.
An unexpected—some might even call it random—collaboration is practically fashion canon at this point. Brands looking for a revival (or a way to reach previously untapped consumers) and finding it in a totally unrelated company that they can then partner up with? A tale as old as well, the early aughts. But this year, it seemed the collaborations were especially creative and, at times, out there. And yet, we appreciated every single one of them. What might have been a reach in 2019 (Beyoncé and Peloton) became a source of excitement, a newsworthy item against the backdrop of the pandemic (Lady Gaga and Ariana Grande x The Weather Channel). Below, W magazine's favorites.
Travis Scott and McDonald's
Who could have predicted that in 2020, the rapper/Stormi Webster's dad would be the best thing to happen to McDonald's since Michael Jordan? In September, it was announced that Travis Scott would be the golden arches' first celebrity collaborator since Jordan paired up with the chain and released the "McJordan Special" in 1992.
Scott's Cactus Jack meal—which consisted of a Quarter Pounder with cheese, bacon, and lettuce; a Sprite, and fries with BBQ sauce (said to be La Flame's go-to order)—became an instant hit, so much so that it caused a nationwide shortage on ingredients. Travis Scott also released Cactus Jack merch, and the deal was so successful that McDonald's released another one with J Balvin one month later.
Mucinex, Steven Alan, and Christina Viviani of The Great Eros
That's not a typo. Designers Steven Alan and The Great Eros' Christina Viviani partnered with Mucinex this year on a capsule collection meant to battle illness. The capsule's sweatshirts, tank tops, jumpsuits, loungewear sets, and accessories were crafted from antimicrobial and temperature-regulating fabrics. The clothing, which the brands dubbed "Sickwear," sold out online almost immediately following a livestreamed reveal of the wares on Mucinex's YouTube. Influencers were also involved in the promotion.
By the way, the irony of this collection being put out during a pandemic is certainly not lost on us.
Lady Gaga and Oreos
"So we decided it was a good idea to have a Chromatica Oreo," Lady Gaga stated in a video uploaded to Twitter on December 2. Thus, a legendary link-up was born. We expect nothing less from an artist who has used her popularity to commodify art, fashion, and raw meat.
It's an unexpected collaboration, but it works: you, too, can now work out like you're an extra in Homecoming with a Beyoncé-themed Peloton class from home.
Justin Bieber and Crocs
This might not be the most unheard-of collaboration—after all, Crocs already paired up with Post Malone and Bad Bunny before tapping Justin Bieber for a project with his clothing company Drew House. The ease and comfort of a Croc is also in line with Bieber's comfy boy aesthetic; he's been seen in little else than a hoodie and sweatpants this year (and even before it became normal). However, it is humorous that Crocs have superseded Bieber as the MVP of 2020—something we did not see coming 12 months ago.
Betsey Johnson and Torrid
Now that we're thinking about it, this absolutely makes sense. Why wouldn't a late-Nineties/early Aughts queen who made frilly, candy-colored tiered dresses de riguer at proms all over the country pair up with a mallcore staple?
Lady Gaga, Ariana Grande, and the Weather Channel
Lady Gaga's enterprising eye for unexpected collaborations has landed her a second spot on this list. To promote her track "Rain on Me," with Ariana Grande the two pop stars delivered the forecast while holding blue Weather Channel umbrellas. They wore full Chromatica regalia for the event. Brilliant.
Related: 7 TV Shows From 2020 That Actually Deserve Your Attention