Helping Hands: How to Save Your Skin From All That Washing and Sanitizing
To restore hands to their pre-elbow bumping days, we've compiled a handful of the most effective remedies for your in-home indulgence.
---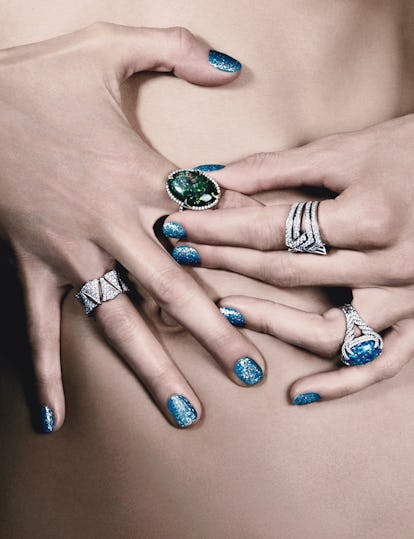 Photographer: David Slijper Stylist: Patrick Mackie
Constant hand-washing is no longer just for Larry David and the neurotic germaphobe crowd. It's now a universal ritual all over the world—forget handshakes. In the pandemic age, lathering up offers a small semblance of control over the coronavirus; counting down for 20 seconds (or singing "Happy Birthday" twice, whichever you prefer) while scrubbing and soaping provides a certain emotional comfort. Physical comfort, however, not so much. No matter how gentle your soap is, your fingers are no doubt feeling raw and looking dry, if not actually cracking. You might even notice a sandpaper-esque feeling when applying lotion to your face during your skin-care routine. While not the end of the world (at least not yet) leathery mitts are worth addressing. To restore them to their pre-elbow bumping days, we've compiled the most effective remedies for your in-home indulgence.
This eco-friendly, cruelty-free, non-toxic brown sugar scrub for hands and body smells so good you might be tempted to eat it. Carson Meyer, a doula-turned-beauty entrepreneur, saw firsthand what happens to skin as a result of major life changes.
Why It Works: C & the Moon heals, refreshes and moisturizes. Enjoyed by the likes of Camila Mendes, Kim Kardashian West, Mandy Moore, and Cindy Crawford, this treatment boasts restorative ingredients like jojoba oil (a natural anti-bacterial—apropos for current times), almond oil, and coconut oil.
A decadent exfoliant imbued with actual pumice stone granules to refine and resurface dry hands.
Why It Works: Infused with high-grade macadamia and starflower oils as well as bamboo juice, this scrub simultaneously smooths and protects. To fight damage from free radicals and brighten dark spots, it also contains vitamic C-rich Camu Camu fruit extract.
No one knows more about the ravages of constant hand washing than doctors and this serum was formulated by actual physicians, Los Angeles-based plastic surgeons John Layke and Payman Danielpour. It enjoys a cult following among A-listers in Hollywood for good reason.
Why It Works: The moisturizing serum plumps skin and gets rid of the "crepey look" with apple extract, an element that not only smooths and brightens but shields skin from environmental damage that can cause hyper-pigmentation.
An ultra-calming protective hand cream to heal and nourish hands dehydrated by soap and hand sanitizer. The eight protective ingredients in this cream are normally reserved for facial products.
Why It Works: Infused with Vitamin E and Omega 3 and 6 fatty acids, it also contains anti-oxidant-rich green coffee and deeply moisturizing hyaluronic acid.
This potion hydrates and protects hands—and gives your nails a little love, too.
Why It works: Chestnut extract soothes dry patches and polysaccharides help with skin repair and elasticity.
An all-day or overnight sheet mask for the hands.
Why It Works: Offering next-level self care, this hand mask hydrates with a combination of aloe, peptides and vitamin b and brightens with Chinese licorice.
From one of New York's most in-demand dermatologists, Dr. David Colbert (Naomi Watts, Angelina Jolie and Caitriona Balfe are fans), this lotion is meant for both the face and the hands.
Why It Works: The plant-based potion contains two vital ingredients: Purified Angelica Sinensis, which has been used in traditional Chinese medicine to rejuvenate skin; and African shea butter; which softens and hydrates. Apply in the evening and wake up with beautifully healed hands.
Related: The Over-Anxious Angeleno's Guide to Winter Skin Care