Marc Jacobs, Haim, and More Remember Their Favorite Met Gala Looks of All Time
Grace Coddington, Jodie Turner Smith, and more name their favorite looks from Met Galas past, from Rihanna's Guo Pei cape to Lady Gaga's camp performance.
---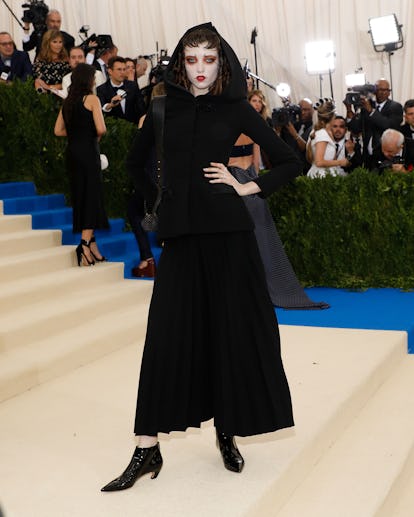 Getty Images
Google "Met Gala" today and a message sure to sadden even the iciest of fashion hearts will appear in the search results: "Date—Postponed." What's usually an opportunity for celebrities, models, and editors to peacock on a red carpet at the Metropolitan Museum of Art in New York is now, simply, the first Monday in May. For now, there will no longer be connotations of Lady Gaga doing performance art at 2019's "Camp: Notes on Fashion", or Cher in a sheer, feathered body suit studded with diamantés at the 1974 "Romantic and Glamorous Hollywood Design"-themed edition. The coronavirus pandemic took care of this year's scheduled celebration, wiping it from the social calendar until further notice. The theme for 2020 is "About Time: Fashion and Duration"—an idea, in retrospect, that is almost a parody in its irony. These days, time means very little.
A virtual take on the Met Gala will be hosted on the Met's website tonight, with previews of the upcoming exhibition, and performances from Virgil Abloh and Florence and the Machine. But if the online version is anything like Carine Roitfeld's digital runway show from last week, we're skeptical. There's nothing like the real thing.
We asked some of our favorite celebrities and fashion folk, Marc Jacobs and HAIM among them, to identify their favorite looks from Met Galas past. From Rihanna's Guo Pei cape that quickly became an omelette meme online, to Stella McCartney and Liv Tyler's casual moment, here are the most iconic outfits in Met history, in the eyes of Grace Coddington, Jodie Turner-Smith, and more.
Year: 2009
Theme: The Model as Muse: Embodying Fashion
"My all-time favorite was the gold lamé draped mini gown and turban that we collaborated on with Kate Moss and Stephen Jones. Stefano Pilati made the matching pumps while he was at Yves Saint Laurent. Kate wore extraordinary sapphires tucked into her turban. As always, she outshone everyone. Actual gold metal threads woven on a silk warp. Divine." — Marc Jacobs, designer
Year: 1999
Theme: Rock Style
"We remember seeing these photos and thinking how cool they were. They were the epitome of rock royalty—and to wear some handmade shirts from the Filth Mart in New York City to the Met Gala was iconic. We were such huge Chloe fans and obsessed with what Stella was doing there at the time. We would wear these outfits now." — HAIM, band
Year: 2015
Theme: China: Through the Looking Glass
"The most memorable was Beyonce's 'naked' dress from 2015. It was a tipping point, I think. The Met red carpet said goodbye to fashion and fully, unabashedly, and unfortunately, embraced spectacle. It definitely wasn't a favorite look. But it was influential." — Robin Givhan, fashion critic
"Who didn't bow down to Beyoncé in Givenchy couture in 2015?!? I mean, she had already slayed 2014 in Givenchy, and then she returned the following year in the same designer with that heavenly sheer and bedazzled creation that was elevated to the Gods with that high ponytail. Halleloo!" — Shangela, performer
Year: 2007
Theme: Poiret: King of Fashion
"I loved this Balenciaga dress because it had the glamour of an extreme dress without being extreme. It was, at the same time, classically chic. It was glamorous, simple and chic all at once. [Cate Blanchett] looked extraordinary in it." — Grace Coddington, fashion editor
Year: 2018
Theme: Heavenly Bodies: Fashion and the Catholic Imagination
"As a foot soldier in the queer revolution, I am constantly turning my head to our queer captains for inspiration. When impresario Lena Waithe donned the LGBTQ+ flag in custom Carolina Herrera in 2018, God was truly in the details: expertly tailored suiting, medallions at the lapels, elegantly structured hair and her cape hits the floor—couture, not costume." — Larry Owens, actor, writer, and comedian
Year: 2008
Theme: Superheroes: Fantasy and Fashion
"Anna Wintour in silver Chanel in 2008. I like the horns on the gown and all that. It made her sort of look like a chic monster, which is perfect for her." — Cat Marnell, author
Year: 2019
Theme: Camp: Notes on Fashion
"I love Cody Fern's look from last year. It was one of the first looks I worked on with Cody, with Maison Margiela. He looked like an elegant alien from another [planet] 👽." — Nicola Formichetti, creative director and fashion director to Lady Gaga
Year: 2018
Theme: Heavenly Bodies: Fashion and the Catholic Imagination
"One of the most powerful Met Gala looks had to be Cardi B in 2018. She rocked her Moschino gown with her glorious pregnant belly looking like an actual masterpiece. She combined high fashion with feminine divinity. It was beautiful." — Leah McSweeney, founder of Married to the Mob and "Real Housewife" of New York
Year: 2017
Theme: Rei Kawakubo/Comme des Garçons: Art of the In-Between
"The one that comes to mind is Grace Hartzel's look from 2017, which was pretty epic. Otherwise, my favorite wasn't originally worn at the Met Gala, but later displayed in the camp exhibition: Björk's swan dress." — Ali Michael, model
Year: 2015
Theme: China: Through the Looking Glass
"Rihanna rarely disappoints, but this look? The decadence! The elegance! The levels of stunt queen melodrama! Things she did: that." — Jodie-Turner Smith, actress
Year: 1999 & 2001
Theme: Rock Style & Jacqueline Kennedy: The White House Years
"There have been so many iconic Met Gala looks that it's nearly impossible to select one, so I picked two in a similar vein—when Stella McCartney, Liv Tyler, and Naomi Campbell all wore t-shirts. I am partial to Naomi's because her Dolce and Gabbana "Like a Virgin" top is part of my Gabriel Held vintage archive. While camp was the theme last year, there is something delightfully campy and subversive about wearing a t-shirt to a fashion industry gala. Both were referential and tongue-in-cheek, which I always appreciate in fashion." — Gabriel Held, stylist and fashion historian
Year: 2008
Theme: Superheroes: Fashion and Fantasy & Goddess: The Classical Mode
"Christina Ricci in Givenchy in 2008—excellent execution of the theme and staying chic/sexy. Or Diana Ross in YSL in 2003. She was Tom Ford's guest, after he did a collection inspired by her."—Ian Bradley, stylist
Year: 2010
Theme: American Woman: Fashioning a National Identity
"I loved this green lace dress we made for Chloe. She has always been a Proenza Schouler muse and I loved doing long-sleeve and short black tie." — Lazaro Hernandez, designer
Year: 2016
Theme: Manus X Machina: Fashion in an Age of Technology
"I think my favorite Met dresses have been the ones we reworked from a show idea. This one was a bit of an evolution from the spring 2016 show. Originally long sleeved and constructed in knitwear, we reworked it by hacking off the sleeves and embroidering it in silver paillettes. No one better to wear it that year than Brie Larson, fresh off her Oscar win." — Jack McCollough, designer
Year: 1974, 2015, 2018, & 2016
Themes: Romantic and Glamorous Hollywood Design, China Through the Looking Glass, Heavenly Bodies: Fashion and the Catholic Imagination, Manus x Machina: Fashion in an Age of Technology
"There are four, I'm afraid. For the epitome of chic, I have chosen Bianca Jagger from 1974. I love the clean lines, simplicity, elegance, and glamour of the red sequins, and especially love the matching beret.
Amal Clooney in Galliano in 2015 also exudes the same elegance and sophistication, but with the drama of scarlet.
By complete contrast, I love both these looks worn by Solange Knowles, who is obviously a woman who knows her own taste as opposed to being dictated to by a stylist.
These are both dramatic, radical, and individual looks, yet quite similar in their striking silhouette and theatricality."—Sandy Powell, costume designer
Year: 1974
Theme: Romantic and Glamorous Hollywood Design
"Who doesn't love Cher and Bob Mackie? She could still wear that outfit and look glamorous." — Wendy Williams, talk show host and media personality