SHOPPING IN THE TIME OF CORONAVIRUS
Seven Ways to Celebrate Mother's Day From a Distance
Donate to mom's favorite charity, provide funds for a tree to be planted in her name, or have a celebrity deliver a personalized message.
---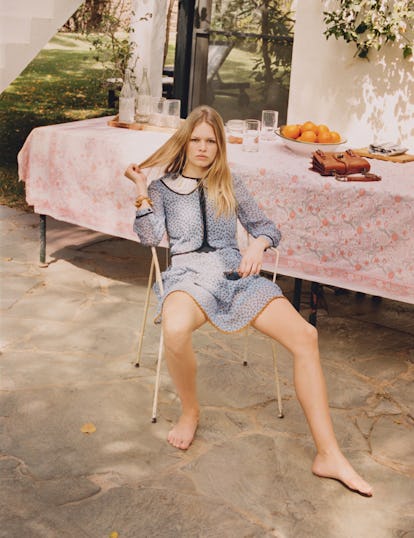 Photo by Venetia Scott for W magazine.
This Mother's Day will be different. Some of us cannot be physically with our parents, for fear of compromising their health, or due to travel restrictions. Not only that, it's a difficult time to splurge on an extravagant gift for your mother. That's no shade intended to moms—they are absolutely deserving of presents. But shipping non-essential goods not only has an anybody's-guess delivery schedule, it's also a thorny subject when it comes to the rights and treatment of those employees providing the service. With Mother's Day coming up on Sunday, you can keep your appreciation relatively unembellished, and gather your loved ones for a Zoom cocktail hour, surprise them with a FaceTime call, or send them an e-card. If you're looking to get creative, here are some special gifts you can share that don't necessarily involve physical items.
Donate to a Favorite Charity
This year, the best gift might be to donate money toward an organization or non-profit that your family supports. There are plenty to choose from, whether national—Planned Parenthood, GLAAD, The American Red Cross—or local, like The Bowery Mission in New York or This Is About Humanity in Los Angeles. If you're interested in purchasing a tangible gift for a loved one, plenty of brands are donating a portion of their proceeds to worthy causes. Bulgari, for instance, just launched its MD initiative, where 10 percent of all sales will benefit Save the Children's efforts in fighting COVID-19 in the United States and Canada. Another option: through fundraising print sales like the Photographs for the Trussell Trust or Dream Sequence Editions, you can support independent artists and photographers while supporting hospitals or charitable organizations. If you're looking for a more traditional kind of Mother's Day Gift, a Juergen Teller print to hang in her home is always a good idea.
Buy a Star, or Sponsor a Tree
Connections to nature have taken on new meaning during the coronavirus pandemic. With that sentiment in mind, it's possible to dedicate a piece of the earth to your mom or mom-figure. Reserve a star for them through the organization Cosmo Nova, which will send over a certificate with the exact coordinates of the star's location in the sky, or donate funds for new trees to be planted through the Arbor Day Foundation.
Send a Delivery Feast
Instead of cooking a meal for your mom in person, deliver a whole spread to their house—for any meal of the day. Opt for a national service like Caviar to make the delivery, or research which local restaurants near you are still offering delivery services or curbside pickup. Whatever you choose, make sure to tip well.
Share a Personalized Message From a Favorite Celebrity…
How cool would it be for your mom to wake up to a "Happy Mother's Day" video message from Flavor Flav, Ziggy Marley, or Carson Kressley? Through Cameo, it's possible (although we've heard Flavor Flav is among the more expensive celebrities on the platform, so be prepared to pay up if that's your person of choice). Additionally, Cameo recently instated a special COVID-19 relief campaign—participating stars like Lance Bass and Busy Philipps will put a portion of their payments toward charities of their choice.
…Or a Special Video From Family and Friends
Maybe the whole celebrity thing isn't for your mom. No matter. Through a service like Tribute, family members and friends can easily make video messages (as creative as they'd like), upload the clips to a central file, and prepare them for editing.
Purchase a Plant
Technically, what we're about to suggest you purchase is, in fact, a thing. But in our defense, it's a thing that requires everyday care, love, and attention, and can actually benefit a person's mental health. So buy your mother a plant, cactus, flower, or any other living thing, for their home. Leon and George in Northern California's Bay Area has lovely personalized ceramic pot options; Greenery Unlimited in New York City is making some home deliveries; Los Angeles-based Hot Cactus specializes in succulents, and The Sill is a wonderful nationwide option.
Put Some Money Toward a Future Activity
Purchase a gift certificate to mom's favorite spa or restaurant, for a time in the future when they can go and receive the pampering and indulgence they deserve.
Related: Every Day is Mother's Day for Maye Musk, Elon Musk's 69-Year-Old Model Mom