Best Performances
The most remarkable moments in film this past year weren't 3-D action sequences but characters so real they hurt. Here, the actors who made us believe.
---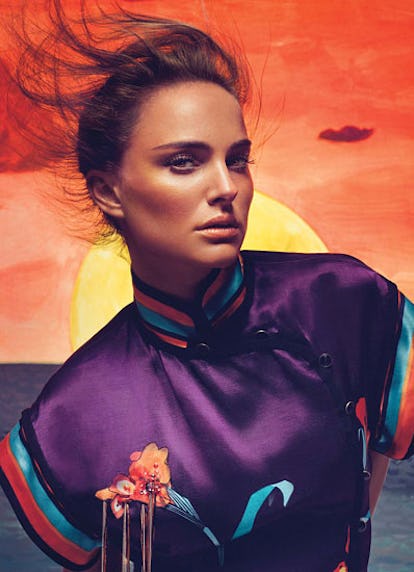 The cinema landscape has become increasingly fractured: Movies are either big-box-office, 3-D extravaganzas or smaller, less technological films driven by character. In 2010 those performance-centric movies tended to be reality-based—it was a year filled with "true" stories, made even more vivid through acting and interpretation. I have no idea, for instance, if King George VI suffered internal turmoil, but Colin Firth made his plight compelling and personal in The King's Speech. Aron Ralston's arm may have been pinned under a rock, but in 127 Hours James Franco transformed a terrible accident into an inquiry into the nature of existence. Melissa Leo is only 13 years older than Christian Bale, who brilliantly played her son in The Fighter, yet her portrayal of a real-life boxing matriarch was fierce and persuasive. And the boys of The Social Network—Jesse Eisenberg, Justin Timberlake, and Andrew Garfield—enlarged the founding of Facebook into an emblematic story of friendship and betrayal.
Last year, even films not based on actual events had the feel of authenticity. Jennifer Lawrence seemed to be starring in a documentary in Winter's Bone, but instead she was playing a fictional Ozarks girl in search of her missing father. Natalie Portman and Mila Kunis trained strenuously to portray ballerinas in Black Swan, and Javier Bardem appeared to be literally wasting away in Biutiful, as a dying man scheming for ways to provide for his family. In perhaps the most current events–esque film of the year, Annette Bening and Julianne Moore portrayed a modern couple with two teenagers who are visited by their sperm-donor father, played by Mark Ruffalo, in The Kids Are All Right.
And there's more movie truth: Vincent Cassel as the actual gangster Jacques Mesrine, and Michael Douglas as an all-too-realistic philanderer in Solitary Man; Dakota Fanning as Cherie Currie, the proto-glam rock vixen of The Runaways, and Elle Fanning as the very believable daughter of a lost movie star in Somewhere. While Helena Bonham Carter was comfortable in the skin of the Queen Mother, Robert Duvall seemed just as historically accurate as a backwoods hermit in Get Low.
In the end, the largest measure of these performances is not their adherence to fact but the vivacity and depth of the characterizations. This portfolio is a salute to their greatness. In choosing these actors, we were not trying to guess at nominations or awards. Rather, we were trying to acknowledge and salute the work, to acknowledge and thank the actors for telling the truth—even when the truth was fiction.
Best Performances: The Photos
"The movie that I watched the most when I was growing up was Dirty Dancing. I always loved Penny, probably because I was really like Baby. I was a Jewish girl from a Jewish family, so of course I liked the tall, skinny blond girl."

Photographer: Inez Van Lamsweerde and Vinoodh Matadin Stylist: Melanie Ward
"I started acting to be included in a group, because I felt excluded in school. The final product was out of my control, so it didn't really matter to me. I just liked being in a group of people that didn't kick my shin."

Photographer: Inez Van Lamsweerde and Vinoodh Matadin Stylist: Melanie Ward
"What if Mark Zuckerberg and Sean Parker suffered from the same insecurity and fear and paranoia? Mark dealt with those feelings by inventing Facebook. And my character, Sean Parker, invented Sean Parker. He created his own persona."—Justin Timberlake

"I found The Goonies very inspiring. I identified with every character: Mikey, the leader; Mouth, the trickster; Data, the inventor; and Chunk, this lovely, beautiful, sad, misunderstood, slightly larger kid. The Goonies is boys needing to be boys on their path to manhood. It's a classic."—Andrew Garfield

Photographer: Inez Van Lamsweerde and Vinoodh Matadin Stylist: Melanie Ward
"My first part was in The Ages of Lulu. I played a sadomasochist who killed people and created fun orgies. I'm a Method actor: I went to every orgy in the world."

Photographer: Inez Van Lamsweerde and Vinoodh Matadin Stylist: Melanie Ward
"Acting forces you to look at yourself all the time. You have to move through these ages: You're a teenager, a daughter, then a mother. You can never get stuck in your own bubble—acting doesn't allow that."

Photographer: Inez Van Lamsweerde and Vinoodh Matadin Stylist: Melanie Ward
"I thought the best performance of the last decade was Mike White in Chuck & Buck. I dug that performance."

Photographer: Inez Van Lamsweerde and Vinoodh Matadin Stylist: Melanie Ward
"Lately my son has been asking, 'Can you tell me about spells?' He believes in them, so I get him to do things through spells. Like, 'You will brush your teeth!' It's very useful. He now wants his own wand for Christmas. He may turn me into a frog."

Photographer: Inez Van Lamsweerde and Vinoodh Matadin Stylist: Melanie Ward
"I don't quite get why Gordon Gekko, who is a clearly defined villain, is such a heroic figure to M.B.A. students. But every time I'm out, a drunken Wall Street guy comes up to me and says, 'You're the man!'"

Photographer: Inez Van Lamsweerde and Vinoodh Matadin Stylist: Melanie Ward
"I connect most with things that are uncomfortable and heartbreaking. And I think comedy is very uncomfortable and heartbreaking. Discomfort is extremely amusing to me."

Photographer: Inez Van Lamsweerde and Vinoodh Matadin Stylist: Melanie Ward
"It was important for me to go to a normal high school. I have a locker, which was a big deal. My mom had to buy me a lock and teach me how to use it. It's the little things: Where do you go at lunch? How do you open the locker? I wanted a yearbook! Now I have a lot of signatures in my yearbook—'Have a good summer' and all that."

Photographer: Inez Van Lamsweerde and Vinoodh Matadin Stylist: Melanie Ward
"I don't mind being naked. After having a baby, I'm not so sure now, but I enjoy not letting my issues get in the way of nudity."

Photographer: Inez Van Lamsweerde and Vinoodh Matadin Stylist: Melanie Ward
"Between jobs, to keep from going nuts, it's hobbies, hobbies, and more hobbies. It keeps you off the dope. That's why I started riding horses."
"Before Black Swan, I had never danced in my life, and I will never dance again. I lost 20 pounds in three months, danced five hours a day, for seven days a week. I tore a ligament. I dislocated my shoulder. I have two scars on my back. It was worth every minute, but I will never put on toe shoes again."

Photographer: Inez Van Lamsweerde and Vinoodh Matadin Stylist: Melanie Ward
"I did a play in New York called Coastal Disturbances. For every performance—twice a day if we had a matinee— I was buried in sand up to my neck. Afterward, there was a lot of exfoliation."

Photographer: Inez Van Lamsweerde and Vinoodh Matadin Stylist: Melanie Ward
"The first movie I really fell in love with was The Seven Year Itch. I love Marilyn Monroe. I went as her in the white dress for Halloween. I did the mole and the little cat eye."

Photographer: Inez Van Lamsweerde and Vinoodh Matadin Stylist: Melanie Ward
"Because I have to cry every so often for a living, I find it horrifying if it spills over into my daily life. I'd probably cry if I got a splinter, but for anything emotional, the best I can muster is a lump in the throat. Especially if there are any witnesses."

Photographer: Inez Van Lamsweerde and Vinoodh Matadin Stylist: Melanie Ward
"For the film Irreversible, I had explicit sex scenes with my wife, Monica Bellucci. At first I said, 'No way,' but my wife said, 'Why did you say no?' Working with my wife turned out to be a plus, because you don't have to be polite. It's a nice way to spend some time together."

Photographer: Inez Van Lamsweerde and Vinoodh Matadin Stylist: Melanie Ward
"I think it's really boring to be an ingenue, the sort of drippy girl who needs someone to come and help her. I'd rather be a character actor."

Photographer: Inez Van Lamsweerde and Vinoodh Matadin Stylist: Melanie Ward
"Sex scenes are very unnerving. You have a director telling you how you should be doing it better, which is horrible even when you're in a room alone with somebody. I'd much rather die on camera than do a sex scene."

Photographer: Inez Van Lamsweerde and Vinoodh Matadin Stylist: Melanie Ward