If You Build It, They Will Come
Marc Jacobs and Dries Van Noten constructed catwalks fit for a film.
---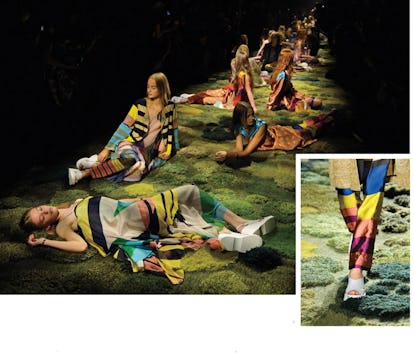 Dries van Noten The Belgian designer went back to nature for spring, presenting an ethereal, hippie-chic collection that culminated with models lounging on what looked like a mossy catwalk. In actuality, it was a carpet created by Buenos Aires–based artist Alexandra Kehayoglou, whose hand-tufted rugs mimic the lush hills and valleys of Argentina. "It's a pastoral," she says of her work, which is created with remnants from her family's carpet business. The process of making the carpet, which began with a canvas sketch that Kehayoglou and her team of assistants then delicately stitched with wool, took four weeks to complete. Afterward, Kehayoglou traveled to Paris to lay the groundwork for the idyllic set. "It was beautiful to see the natural landscape it created," she says. "My pieces are portals that have the power to take you where your memories are."
Marc Jacobs The clothing may have been militaristic, but Marc Jacobs's set—an oversize bubblegum-pink house plopped down in the center of the Park Avenue Armory— was an altogether happy place. "We wanted it to appear as though it had fallen from the sky," says Stefan Beckman, who spent several weeks conceiving the structure (inspired in part by Monopoly pieces) and 10 days building it. Most of the elements were fabricated off-site, including the 120-foot roof, which had to be put into place by several cranes—"a crazy engineering feat," he notes. Yet in the end, the audience, plugged into Beats by Dr. Dre headphones and a spoken narrative composed by the producer Steve Mackey, were transported to their own enchanted worlds—wherever that may have been. "[Show stylist] Katie Grand told me the set reminded her of Southfork from the TV show Dallas," Beckman says.