Bethan Laura Wood: Designer of the Future
Get to know this recent college graduate, as her first solo exhibition this fall is only the beginning.
---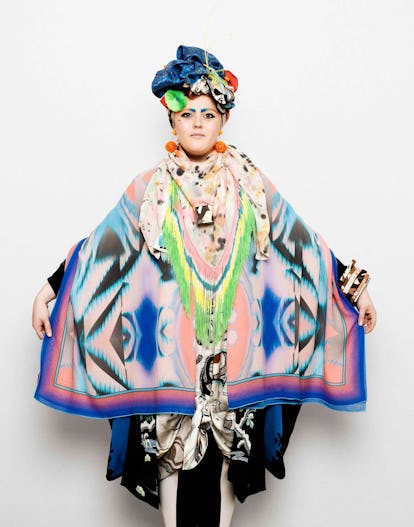 Only in her studio does Bethan Laura Wood blend in with the woodwork. "Colorful," "elaborately patterned," "bejeweled"—these words apply not just to the designer but also to the chairs, tables, and shelves (like Particle Animation, 2010) she creates. Wood's specialty is marquetry, which she uses to transform mundane plastic and wood laminates, to lavish effect (see 2010's Particle Repeat, below left). It's a visual imprimatur so pronounced that it's easy to forget she graduated from the Royal College of Art in London just four years ago.
In addition to furniture, Wood, 29, has made chunky wood marquetry bangles, which she wears hanging from her neck as if they were dainty charms, and designed a trompe l'oeil print for silk scarves. While she does not want to be typecast as the laminate girl (the elegant cage cabinets she showed this year at Nilufar Gallery in Milan hint at the range of her vision), she's not ready to give up on the material anytime soon. "There is so much I haven't done with laminate yet," says Wood, who is gearing up for a solo exhibition at the Aram Gallery in London in September. What she has up her psychedelic-floral-print sleeve is anyone's guess. As one of this year's W Hotels Designers of the Future, Wood was awarded a residency in Mexico City. "It is bonkers there in terms of color," she says. "Mexico City is going to be fueling my imagination for a while."
Photos: Wood portrait: Anthony lycett; Wood artwork: Ellis scott