At 75-Years-Old, Betsey Johnson Is Still Having More Fun Than You
The designer shares has no desire to retire anytime soon.
---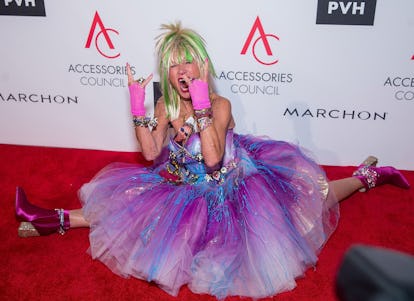 Photo: Michael Stewart/FilmMagic
When I meet Betsey Johnson, she immediately starts re-designing my clothes. She really likes my sweatshirt, which is white with embroidered bell sleeves, but she wants to deconstruct it. For the first time I have creative energy. I want to take something, but I have to put a zipper, hoodie, and throw some zippers on," she says. "I want to get schmaltzy artsy-craftsy again."
The designer is celebrating two major milestones: on Monday night, the designer accepted the Style Icon Award at the 21st annual ACE Awards, and today, she turns 75-years-old. "It's much more fun turning 40…or 60…or 70!" Johnson proclaims while lounging in her suite the Nomad Hotel in New York City on Monday afternoon before accepting her award. She's wearing a Mickey Mouse T-shirt, striped pants, and slippers that one would, at first glance, assume are provided by the hotel, but the embroidered "B" near the toes gives them away as a personal item of Johnson's. How does she want to spend the big milestone? In bed with her "amazing" and "handsome" boyfriend, whom she met in a coffee shop, and playing with her grandkids in the backyard of Paradise Cove, the glamorous Malibu "trailer park" where she lives.
The notoriously zany designer is a lot more calm than her lime-green hair extensions might have you believe. "I'm much happier now that I love where I'm living," she says. "I love the opposite vibe of Malibu to New York." Johnson's boyfriend—who she says is about half her age—listens to inspirational tapes and turned her on to one guru she loves in particular, Dan Pena. Even if she can't recall the specific quotes, ("Oh, I wish I could remember," she says) the message is: "You can't have a balance with your work life and your life life. He's absolutely right, she says. "Every husband, every thing, took second place to my work. It had to. Lulu [Betsey Johnson's daughter with Clark Murray] got to really know my parents very well when I was working in Hong Kong or India for six weeks at a time. She had the country corn ball growing up and then she had the New York City Palladium with the black bra and fishnets. Anyway, that really hit home to me. I didn't know I was doing that, but I never kept a husband. My work has been the only successful gig in my life."
And successful it has been. After winning a design contest at Mademoiselle magazine, where she worked, ("I didn't relate to the industry, and I didn't really love the industry. I won a contest so it wasn't like I wanted to be a fashion designer," she says) Johnson received the Coty Fashion Critics Award at 29 years old, becoming the youngest person to ever win it. She was inducted into the Fashion Walk of Fame in 2002, and won the Lifetime Achievement Award from the Accessories Council in 2005 and the Geoffrey Beene Lifetime Achievement Award from the CFDA in 2015. But Johnson says the ACE Style Icon Award means the most to her. Primarily because Johnson, purveyor of electric prints, tutus, and pure fun, still doesn't believe that others might want to emulate her. "For me, getting Style Icon is like the world has come around to me. Me? A style icon? Never. No. Never. I mean, look at what am I wearing here?" she says, pointing to her Mickey Mouse t-shirt. "It's a very funny, loved award because it's support for who I am and my work, and that was always the hardest thing to achieve. I had a small customer base and I built and built and built."
So, the major question in Johnson's life: After more than 50 years in the industry, is she ready to retire and settle down? "No, no, I can't," she says, waving me off as if I've asked if she could perform a belly-dancing routine at her birthday brunch (at this point, she's far more likely to do that than to retire). "What did Bette Davis say? 'I'll never retire as long as I have my makeup kit and my legs.' I just don't see the point."
But Johnson has certainly taken a step back from her days of "putting the blinders on and working." She asks a member of her staff what she's called now, to which the answer is "Creative Director"—which Johnson says satisfies her more than anything else. "I know that a lot of girls have gone into fashion because I did it, so they feel they can do it. I love that I've been that inspiration. Because it's attainable." Le freak will always c'est chic.
Related: Betsey Johnson Brought Pure Joy to the ACE Awards Red Carpet
See What's Trending in W Video:
Katy Perry's Kitschiest, Candy-Covered, Firework-Spouting Costumes
Fresh on the scene, Katy Perry performs at the opening of a Las Vegas hotel in 2008 in a Vegas-themed ensemble.

Getty
Katy Perry performed at the 2008 MTV Europe Music Awards dressed up like a football player.

Getty
Perry performed at another 2008 concert, ending her set by jumping into a giant cake.

Getty
Perry entered the stage at a 2008 Jingle Ball via a giant banana and dressed like Mrs. Claus.

Getty
Perry performed on the Today show in 2009 wearing a mini-dress embroidered with some large dice.

Getty
The following year, in 2010, she returned in a candy-coated getup.

Getty
At the holiday-themed Jingle Ball, Perry turned herself into a snowman.

Getty
For the 2010 Victoria's Secret Fashion Show, Perry opted for a bright yellow latex dress.

Getty
At the 51st Annual GRAMMY Awards, Perry once again entered the stage via a giant banana.

Getty
Perry flew high above the crowd for the 2012 Billboard Music Awards.

GETTY
Perry got into the movie spirit for the premiere of her film Katy Perry: Part Of Me.

Getty
Perry closed out the 2013 MTV Video Music Awards in a boxer's ring in Brooklyn.

Getty
For the 2010 MTV Movie Awards, Perry enlisted Snoop Dogg to live out a beach paradise.

Getty
Perry jumped rope onstage during the iHeartRadio Music Festival at the MGM Grand Garden Arena on September 20, 2013.

Getty
At the Pepsi Super Bowl XLIX Halftime Show in 2015, Perry soared through the sky on a shooting star.

Getty
Perry's 2014 Grammy Awards performance was quite literally lit, with a dark magic themed set.

Getty
Perry became a maypole at the MTV EMA's in 2013.

Getty
Feeling feline on the opening night of her Prismatic World Tour at Odyssey Arena on May 7, 2014.

Getty
On the same tour, the singer also embraced a flower child persona.

Getty
And channeled Cleopatra, complete with a giant golden horse.

Getty
What would a Katy Perry performance be without some fireworks?

Getty
Katy Perry peforms onstage at YouTube #Brandcast presented by Google at Javits Center North on May 4, 2017 in New York City.

Getty
Katy Perry performs at 102.7 KIIS FM's 2017 Wango Tango at StubHub Center on May 13, 2017 in Carson, California.

Getty
Katy Perry performs "Swish Swish" in Studio 8H on May 20, 2017.

Getty
Katy Perry performs on the Pyramid stage on day 3 of the Glastonbury Festival 2017 at Worthy Farm, Pilton on June 24, 2017 in Glastonbury, England.

Getty