Betsey Johnson Brought Pure Joy to the ACE Awards Red Carpet
She actually did the splits.
---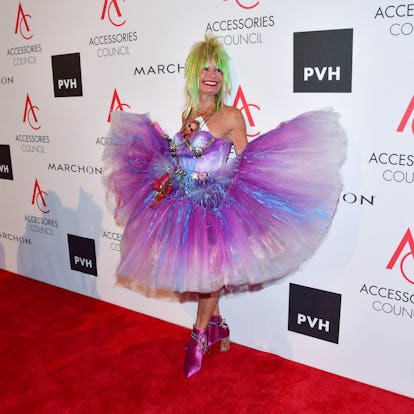 Sean Zanni/Getty Images
Usually, the red carpet at awards shows is a parade of predictability, from the poses to the attire. But at this year's Accessories Council in New York City, it was anything but thanks to Betsey Johnson, who brought her signature sparkle to the 21st annual event. Johnson, who was at the ACE awards to accept the style icon awards, made an unforgettable entrance that was pure joy. The 74-year-old designer showed up in one of her signature over-the-top ensembles — a paint-splattered hot pink fuschia dress with matching fingerless gloves and velvet boots — and gave a lesson in how to handle red carpet photos.
For starters, she did an outfit change on the red carpet, with a satin boxer-style coverup that was fittingly embroidered on the back with "Betsey Johnson Still the Champ." Johnson threw up her arms and, quickly after, threw up her jacket into the air.
She also did the splits, reminding the world that the 74-year is pretty much immune to passing time.
After she stepped off the red carpet, she continued to live her best life and reportedly made it rain confetti on her way to taking the stage, according to The Hollywood Reporter. Other winners of the evening included Loeffler Randall (Brand of the Year), Joseph Altuzarra (Designer of the Year), and Shopbop (Retailer of the Year). "I have to be dressy, I had to dress it up," she reportedly said of her outfit. "It wasn't jazzy enough."
Johnson knows a lot about how to jazz things up, as she recently showed that her technicolor aesthetic extends to her home as well. Just last month, she let fans in on it when she put her Mexico vacation home — dubbed BetseyVilla — for rent on Airbnb. "The property is a fusion of old and new; a tribute to the life of Betsey Johnson and all of her favorite things," reads the listing. If Johnson feels like unveiling more of those things — as well as her secret to always having fun and make a party wherever you are, no matter the setting — there's always Airbnb experiences. Or, you know, future red carpet events.
Related: Betsey Johnson Has Always Danced to the Beat of Her Own Band
See What's Trending in W Video: