The New Guard: Fashion's Rising Stars
Thanks to New York wunderkind Joseph Altuzarra, American sportswear is suddenly sexy.
---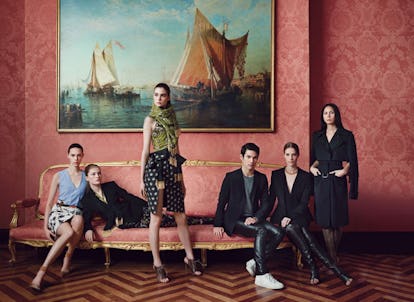 Last May, Joseph Altuzarra was milling around Miuccia Prada's afterparty for the Metropolitan Museum of Art's spring gala when he was approached by Tom Ford, his idol since high school. As Altuzarra stood there starstruck, Ford proceeded to tell the young designer how much he admired his work. "I was like, What is he talking about?!" he recalls. "It was the best thing that ever happened to me."
Modest as he is, Altuzarra, 29, ought to be used to such attention by now. Five years since launching his namesake line, he has become the darling of New York fashion, racking up a host of prestigious accolades (most recently, the CFDA's 2012 Swarovski Award for Womenswear) and garnering an illustrious cadre of fans (Diane Kruger, Carine Roitfeld, Jenna Lyons). His collections are known for their unique and thoroughly modern take on sexiness, mixing ethnic and utilitarian fabrics, masculine and feminine silhouettes, and historical and street-style inspirations. "It's like moving art," effused Jessica Chastain following his spring show. But Altuzarra begs to differ. "I don't think I'm an artist or that I'm doing anything superintellectual," he insists. "What's important to me is to get a visceral reaction from people, for them to want that coat because they think it's beautiful."
An avid walker—"When I'm not working, I'm walking"—Altuzarra conceives his collections on miles-long treks around Manhattan, taking notes on his iPhone. Mentally, however, he begins each season in his hometown of Paris, where he was born to a French-Basque father and a Chinese-American mother. He left when he was 18 to study art history at Swarthmore College in Pennsylvania but clearly has never let go completely. "I'm always fetishizing the French woman and French taste and style," he says. "My assistant will make fun of me because every time we're picking the direction of a collection, I say the same thing: 'I want it to be really French.' " Here, Altuzarra offers more on the people, places, and things that inspire his work.
"Growing up there really shaped who I am, and living in New York has made me notice my French side even more. I'm incredibly pessimistic—and I sort of hate myself for it—but it's really the way French culture is. There are also positives: My love of craft and refined things and my belief that quality is better than quantity are also very French. What I most appreciate about French women—and of course this is generalizing—is how at ease they feel with their bodies. Even women who are not a size 4 or 6 wear clothes that are body-hugging, and they look beautiful because they're comfortable with who they are. I find that very sexy. And you don't see that as much in America; here, there tends to be a culture of correction—people are constantly trying to fix their flaws."

Photographer: Willy Vanderperre Stylist: Olivier Rizzo
"She performed with the Paris Opera Ballet in the '80s and was sort of the rebel of French ballet. Dancers tend to fall into line; they're very rigorous. But Guillem had this way of hyperextending the leg and foot, which made all of her movements feel momentous. I saw her for the first time when I was 8 or 9 in a ballet called Manon Lescaut, which is about tragic lovers. At that point, dance was my life. I took classes every day at the Conservatoire Municipal Erik Satie from age 6 to 13, and I had a barre in my bedroom so I could practice at home. I gave it up because I didn't have the body for it—I was too short. And at the conservatory, when you're 13 or 14, you're either going to do it full-time or just as a hobby. I loved it, but I preferred to stop completely than do it half-assed. That actually says a lot about how I approach things. Dancing really shaped my work ethic and informed my eye. As a designer, I'm always interested in the body and how people carry themselves."

Photographer: Willy Vanderperre Stylist: Olivier Rizzo
"I'm obsessive about certain movies and will watch the same one over and over for months. I must have seen I Am Love a hundred times. Farewell My Concubine is another one. But the one I most adore is In the Mood for Love, Wong Kar-wai's lush, hyperstylized drama about two couples' affairs. Visually, it is very close to the mood I'm trying to build for my brand, and I'm always moved by characters who have a mix of fragility and strength, like Su Li-zhen (played by Maggie Cheung). A lot of the films I've been interested in have that sort of duality, like Edward Scissorhands, which inspired my fall 2010 collection—that character has this monstrous exterior and an incredibly childlike interior. Not that I have a duality myself. I think I'm actually fairly fragile and sensitive on both the inside and the outside: It's very hard for me to hide what I feel."

Photographer: Willy Vanderperre Stylist: Olivier Rizzo
"I listen to baroque music—mostly Handel—every season when I'm sketching. My fascination started with this French movie about a castrato, called Farinelli, that came out when I was in junior high. There is just something so stirring and confounding about listening to music sung by a man who sounds like a woman. Again, it's the idea of tension between different elements—masculine and feminine, bourgeois and perverse—that I find interesting. My spring collection began with the movie Orlando and the idea that a woman can get in touch with her masculine side and still be unbelievably sexy. When I'm working on a collection, it's interesting to have this kind of running theme."

Photographer: Willy Vanderperre Stylist: Olivier Rizzo
"As a teenager, I was obsessed with horses and would always be drawing them. I find them incredibly sexual and superappealing. They have such strength, but there's also something very noble—and, in my mind, very French—about them. There are often horse pictures on my mood board. Every collection, I seem to focus on a different equestrian aspect: the harnesses, the braided tails. Last fall we did sweaters with horse heads on them. And I find ponyskin beautiful, although it doesn't really exist anymore, because calf is used now. At work, there is this branding exercise we do where we ask ourselves, 'What is Altuzarra?' Horses always make the list."

Photographer: Willy Vanderperre Stylist: Olivier Rizzo
"Mélanie, Vanessa, and I met when we were in similar places in our careers. Mélanie (at left in photo) and I were working together at Givenchy, Vanessa was an intern at Vogue Italia, and we all became good friends. When I left Givenchy and started my company, their points of view were very important to me—and they still are. I begin each collection by discussing their ideas and desires. They bring different things: Mélanie's aesthetic is very polished and glossy and rich, whereas Vanessa's is more askew and grungy and a bit weird. Somehow it always works well together. People think it's odd to have two stylists, but I believe it makes things interesting."

Photographer: Willy Vanderperre Stylist: Olivier Rizzo
Models: Georgia Hilmer and Molly Smith at Next Management; Manon Leloup at Wilhelmina Models. Location courtesy of the Consulate General of France in New York.