Bette Midler Calls Hocus Pocus Remake "Cheap"
She doesn't know who could play her iconic character.
---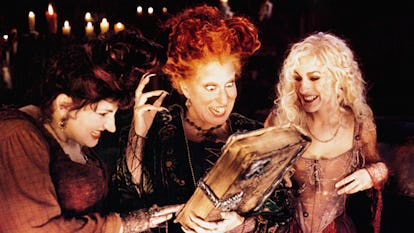 Courtesy Everett Collection
Hocus Pocus is one of the most beloved Halloween movies of all time, and a large part of this is no doubt due to Bette Midler's portrayal of Winifred Sanderson. It's not only launched an infinite number of costumes and memes (Midler herself has dressed up as Winifred in the past), but stands as one of her most iconic roles. But because 2017 is where all good things go to die, Winifred will be reimagined in a remake without the original cast—in September, Disney Channel announced that they will produce a made-for-TV remake. Though David Kirschner, producer on the original movie, will be on board with Disney to executive produce, it seems impossible that anyone could live up to the performances of Midler, Sarah Jessica Parker, and Kathy Najimy.
Midler herself is already expressing her immense distaste with the remake. "I know it's cheap. It's going to be cheap!" she told People. And, like fans of the cult classic, Midler can't imagine who might fill her witches' boots. "I'm not sure what they're going to do with my character," she said. "My character is very, very broad and I don't know who they're going to find to play that." Though an appearance by the original Sanderson sisters could surely right the doomed remake, Midler also squashed any ideas that she might show up in Salem, Massachusetts, once again. When asked if any dollar amount would persuade her to return, she replied, "No, no, no!"
Twitter, however, does have at least one decent idea of how to remake and update the basic plot in a way that actually seems relevant. One user went viral with her suggestion changing the setting to New Orleans and cast the all-star trio of Hidden Figures' Octavia Spencer, Janelle Monáe, and Taraji P. Henson. The Internet also cast Chance the Rapper as Max, Quvenzhané Wallis as Emily, Zendaya as Allison, Kendrick Lamar as the voice of Thackery Binx, and Kevin Hart as Billy Butcherson. Fans have influenced Hollywood in the past, creating an entire plot from a single picture of Rihanna and Lupita Nyong'o, and getting director Ava DuVernay and writer and actress Issa Rae to sign on to the vision in conjunction with Netflix. Unfortunately, Disney Chanel isn't exactly Netflix and isn't known for its all-star casts.
Related: Bette Midler Always Dresses for the Stage, Even When She's Off Stage