Betty Catroux, the Legendary Saint Laurent Muse, Just Landed Her First Ad Campaign, in Her 70s
Everything you need to know about the model Yves Saint Laurent called his "twin" ever since they met in a "very, very gay nightclub" in the '60s.
---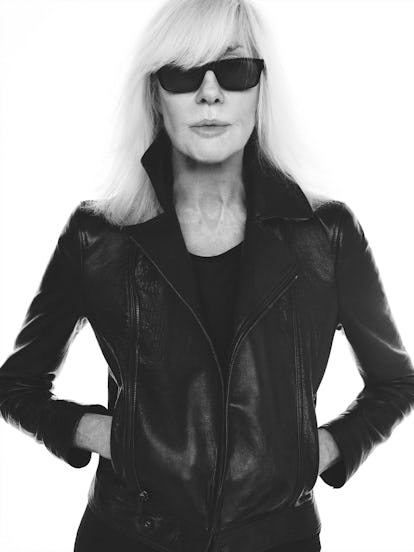 Courtesy of Saint Laurent
Earlier today, the French fashion house Saint Laurent released its fall 2018 ad campaign, starring the 70-something Betty Catroux. If her name sounds familiar, you already know why, but for the uninformed millennials among us, it's time to get to know the longtime model—starting with the fact that Yves Saint Laurent himself used to call her his "twin."
Back in his heyday, decades before the word became tiresome enough to make you cringe, Saint Laurent practically invented the concept of a squad, aiding both his house and many of his muses—including Iman and Catherine Deneuve—in becoming household names. Remarkable as they all were, the larger squad was often secondary to Saint Laurent's perfectly paired main duo: Loulou de la Falaise, who worked with Saint Laurent for three decades, and Betty Catroux. (As de la Falaise, who died in 2014, put it to W when reflecting on Saint Laurent's death, in 2008, she'd "always been the gypsy influence," whereas "Betty Catroux was the one who inspired all of his mannish looks.")
Betty, Loulou, Catherine, and Iman: Meet Yves Saint Laurent's Squad
One of the original blonde bombshells was undeniably Betty Catroux. Photo by Getty Images.

Getty Images
Marisa Bereson posed for the Spring 1972 Couture Collection. Lengthy lashes would be great for this fresh start. Photo by Getty Images.
Loulou de la Falaise made the world fall in love with the soft shag. We hope this trend stays strong. Photo by Getty Images.

Condé Nast/Getty Images
Catherine Deneuve's careful coif kept her hair down without being top of mind. More elegant takes on showing the face are our faves. Photo by Getty Images.
Raquel Welch's bold bronze made healthy, sexy. If Vaccarello's gals follow suit, we will too. Photo by Getty Images.
Bianca Jagger's current curls are just that, current. More polished, natural textures, please! Photo by Getty Images.
Iman's patent pucker gave us glam without trying too hard. Up next, this youthful joie. Photo by Getty Images.
Mounia's sleek slick showed that serving face (and a smile) was the look to envy. We'd like to see this sophisticated look come back. Photo by Getty Images.
Francoise Hardy's side swept fringe showed that not trimming your bangs could be cool. We're begging for bangs that don't hide the eyes, or skirt the hairline. Photo by Getty Images.
Laetitia Casta gave meaning to the term perfect pout. Rosy cheeks and lips and always a runway winner. Photo by Getty Images.
Before she was perennially labeled "androgynous," spent decades bleaching her forever-platinum-blonde hair, and grew all the way up to reach six feet, Catroux was born in Brazil, in 1945, and, fittingly enough for someone whom Saint Laurent would eventually call his twin, first named Betty Saint. She soon left the country behind with her mother to join the French bourgeoisie in Paris, where she took up modeling in the early '60s. Then, in 1967, she walked into a "a very, very gay nightclub" in the city and experienced a coup de foudre—which is to say, of course, that she met Saint Laurent.
Whereas Catroux had previously hated modeling so much that when she was still a teen she'd dare to ditch her first employer, who was none other than Coco Chanel, things were clearly different with Saint Laurent; the pair first bonded because they "hated normal life," so they set about leading a lifestyle of nonstop partying and pioneering looks like Le Smoking. In the end, Catroux reflected that she "had a fairytale life with him."
In the decade following the designer's death, that fairytale has felt alive: Since then, names like Aymeline Valade have portrayed Catroux in some of the many films about Saint Laurent, and the model herself made a point to attend Hedi Slimane's first show for the house, and now shows the same support for the brand's current designer, Anthony Vaccarello.
All that's certainly saying something, considering that Catroux has repeatedly insisted she's "not interested in fashion at all." She does, however, love black leather, which could be part of what convinced her to, in her 70s, do her first-ever advertising campaign; two-thirds of the work consisted of simply loving black leather in front of the camera, thanks to Vaccarello's leather-jacket-heavy fall collection.
Related: Move Over, Kendall Jenner: Lauren Hutton, 73, Is Calvin Klein's New Underwear Model
For his 1967 Spring/Summer haute-couture collection, Yves Saint Laurent paired a full dinner jacket suit with open-toed pumps.
Photo by Getty Images.
An elaborate headscarf adds some color to this 1971 Spring/Summer haute couture double-breasted suit look.
Photo by Getty Images.
A shiny skimmer hat gives this 1997 Spring/Summer haute-couture collection look an old school appeal.
Photo by Getty Images.
Yves Saint Laurent went head-to-toe pink and safari for his 2000 Spring/Summer haute couture collection.
Photo by Getty Images.
For his 2001 Fall/Winter haute couture collection, Yves Saint Laurent replaced the traditional jacket with some fur and forwent shirts altogether.
Photo by Getty Images.
Yves Saint Laurent did a tailored grey suit for 2001 Spring/Summer, adding some white gloves and a pop of color. Vive Le Smoking as well as the red lip!
Photo by Getty Images.